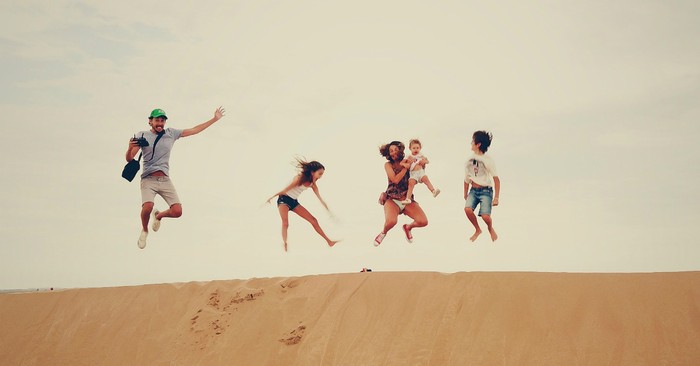 As summer moves forward, don't let the time slip away. Make a list of all the fun things you want to do and put a sticker next to it when you experience it. Most importantly, be present. Kids grow up fast and it is invaluable to savor every moment.
It is that time again when the sun is blazing, the kids are playing, and the ice cream man is driving down the road. It feels as if you have all of the time in the world to spend with your kids, but the truth is that summer days fly by and everyone will be back to school before you know it. Today I want to share five valuable activities that you can do with your kids this summer.
1. Do a Summer Family Devotion
Create a schedule of family devotions to do together daily or weekly. Allow creativity for the leader. Let your kids take turns leading the devotions if they are old enough. You could order puppets and do puppet shows if they are younger. You could color a picture of a Bible story and read through the scriptures. Maybe you spend time praying "popcorn" style when someone opens and someone closes, then anyone who wants to pray goes in between.
You could start a thankfulness journal or board. I love this example of that from Focus on the Family. You could make a Scripture scavenger hunt. You could memorize one verse a week together and practice saying it before meals. Think and pray about how your kids are gifted, what they enjoy, and how to bring God's Word to life for them.
Deuteronomy 6:6-7 says, "And these words that I command you today shall be on your heart. You shall teach them diligently to your children, and shall talk of them when you sit in your house, and when you walk by the way, and when you lie down, and when you rise."
2. Teach Them about Their Family History
There is something significant about passing the torch to the next generation. If grandparents are alive, spend some intentional time with them. Have your parents share stories with your kids about their genealogy, their lives as kids, and try to play games they liked when they were younger.
Go on a family adventure and visit the town where your grandparents grew up. Teach your children how to make a family recipe. Recreate an activity that your family loved doing when you were growing up.
Psalm 119:90 says, "Your faithfulness continues through all generations; you established the earth, and it endures."
3. Serve Together
Whether it is helping a neighbor, a community non-profit, or letters of encouragement, discuss as a family a way in which you would like to serve together this summer. It is important to train our kids in the way of faith.
God teaches us to serve one another and to be witnesses. Giving your family a space to love others and share the gospel will have a lasting impact on each of you. In such a self-centered world, we can get our kids off their devices and put them into situations where they can learn to reach beyond to bless others. All of our hearts can be changed for the better in the process.
Romans 12:10 says, "Be devoted to one another in love. Honor one another above yourselves."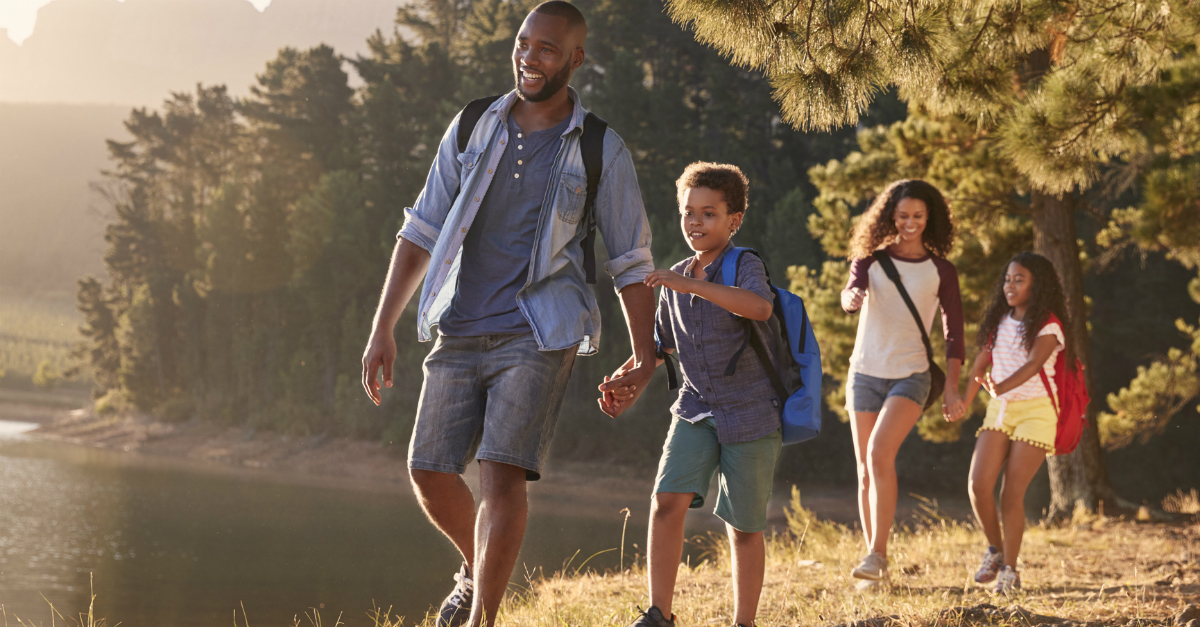 Photo credit: ©Getty Images/monkeybusinessimages
4. Do a Home Project Together
Try to do a project at home together. Think of something that will take discipline and time over the course of two or three months. You could start a garden and each person picks out a plant or flower that he or she is responsible for taking care of on a regular basis. This teaches patience, endurance, and faithfulness. You can start conversations about some of the many Bible verses that mention gardening.
You could do wood-working together. This could be a piece of wall art, furniture, or a gift for a loved one. Share how Jesus was a carpenter and that we are His workmanship.
John 15:5 says "I am the vine; you are the branches. If you remain in me and I in you, you will bear much fruit; apart from me you can do nothing."
5. Try a New Activity or Hobby
Many times, kids are locked into the particular hobbies and sports that they play during the school year. Think outside of the box and try something new! See if they would like horseback riding, learning how to play an instrument, doing a theater camp, cooking class, or ballroom dancing. Begin to imagine skills or unique hobbies that can stretch their education and abilities to new levels.
Look within your price range and come up with a variety of options. Then, present them to each child and see what they would want to do. Agree to try the activity with your child at least once during the summer. This shows that you are still learning too, and that you are supporting them on their journey. Maybe you can even choose a hobby too? Even if this is just for a summer, it is an experience to remember.
Isaiah 42:9 says, "See, the former things have taken place, and new things I declare; before they spring into being I announce them to you."
As summer moves forward, don't let the time slip away. Make a list of all the fun things you want to do and put a sticker next to it when you experience it. Consider making a "Summer Fun Book" and put the pictures of your adventures inside. Sometimes it is still nice to have physical memories to look through.
Most importantly, be present. Kids grow up fast and it is invaluable to savor every moment. There is not a perfect person, so there is no perfect parent. There will be bumps in the road this summer, but may we learn to laugh along the way. I pray that each home can encounter the love that God has for them and that as we have intentional time with one another, we can press into what the Lord is showing us and revealing to us.
Try a family devotion, study your family history, serve together, do a home project, or try a new activity. Do all of them if you want and have time! Whatever you do though, remember that you are God's child and that He has entrusted these kids to you for such a time as this moment.
More from this author
3 Ways to Feel Unstuck as a Single
How to Pace Yourself in a Busy World
The Powerful Impact of Loving Our Neighbors
Related: Listen to Our FREE Parenting Podcast!
Parenting in this day and age is not for the faint at heart. Mama Take Heart host Robrenna Redl is here to help equip and empower you with resources and practical takeaways, whether you're looking for ways to intentionally connect or to have hard conversations. So don't fret. Instead, take heart! Listen to an episode here, and then head over to LifeAudio.com for all of our episodes:
Photo credit: Unsplash/Juan Cruz Mountford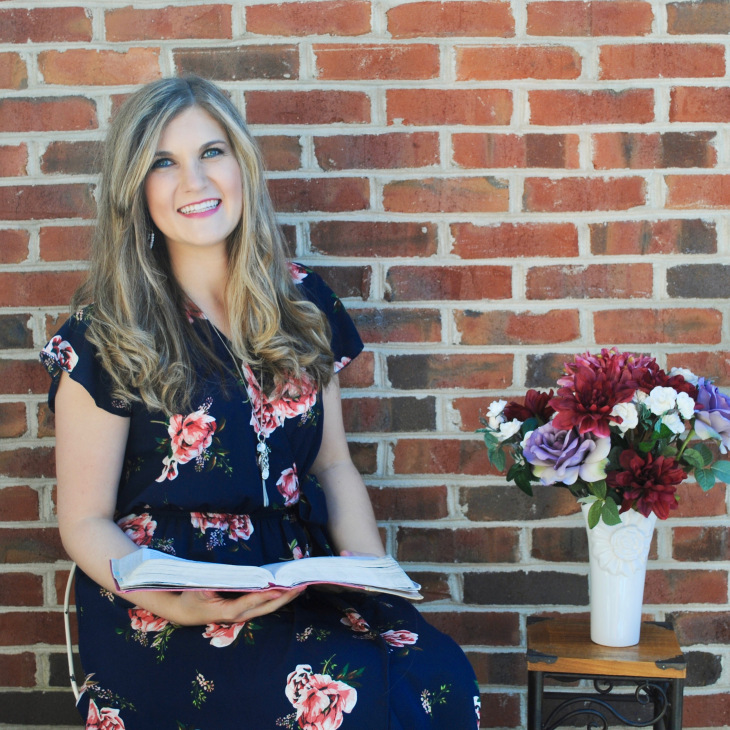 Emma Danzey's mission in life stems from Ephesians 3:20-21, inspiring young women to embrace the extraordinary. One of her greatest joys is to journey with the Lord in His Scriptures. She is wife to Drew for over two years and mom to baby Graham. Drew and Emma serve with Upstate CRU college ministry in South Carolina. Emma is an avid writer for Salem Web Network and provides articles on the Bible, life questions, and on the Christian lifestyle. Her article on Interracial Marriage was the number 1 viewed article on Crosswalk for the year 2021. All the glory to the Lord! She had the joy of hosting Her Many Hats podcast where she explored the many roles that women play while serving One God. Most recently, Emma has released her first Bible Study Book, Wildflower: Blooming Through Singleness.
Emma enjoys singing/songwriting, fitness classes, trying new recipes, home makeover shows, and drinking tea! During her ministry career, Emma recorded two worship EP albums, founded and led Polished Conference Ministries, ran the Refined Magazine, and served in music education for early childhood. Emma also had the privilege of having been a national spokesperson for Mukti Mission based out of India. Mukti has been working to restore shattered lives in India for over 120 years. You can view her articles through her blog at emmadanzey.wordpress.com and check out her Bible Study videos on Instagram @Emmadanzey.
---
---