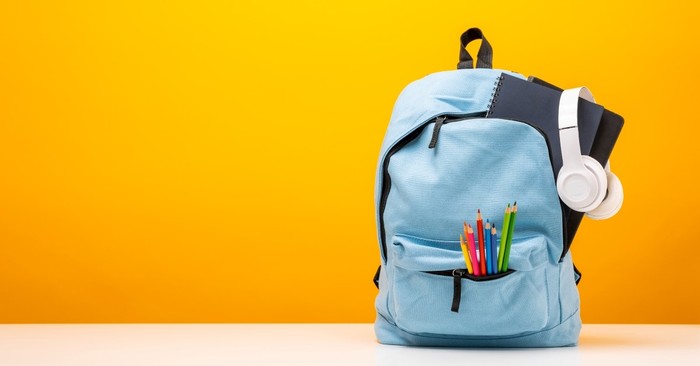 God's Word does more than educate our minds. It revives our souls. When we open up the Bible, God speaks comfort and peace to our weary spirits.
I love the season of autumn for many reasons—cooler weather, fall colors, and a chance to wear some of my extensive sweater collection again. But one thing that brings a gigantic smile to my face? School supplies.
Excitement builds when I enter a big box store and see aisles and aisles of notebooks and binders, pencils and pens. The rows of Crayola crayons take me back to my grade school days when I anticipated a new year with a new teacher. The stacks of notebook paper remind me of looking forward to digging into interesting college courses.
I could spend hours browsing through the colorful supplies, and friends have told me I'm not alone. Because, even now, we can always use more paper to write down our thoughts. We always need more binders to keep our files organized. A new set of markers or gel pens will never fail to inspire our creativity, right?
Well, maybe.
Perhaps what we need more than highlighters and spiral notebooks are supplies for our soul. Let's look at a few items our soul will always need whatever the season:
Instead of Books, God's Word
Every student needs books. Textbooks form the foundation of many classes across a variety of subject areas. Reading for information starts the learning process.
But one book will do more for our souls than any other.
Psalm 19:7 says:
"The law of the Lord is perfect,
reviving the soul;
the testimony of the Lord is sure,
making wise the simple."
God's Word does more than educate our minds. It revives our souls. When we open up the Bible, God speaks comfort and peace to our weary spirits. He assures us of His love and mercy. He breathes new life into our hearts by reminding us that He accompanies us wherever we go.
Remember the essential tool of God's Word.
Instead of a Planner, Rest
Students need organizational skills and tools. Perhaps they will use a paper planner or a digital app. But often, every slot in the planner gets filled with classes, music lessons, and tennis practices. Parents and students hope a full schedule means a full and successful life.
Even after graduation, we may live this way. Every minute of every day is scheduled for optimal productivity, but not for soul care.
Psalm 23:1-3 gives us a picture of soul care: "The LORD is my shepherd; I shall not want. He makes me lie down in green pastures. He leads me beside still waters. He restores my soul."
A good shepherd knows he cannot constantly drive his sheep. They need time to rest. Likewise, Jesus, our Good Shepherd, leads us to times and places of rest where He can restore our souls. Sometimes we resist the idea of rest, thinking we need to do more, and accomplish more. But the Good Shepherd, says, "Come, lie down by the still waters and I will rejuvenate your spirit."
Remember to pack a supply of rest.
Instead of a Diary, a Spiritual Journal
In some subjects, students may be asked to keep a diary or journal. A health or physical education teacher could require a food diary. A literature instructor might assign a written record of the books a student reads or her reaction to the required reading.
Instead of journaling school assignments, our souls can benefit from dumping our emotions onto paper.
The psalmist writes: "My tears have been my food day and night, while they say to me all the day long, 'Where is your God?' These things I remember, as I pour out my soul: how I would go with the throng and lead them in procession to the house of God with glad shouts and songs of praise, a multitude keeping festival." (Psalm 42:3-4)
God invites us to pour out our souls to Him. Writing down our frustrations, heartaches, and yearnings is a way of putting them in the hands of our loving Father and opening our hearts to His care. Then we, like the psalmist, can also use the journal to remember good times in the past. We can remind our souls how God has (and will!) bless our hearts with gladness.
Use the practical tool of a journal to pour out your soul to God.
Instead of a Calculator, Wisdom
When students reach a certain point in their math education, they need a scientific calculator—a modern device that computes the ancient laws of math. Gone are the days of needing to learn how to operate a slide rule. Modern technology to the rescue.
But sometimes the old ways are the best.
Jeremiah 6:16 tells us: "Thus says the LORD: "Stand by the roads, and look, and ask for the ancient paths, where the good way is; and walk in it, and find rest for your souls. But they said, 'We will not walk in it.''"
God's wisdom never goes out of date. Modern culture may think it knows better, but the fast-paced, frenetic way of life that productivity experts insist on leads to soul exhaustion.
Instead of a calculator, let's get a good supply of wisdom. Ask for the ancient paths. Seek out God's good way –even if it goes against all the trends—and find rest for your soul.
Store up a good supply of timeless wisdom.
Instead of a Backpack, Hope
To hold all the books, planners, journals, pens, and notebooks, a student needs a sturdy backpack. He needs something to hold all of the other school supplies.
But what does our soul need? What will help us hold everything together?
Psalm 42:5 says, "Why are you cast down, O my soul, and why are you in turmoil within me? Hope in God; for I shall again praise him, my salvation."
When we struggle to carry out all of our responsibilities, duties, and tasks, we can easily become overwhelmed. And before we know it, we also find ourselves carrying disappointment. We may discover despair strapped to our backs.
But I love the honesty of the psalmist. He talks to his soul and says, "Hey soul, why are you so discouraged? Yes, you may have good reason. But remember, you can still carry hope. Hope in a God who is with you through all the twists and turns of your days. Hope in the One who sees you when despair threatens to weigh you down." Let's rejoice that we can also talk to our souls like that and carry hope.
When all your responsibilities begin to weigh you down, grab the backpack of hope.
My love for school supplies, plus the irresistible allure of a good sale, can get me into trouble. When my kids still lived at home and needed paper, pencils, pens, and notebooks, I stocked up every year at the back-to-school sales. I stocked up so much that now—years after they have grown up and moved away—I'm still using some of that stash. In fact, I recently had to throw out some of the glue sticks and pens from years ago because they had all dried up.
But the supplies for our soul will never become useless. God's Word endures forever. The rest the Good Shepherd gives us lasts eternally. God always invites us to pour out our souls to Him. Wisdom never goes out of style. And hope, well, we always need hope—the assurance of God's love and a life with Him forever.
Get school supplies for the soul.
Photo Credit: Getty Images/chanakon laorob
Sharla Fritz is a Christian author and speaker who weaves honest and humorous stories into life-changing Bible study. Author of the new book Measured by Grace: How God Defines Success, Sharla writes about God's transforming grace and unfailing love. Sharla lives in the Chicago suburbs with her amusing pastor husband. Get her FREE ebook 21 Five-Minute Soul-Rest Practices or connect with Sharla at www.sharlafritz.com and Facebook.
Related podcast:
The views and opinions expressed in this podcast are those of the speakers and do not necessarily reflect the views or positions of Salem Web Network and Salem Media Group.
Related video:
In the video are 5 Tips for Decluttering Your Space by Michelle S. Lazurek.
---
---