Quick Meals to Get Your Family through the Week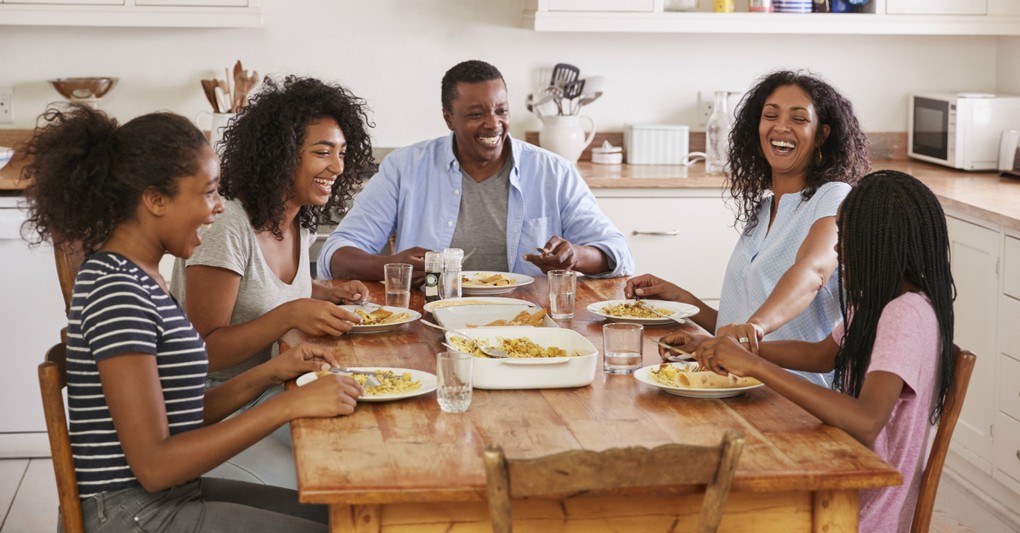 She gets up while it is still night; she provides food for her family and portions for her female servants. (Proverbs 31:15)
It's that time again…Dinner time! Everyone is hungry and they are expecting you to take care of that need. The infamous question, "Mom, what's for dinner?" echoes throughout the house once the backpacks have been put away and your little people saunter into the kitchen. They begin raiding the pantry looking for something to hold them over while you're searching for dinner ideas.
Sound familiar?
How did the Proverbs 31 woman make it look so easy and effortless?
As for me and my house, we serve the Lord, but when we serve up dinner, it usually comes with a hefty side dish of chaos. Having three daughters in sports going every which way and a husband that gets home late, dinnertime is often on the road or in a Tupperware dish. It's also been rather common to have a house full of teenagers on any given night. Frozen pizza for the win!
As a former homeschool mom who served breakfast, lunch, and dinner to my entire family (my husband worked from home) for many years, I've learned a few tricks to make things a little easier when it comes to mealtime.
Photo Credit: GettyImages/monkeybusinessimages
The Proverbs 31 Wife

Slide 1 of 4

One thing the Proverbs 31 woman taught me (and I believe was her secret) was that she took time to plan and prepare. Over the course of many years, and to keep my sanity, most meals have been kept rather simple. Breakfast usually consists of ready-to-eat bars or muffins, lunch oftentimes is a soup or sandwich, and dinner is a toss-up. By the time evening rolls around, I'm usually asking "Alexa" what's for dinner. Momma is tired.

However, knowing that dinnertime is usually our most chaotic meal, I've made more of an effort to plan and prep for it. It usually makes for a more peaceful and less stressful time for us all. And I have also embraced the idea that if all else fails because "Alexa hasn't learned how to fix us dinner, yet" - cereal will suffice.

So, if you're scrambling to get dinner together and need quick meals to either take on the road or to serve upon the table in no time, here are some tips:

Have premade frozen meals ready to go. They are great for those nights you're tired, kids are sick, or everyone is running in different directions.

Always have essential ingredients on hand to be able to whip up a meal in no time. Have a list handy to take with you to the store so you don't have to think about the items while you're there.

Try to use 5 ingredients or less. This makes getting dinner to the table quick, and it's easier to clean up. Yay!

Have Pre-Made Meals Ready

Slide 2 of 4

If you have a freezer that can store a few extra casseroles on those nights you don't have time or energy to cook, this is a game-changer. So many foods freeze well and all you have to do is take one out in the morning (or a few hours before dinnertime) to let it thaw, then pop it in the over, and dinner is done. From lasagna to king ranch chicken, choose some of your family's favorites and make a few of them to stock up and have on hand. Below is a list of some of my favorite freezer meals. Easy to plan. Easy to prepare. Simple.

-Cranberry Chicken- Place 4-6 chicken breasts in a large Ziploc bag. Cover with a can of whole berry cranberry sauce, a bottle of French dressing, a packet of dry French onion soup mix, and sliced oranges. Mix it up in the sealed bag. Freeze. When ready to cook, remove orange slices and place in oven at 375 for 30 minutes. Serve with rice and salad.

-Chicken Divan- Cook and cube 3-4 chicken breasts. Cook rice and a head of broccoli. In a 9x13 casserole dish layer broccoli, then chicken. Sprinkle with salt and pepper. Layer rice on top of the chicken. Then for the topping, melt half a stick of butter and add a ¼ cup flour. Whisk in a cup of milk and let that boil for 2-3 minutes. Whisk in 8 oz. of sour cream and pour that on top. Cover it up and freeze. When ready to cook, place in the oven at 425 for 30 minutes.

-Shepherd's Pie- Cook a pound of ground beef with ½ cup garlic and 1 teaspoon onion. Add a bag of frozen peas and carrots. Add 1 tablespoon Worcestershire sauce. Pour on the bottom of a casserole dish and make mashed potatoes to cover the top. Sprinkle with cheese. Cover it up and freeze. When ready to cook, place in the oven at 375 for 30 minutes. Serve with salad.

Some other freezer favorites include:

-Lasagna

-Chicken Spaghetti

-Quiches (good for breakfast, lunch, or dinner)

Most freezer meals last for roughly 3 months, so keep that in mind.

Photo Credit: ©Getty Images/evgenyatamanenko

Essential Ingredients

Slide 3 of 4

Every family has their favorite meals and snacks. However, having a rather small pantry, stocking up on too many essentials and goodies causes our family to run out of room quickly. Maybe you can relate? Or if you have a larger pantry, perhaps it tends to stay on the more disorganized, chaotic side of things. Regardless of your kitchen storage situation, stick with what you are able to store easily and safely in your pantry. Keep in mind, though, that it's always a good idea to have extra essentials in case items run short or unexpected guests stop by. Take time once a month, bi-weekly, etc. to gear up for the grocery store and plan for what your family needs.

Below is an example grocery list of essentials:

Frozen: pizza, pancakes, waffles, fruits, vegetables

Frozen meats: meatballs, chicken

Fresh meat/protein: eggs, hamburger, fish, who chicken, lunch meat

Produce: bagged salads, fruits, vegetables

Canned goods: broth/stock, chicken, tuna, peanut butter, jelly, beans, soups, pasta sauce

Deli/grains: bread, tortillas, rice, pasta, cereal, oatmeal

Dairy: butter, milk, yogurt, sour cream, sliced cheese, shredded cheese

Baking goods: flour, sugar, honey, baking powder, baking soda, yeast, corn meal

Of course, your list might look different than mine. Perhaps you want to add a category specifically for breakfast ideas, healthy smoothies/drinks, or ethnic foods. Either way, creating a grocery list that highlights each food category will keep your shopping experience organized and your kitchen stocked with all the essential ingredients to make dinner a smooth success.

Five Ingredient or Less Meals

Slide 4 of 4

In a busy season of life, raising kids and running around, quick and easy meals are essential. The least amount of ingredients, the better in many cases. Here are some family favorites that have five ingredients or less:

Beef/Rice Bowls

Ingredients:

-Rice

-Beef (You can also use other meat.)

-Bagged Salad

Cook rice and hamburger beef (season with taco seasoning or seasoned salt). Place rice then beef in a bowl and add a helping of salad on top.

Meatballs and Noodles with Gravy

Ingredients:

-Frozen Meatballs

-Can Cream of Mushroom Soup

-Dry Onion Soup Mix

Cook Meatballs according to directions. Add can soup and onion mix. Let simmer and thicken. Pour over egg noodles. Serve with a side of veggies or salad.

Whole Chicken (This takes a little more time.)

Ingredients:

Whole chicken defrosted

Seasonings

Lemons

Clean out and wash off chicken and pat dry. Drizzle olive oil and sprinkle seasoning you like. I use onion, garlic powder, and lemon salt. Then cut up lemons and stuff inside.

Put in a roasting pan and start cooking at 425 for 15 minutes. Then turn the heat down to 375 and cook for another 45 minutes to an hour until temp reaches 165 degrees. Serve with mashed potatoes and salad.

Some other family favorites with five ingredients or less include:

-Stir Fry Bowls

-Crockpot meals such as pot roast or stew

-Shrimp pasta

-Sausage, Cabbage, and Potatoes

- Frozen Pizza!

Let's strive to not let mealtime steal our joy and precious time with family. May we take a moment to plan, prepare, and keep it simpler so we can savor the meal, the moments, and the memories.

Photo Credit: ©Pexels/cottonbro