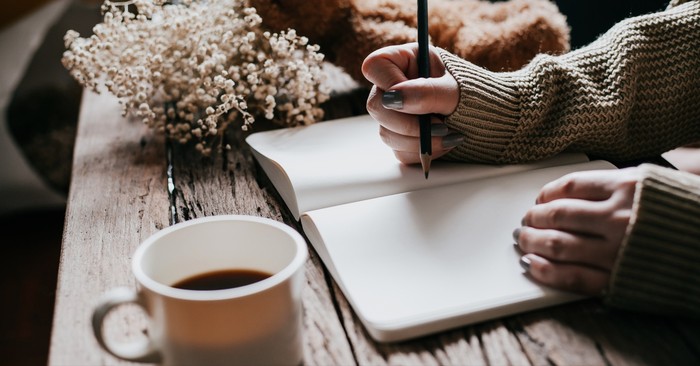 Here are 40 journal prompts to help guide you through your New Year's Reflection and develop goals for 2020.
The beginning of a New Year always feels fresh with wonder, hope, and dreams for a better year. After the challenges 2020 wrought globally, 2021 comes especially welcomed. However, as we enter the New Year, it is essential to take time for reflection.
What's happened to us and the world over the last twelve months? How have our lives changed? How have we changed? What goals do we need to make for growth and change during 2021? Below are 40 journal prompts to help guide you through your New Year's Reflection and develop goals for 2020. Some are longer and probe deeper for more intense reflection, and others are short or light-hearted for a quicker reflection.
May 2021 be a year where despite all the world faces, you grow closer to God and better reflect the image of our savior Jesus Christ.
Short Journal Prompts
1. How have you changed throughout 2020?
2. What are the top five memories from 2020 you don't want to forget?
3. What is the thing you are proudest of from 2020?
4. What is something you want to continue doing this year?
5. What is one way you can step out of your comfort zone this year to serve others and God?
6. What has God been teaching you?
7. What personal qualities do you want to strengthen? What steps can you take?
8. What do you want to accomplish this year?
9. What are your top three priorities this year?
10. What are your top three dreams this year?
11. What are the three most important things you learned this year?
12. What do you want your routine to look like this year?
13. What skill or hobby do you want to learn or continue to develop this year?
14. How can you express your gratitude more this year?
15. What can you do today that you didn't think was possible a year ago?
16. What is one habit you would like to change?
17. How will you plan to handle the disappointments that may occur this year?
18. What challenges did you overcome in 2020? What challenges do you still need to conquer?
19. What is one Bible reading goal you'd like to achieve this year?
20. What will your prayer life be like this year?
21. What did your quiet time look like in 2020? How will you improve it this year?
22. What is one attainable health goal this year? How will you achieve it?
Longer Reflective Journal Prompts
23. While the months of 2020 seem to bleed together in memory due to the monotonous rhythm imposed by lockdowns, canceled plans, and quarantines, there were still twelve whole months. God was present and had His hand in your life through each day of those twelve months. What are twelve ways you saw God work in your life throughout 2020? Write them down and then spend some time thanking and praising God for each instance, big or small.
24. In the future, if you were interviewed by someone who did not live through the year 2020, how would you describe it? What were some of your highs? Your lows? How was life different in 2020 than ever before?
25. What are some things you discovered about yourself in 2020 that you would like to change in 2021? Pick one. What small steps can you take to make that change a success?
26. What was the biggest struggle you faced during 2020? What did God teach you? How can you carry that lesson forward into 2021?
27. What prayers did you see answered during 2020? How were they answered? Were they answered in the way you expected? How did that impact your faith and prayer life?
28. How would you describe your prayer life in 2020? How do you want to see it change in 2021? What are some steps you can make to improve your prayer life?
29. Do you see God in a new light as a result of experiencing 2020? What things did you discover about God's character? Give some specific examples.
30. How did you see God's character revealed in 2020? Where did you see His faithfulness? Goodness? Righteousness? Mercy? Grace? Love?
31. How was your quiet time with God during 2020? How can you improve it during 2021? What small steps can you take to reach that goal?
32. What quiet stumbling blocks have snuck into your life that you need to confront and tackle in 2021? Consider things like complaining, gossiping, being quick to anger, allowing other things to be more important to you than God. Write out a prayer confessing the need for God's help and then create a plan for overcoming your stumbling block.
33. How have your relationships with others changed throughout 2020? Are there relationships you need to renew or repair? Write one or two names down and brainstorm a couple of ways to reach out to them or pray for them.
34. What new skills or hobbies did you develop in 2020? How can you use those skills or hobbies as a way to connect with or minister to others in 2021?
35. What was your biggest fear during 2020? Do you still struggle with that fear? Find and write down five verses you can use to speak truth into your fears and overcome them with God's strength.
36. While stressful or depressing moments heavily peppered 2020, the year wasn't all bad. What was your favorite moment of 2020? Why was it your favorite? How can you create opportunities for memories like this in 2020?
37. Instead of making New Year's resolutions, some people choose a "word of the year" instead. A word of the year is a theme you focus on during the year, whether through bible study, actions you take, or characteristics you wish to develop. Generate a list of possible words and then prayerfully consider which one God leads you to choose. Once you choose one, use a concordance or Bible app to find verses that can help support you on this "one word" journey.
38. Make a list of all the activities you participate in or lead. Are there things you need to prune from your life during this season? Are there tasks you need to delegate to others? What activities or commitments do you need to say "no" to? What opportunities is God calling you to consider saying "yes" to?
39. What's one thing that went badly or that you wish you'd handled differently? What did you learn from the moment? How can you apply that lesson and make changes moving forward?
40. How would you rate your physical health in 2020? Emotional health? Mental health? What changes can you make to improve your health in each of these areas?
Photo Credit: © iStock/Getty Images Plus/yokeetod
Crystal Caudill is a wife, caregiver, mom of teen boys, historical romance author, and prayer warrior. She isn't perfect but she strives to grow in God and encourage others in their faith journeys every day. Learn more about her and her writing at http://www.crystalcaudill.com.
Related podcast:
The views and opinions expressed in this podcast are those of the speakers and do not necessarily reflect the views or positions of Salem Web Network and Salem Media Group.
Related video:
In the video are 5 Tips for Decluttering Your Space by Michelle S. Lazurek.
---
---