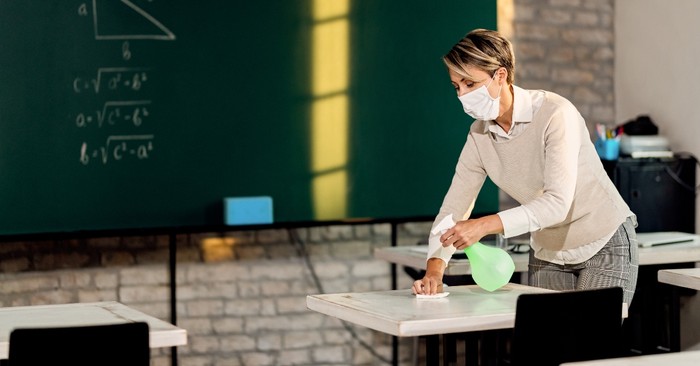 It's important for us to know the challenges our kids' teachers are facing at a time like this.
Teaching has never been an easy job. The demands on time, emotions, and mental health have always been challenges teachers face, but they do it because they love their students and have a deep desire for them to succeed. However, the 2020 pandemic has created a torrent of challenges that teachers are doing their best to navigate and overcome. Even on their best days, they wrestle with stress, anxiety, frustration, and exhaustion at levels previously unimagined.
To support our teachers and bring awareness to their struggles, I've interviewed a dozen teachers from across the country.
Here are 6 common challenges these teachers are facing and the ways we can support them.
Photo Credit: © Getty Images/Drazen Zigic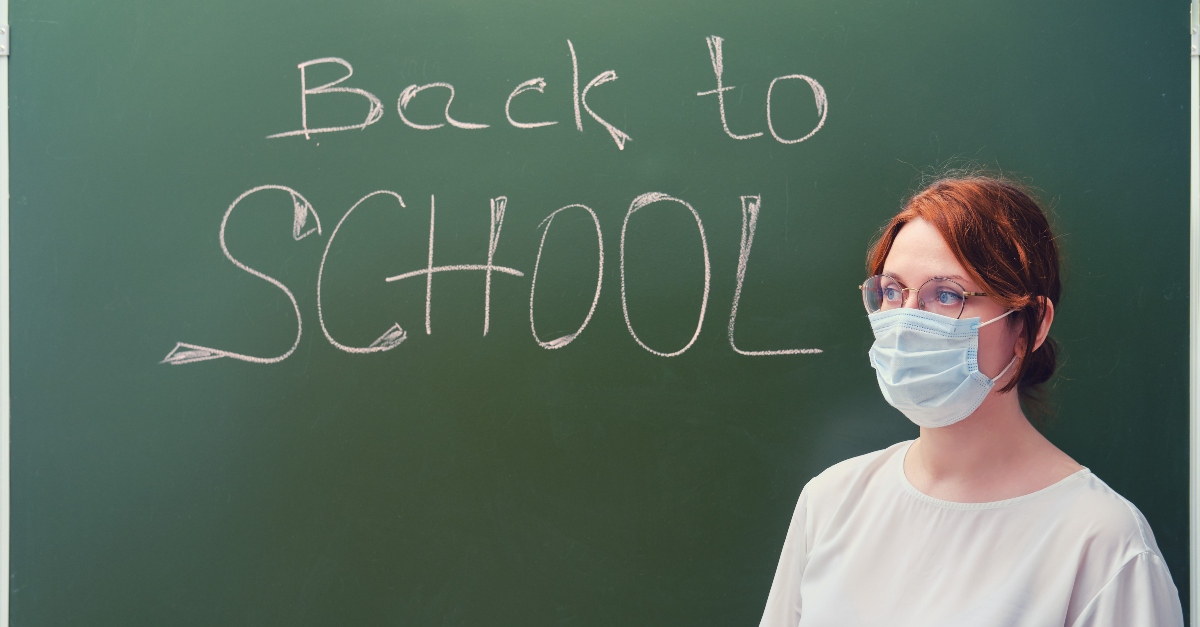 1. Child Care
In most places, students must work from home at least part-time during the week to allow space for social distancing. Parents everywhere are struggling to juggle their kids and their jobs. Most teachers I talked with are required to be physically present in the building even if they are teaching virtually, but their children are not allowed to join them. The struggle to juggle schedules with their spouses or find someone who can watch their kids while guiding them through online schooling is a nightmare. For many, changes to their arrangements must be made often due to their support system's availability.
How you can help: Many churches are stepping up and providing a safe, socially distanced space to watch and support their children. However, they need volunteers. If you can provide that service, reach out to teachers you know and offer what time you can to help. Everyone can pray that God will open places for their children to go that are reliable, safe, and socially distanced.
Photo Credit: © Getty Images/Andrey Zhuravlev
2. Fear of Getting Sick
While students can attend virtual school, most teachers do not have that option—not without changing careers. Many are teaching students in person every day, even if the students attend on a rotational basis. Every day teachers face the fear of being potentially exposed to the Coronavirus. No matter how well they follow the rules or how often they sanitize, they know they will be exposed at some point. It is just a matter of time. Many teachers fall into the at-risk category, whether due to age or health complications.
Examples were shared about students arriving and remaining at school sick. They were not sent home to learn virtually until recovered. In some instances, this is an administrative decision made because they did not want to upset the parents. Other teachers spoke about negative tests not being required before other teachers return from quarantining. The fears teachers hold about being exposed are real.
How you can help: If you have a child in school, send in hand sanitizer, wipes, or gloves. Often teachers only have a small supply provided to them, and much of it can come from their own pocket. If your child is sick in any way, keep them home until fully recovered. Pray for God to protect the health of the teachers and to ease their fears. Pray for the administrators to make wise decisions for the health of everyone.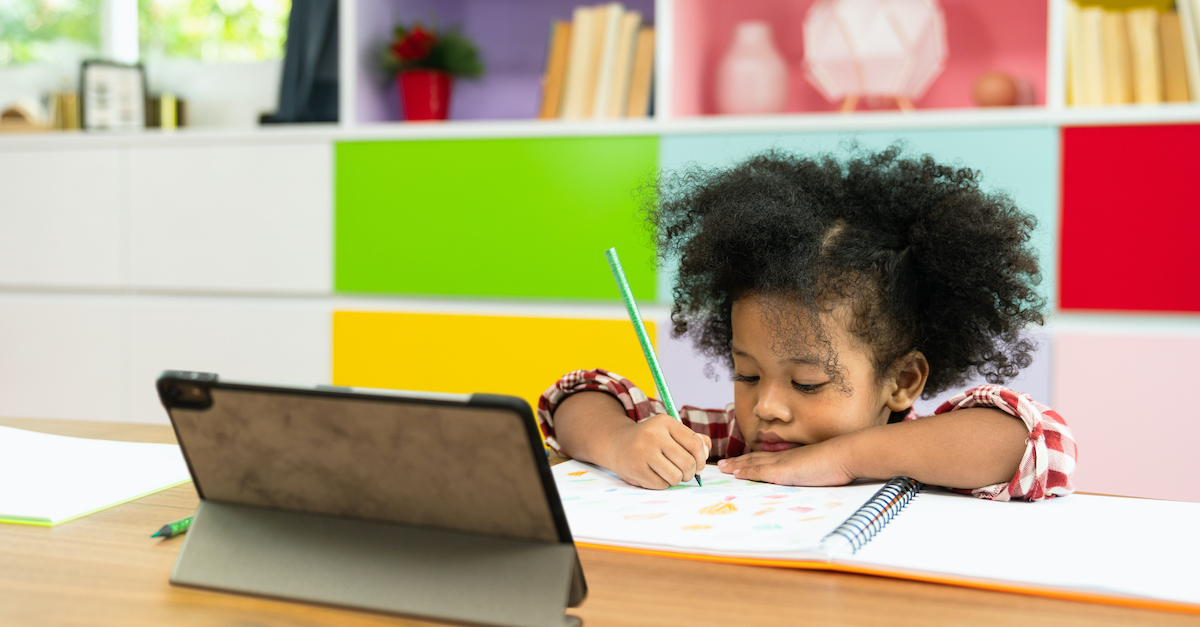 3. Fear and Concern for Their Students
Over and over again, I heard the heart-wrenching concern and fear for their students. Aside from the fear of students getting sick, the lack of physical interaction between students and teachers drove my interviewees to tears. No matter what they do, the current situation is detrimental to providing students with the best practices for their education.
Technology does not replace face-to-face time with a student. Even in person, teacher interaction is limited due to the need to maintain social distancing. The majority of teachers also face the challenge of teaching their virtual and in-person students simultaneously. It is an impossible situation to provide equal engagement. The harsh reality is their virtual students are easily overlooked, no matter how hard they try. I wish you could hear the absolute heartbreak evident in their words as they told me.
How you can help: Teachers are feeling helpless to provide students with what they truly need. Send in notes of encouragement. Let them know you are praying for them and their students.
Photo Credit: © Getty Images/Sushiman
4. Virtual Teaching: Learning, Time, and Structure
Except for a few, schools were not prepared for full-time online learning. Teachers had little to no previous training and were tossed into the ocean of virtual education without anything to keep them afloat. They are learning as they go, and a large number of teachers are struggling. The joy of teaching has diminished to survival mode, which quickly leads to burn out.
Virtual teaching also requires more time. Every little thing must be created and uploaded or downloaded. If your student has a teacher who made a beautiful Google classroom with fun images, links, and ways to retrieve assignments, then it is safe to assume multiple days of full-time work went into creating it. What might have taken only an hour to create for the classroom now takes hours to make accessible online for students. This is on top of the normal extra work teachers put into lesson planning and grading papers outside of the school day. Most teachers I talked to discussed how they live, eat, and breathe teaching from the moment they get up until they go to bed.
Virtual education cannot be expected to follow the same structure as a traditional classroom, yet many districts hold that expectation and try to mimic it. Teachers struggle and feel unheard as their districts try to micromanage everything without experiencing what the teachers and students face. Several teachers expressed how unfair it is to the children to expect them to sit at a computer for seven hours straight. Some teachers said students could learn virtually, but it must be approached with different expectations and structure. Other teachers spoke to the fact that not all students learn through technology. Teachers want what's best for their students, but many express grief over the inability to provide what is best for them through virtual learning. One teacher put it best when she said, "Technology can be used as a supplement, but should not be used as the only means of education."
How you can help: Pray for the teachers as they blaze a trail through teaching virtually. Pray they do not burn out, and time can be given back to them for their own families and the recharging of their minds, bodies, and spirits. Pray for the administrations to listen to their teachers.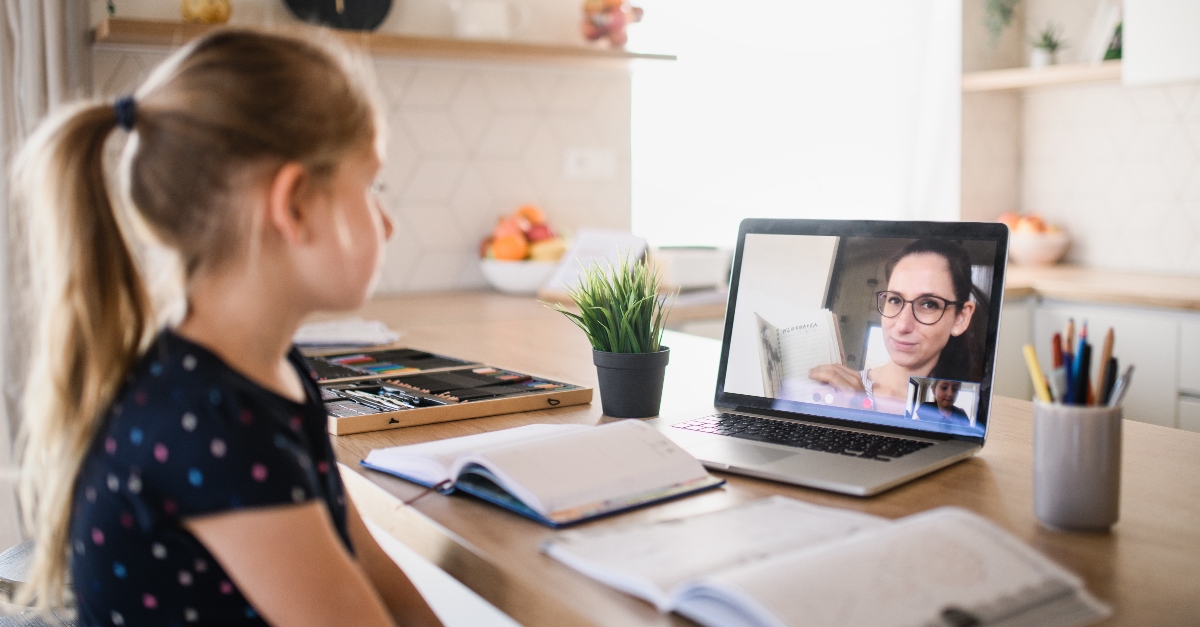 5. Virtual Teaching: Equipment
If learning the technology were not bad enough, the technology equipment provides another whole dimension of struggle. Not every student has access to a computer or WIFI access. Even when technology was contained within the regular classroom, technology could not be consistently relied upon. Computers would break, and WIFI would go down. Teachers adapted and managed with their students in the classroom. Now teachers are unable to lean over and help a child figure out what the technical glitch is. All they can do is watch from the other side of the screen and try to walk them through a possible solution orally.
How you can help: If possible, be available for your child to help them through the technical side of things. Give grace to the teachers when something doesn't work. It is likely they are just as, if not more, frustrated than you. Again, prayer is always wanted.
Photo Credit: © Getty Images/Halfpoint
6. Being Viewed Negatively or Treated as if They Don't Matter
Several teachers expressed the challenge of being viewed negatively. They were condemned if they wanted to go back to face-to-face schooling while others received the same condemnation for desiring virtual learning. When decisions are made, they are asked about their opinions. Yet several echoed the feeling of having those opinions be brushed aside with little or no consideration. It is as if one moment they are heroes and then disposable the next. They love their students and what they do, but the roil of positive and negative attitudes surrounding everything they do weighs heavily.
How you can help: Reach out and encourage each teacher you can. If you are in a position of authority over a teacher, consider their opinions and how that can be brought into whatever decision is being made. Pray for these teachers. They are weary, stressed, anxious, and trying their best. They need our physical and spiritual support wherever possible.
2020 has been a trying year for everyone, but take a moment to step into a teacher's shoes. Consider the struggles they are facing and pray for them. Empathy goes a long way in supporting others and showing the love of Christ.
Crystal Caudill is a wife, caregiver, mom of teen boys, historical romance author, and prayer warrior. She isn't perfect but she strives to grow in God and encourage others in their faith journeys every day. Learn more about her and her writing at http://www.crystalcaudill.com.
---
Want more interaction with the women of iBelieve? Join our fans, writers, and editors at the iBelieve Facebook group, Together in Faith, for more videos, stories, testimonies, prayers and more. Visit here to join the community!
---
---