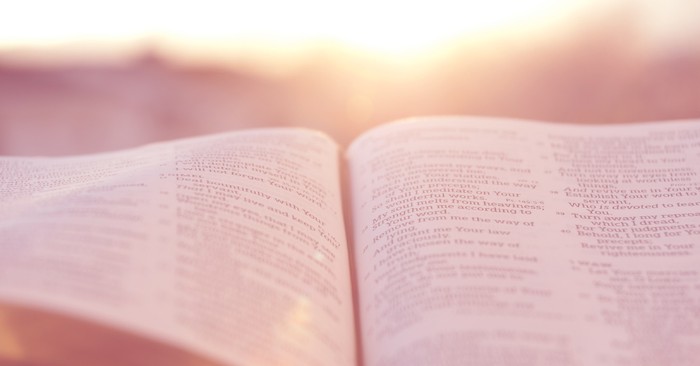 We pile on the shame and guilt, thinking God is as focused on our weaknesses as we are...but what if we focused on the truth of His love instead?
In these first few days of a new year, our focus seems to be on all the things we want to change about ourselves. We are setting resolutions, trying to break bad habits, and hoping to cement better ones into our routines. We are so aware of all of our shortcomings and failures and mistakes that we focus on them relentlessly, thinking God must be disappointed and discouraged by our behavior. We pile on the shame and guilt, thinking God is as focused on our weaknesses as we are.
Here's the truth, though: God loves us. Where we see our sin, God sees his son Jesus Christ on the cross for our sake. Where we see shortcomings, God sees his son covering us and drawing us close.
What if we focused on that beautiful truth in this new year instead of feeling guilty or ashamed?
Jade Mazarin writes this in her trending article "No, God Is Not Disappointed in You" for Relevant: "Rather than using our faults as a chance to punish ourselves, perhaps we can consider them the invitation to not only practice our faith, but also to grasp the intense love of God."
How different would our lives look if we chose to take our sins and shortcomings to the cross and surrendered them to Christ instead of keeping them secret and feeling the shame of them on our shoulders?
"God does not identify us by our sins," Mazarin shares. "It's almost as if He sees things the other way around—while we might magnify our mistakes, God magnifies the beauty given to us. He is not intimidated by our weaknesses, like we so often are. He sees their power as already dissolved by the cross.
When we feel guilty and perceive God as sternly pointing out our faults, perhaps we can recognize it is really just our own voices or the enemy's. We can choose instead, to listen to His quieter voice that tenderly repeats, "There is no condemnation for those who are in Christ." (Romans 8:1)."
This doesn't mean we can ignore our sins, however. God hates sin because of how opposite it is to his desires for his children. 1 John 1:9 says "If we confess our sins, He is faithful and just and will forgive us our sins and purify us from all unrighteousness." His great love for us overcomes all sin, no matter how heavy or powerful it may be.
Kelly Balarie writes in her Crosswalk article "Shame in the Bible" that "we can't let shame knock us down.  We can't let shame win.  Because, you better bet it will try to tell us that we aren't good, holy or lovable.  Shame will come to trap us under the bricks, holding us down so that we can't accomplish God's purposes. Shame is one of the devil's best tools to chisel away at our faith walk."
Instead of trying to hide in our shame (like Adam and Eve did in Genesis 3), let's bring it to our loving, gracious, merciful Father.
"He knows that only gracious love brings us healing and the ability to love ourselves," Mazarin concludes. "It then gives us the strength to let go, and move forward in hope. Simply, there is a precious and freeing truth that God wants us to receive deep down. That is, we are beautiful; and He is pleased with us. He even "rejoices with singing over us" (Zephaniah 3:17)."
This new year, if you make resolutions, resolve to come closer to the God who loves you. "God is not disappointed in you," Mazarin says. "Far from it."
Resolve to take your shame to Him, knowing He is never disappointed in you and He will never turn away from you. Resolve to find your healing and your worth in Christ alone. There is so much freedom to be had in life with Him!
Publication date: January 7, 2016
Rachel Dawson is the editor of BibleStudyTools.com
---
---