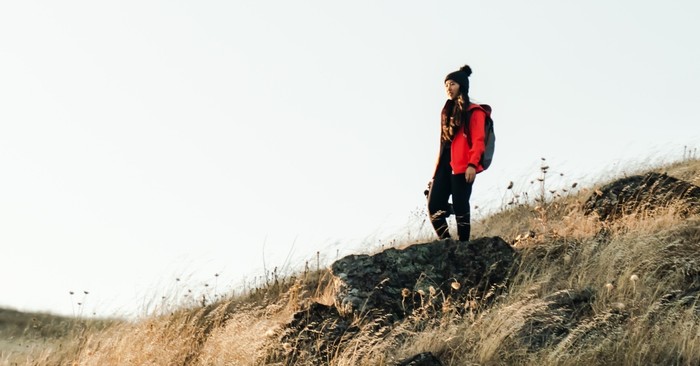 The enemy will often attempt to convince us that we're "falling behind" and that we're not "getting anywhere" or that we're "not getting things done quick enough in life," especially within a time of "stillness" like the one we've suddenly found ourselves living in. But when I'm walking with Jesus, Lord of my life by my side, I need not worry nor fret over the steps or the pace of my journey.
Moment of Honesty: I recently found myself struggling, and feeling anxious as thought filled my head: "Am I falling behind? Could I be regressing? Am I going backwards in my life?"
With the help of the Holy Spirit, I discovered a place of worry within me, a fear of "falling backwards" into old struggles, old ways of thinking, old patterns—"old me."
These are old things that I know I have already overcome, in Christ, and left behind. The "old me" has died, and I am living a new life in Christ.
But the Lord has been so faithful to paint the most beautiful picture to remind me of this truth:
When I'm walking with Jesus, Lord of my life by my side, I need not worry nor fret over the steps or the pace of my journey.
Photo Credit: © Unsplash/Fancisco Delgado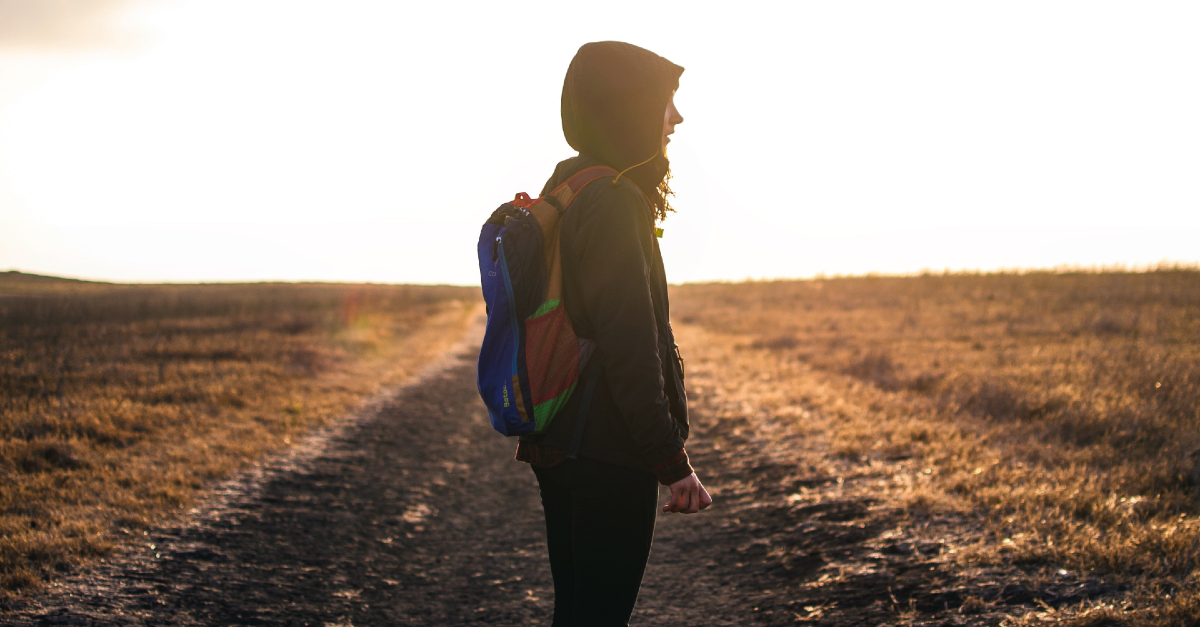 What if I'm Not Getting to Where I'm Supposed to Be?
The enemy will often attempt to convince us that we're "falling behind" and that we're not "getting anywhere" or that we're "not getting things done quick enough in life," especially within a time of "stillness" like the one we've suddenly found ourselves living in.
But I know that I can trust God to get me exactly where I need to go, and He'll get me there right on time, because I'm hanging onto Him, and I'm walking closely by His side. With God, you never have to worry about going backwards.
"Remember not the former things, nor consider the things of old. Behold, I am doing a new thing; now it springs forth, do you not perceive it? I will make a way in the wilderness and rivers in the desert." (Isaiah 43:18-19)
When I'm walking alongside Him, He's always taking me forward—no matter how life looks, no matter how life feels.
Have you ever heard this lie? "Oh—you didn't really have victory over that struggle. You didn't win. Just look at you struggling with it right now, it's still there…look at you, you're sinking."
What does the enemy want us to do? He wants us to believe his lies and illusions and live in the place of defeat. He knows that if he can make us think and believe we're defeated, then we'll live like it, and we'll make our choices and decisions out of the place of defeat.
But God says that we are already victorious in Christ.
Photo Credit: © Unsplash/Jared Murray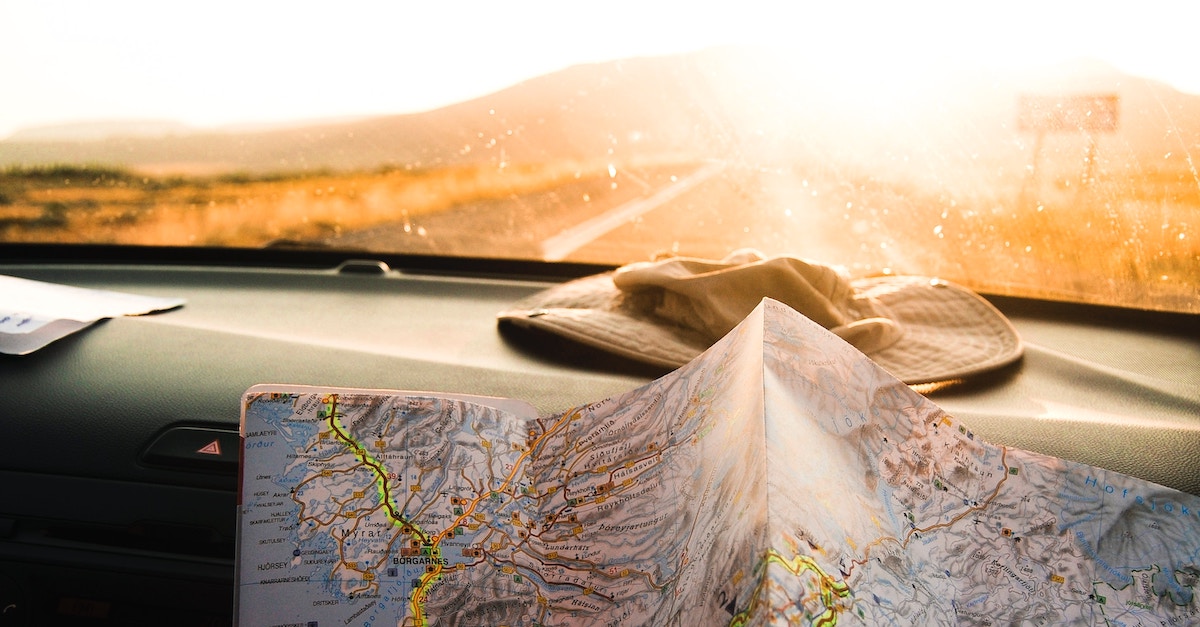 God Always Has Us Right Where He Wants Us
He has promised that whatever He takes us to, He is going to lead us through, and He is always going to make a way for us to overcome.
"I have told you this so that through me you may have peace. In the world you'll have trouble, but be courageous—I've overcome the world!" (John 16:33 ISV)
"But in all these things we overwhelmingly conquer through Him who loved us." (Romans 8:37 NASB)
"Do you not know that you are God's temple and that God's Spirit dwells in you?" (1 Corinthians 3:16 ESV)
Dear friend, rest assured that when you are hanging onto Christ—when He is Lord of your life—you are not going backwards. He has started you on the most wonderful, beautiful, exciting, wild and free adventure you couldn't even imagine for yourself. He is always leading forward into victory!
"And I am certain that God, who began the good work within you, will continue his work until it is finally finished on the day when Christ Jesus returns." (Philippians 1:6 NLT)
Whatever there is to overcome, He can be trusted to enable us to burst through it.
"Even though I walk through the valley of the shadow of death, I will fear no evil, for you are with me; your rod and your staff, they comfort me." (Psalm 23:4 ESV)
"Jesus looked at them intently and said, 'Humanly speaking, it is impossible. But not with God. Everything is possible with God.'" (Mark 10:27 NLT)
"I can do all things through Christ who strengthens me." (Philippians 4:13 NKJV)
What do we do when we start to worry about regressing in life?
Photo Credit: © Unsplash/Julentto Photograph
3 Things to Do When You Worry about Falling Behind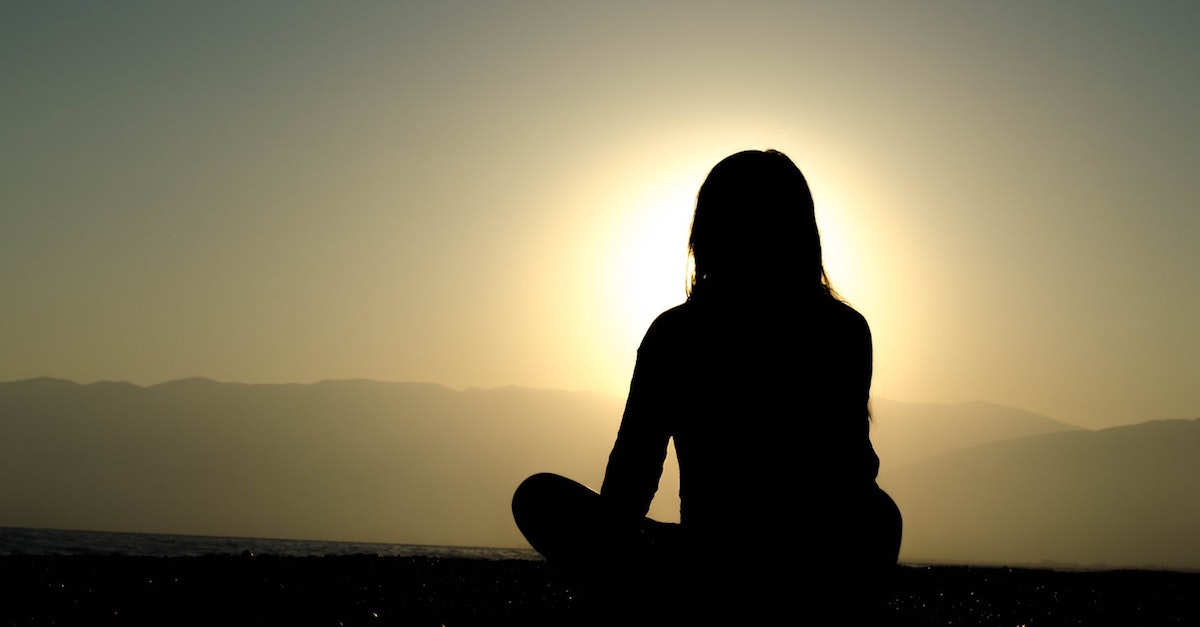 1. Remember
We remember the truth, and we shake away the lies, the "what ifs", the illusions.
We remember that God has promised never to leave us, nor forsake us.
We remember that He is walking right there beside us.
We remember that He is near, He's never left, and He is calling and leading us along the perfect path, at the perfect pace.
"Be strong and courageous. Do not fear or be in dread of them, for it is the LORD your God who goes with you. He will not leave you or forsake you." (Deuteronomy 31:6 ESV)
"Have I not commanded you? Be strong and courageous. Do not be frightened, and do not be dismayed, for the Lord your God is with you wherever you go." (Joshua 1:9 ESV)
Have you found yourself struggling with the worry of "falling behind" or "regressing," especially in this time of crisis?
Photo Credit: © dingzeyuli
2. Confide in Jesus
Tell your Heavenly Father about it. Confide in Him. Tell Him everything. He's always up for a "heart-to heart" with His children.
"Humble yourselves, therefore, under the mighty hand of God so that at the proper time he may exalt you, casting all your anxieties on him, because he cares for you." (1 Peter 5:6-7 ESV)
His arms are open to you, and He's ready to remind you of what is true. He's ready to paint a picture of what is in His heart, to fill your anxious heart with His delightful truth.
"Therefore I tell you, do not be anxious about your life, what you will eat or what you will drink, nor about your body, what you will put on. Is not life more than food, and the body more than clothing? Look at the birds of the air: they neither sow nor reap nor gather into barns, and yet your heavenly Father feeds them. Are you not of more value than they? And which of you by being anxious can add a single hour to his span of life? And why are you anxious about clothing? Consider the lilies of the field, how they grow: they neither toil nor spin, yet I tell you, even Solomon in all his glory was not arrayed like one of these." (Matthew 6:25-34 ESV)
3. Pray for His Peace
Father,
Thank You for reminding me of the truth. Forgive me for giving into worry. Thank You for setting my mind straight. You give me authority over my own mind, but Father God, You also know that sometimes I need reminders from Your heart that help paint a picture of the true reality. Reminders that show me how You see me, and what I am truly capable of overcoming, in Christ. I trust You, Lord, and I believe what You say about me being able to overcome anything. I never have to worry about being behind, or needing to catch up, or getting lost along the way. No matter how things may seem, I declare my faith and trust in You.
Thank You, Lord. I cling to you, and I trust and know, that You have good things in store for my life.
In the Name of Jesus,
Amen
"Seek the Lord and his strength; seek his presence continually!" (1 Chronicles 16:11 ESV)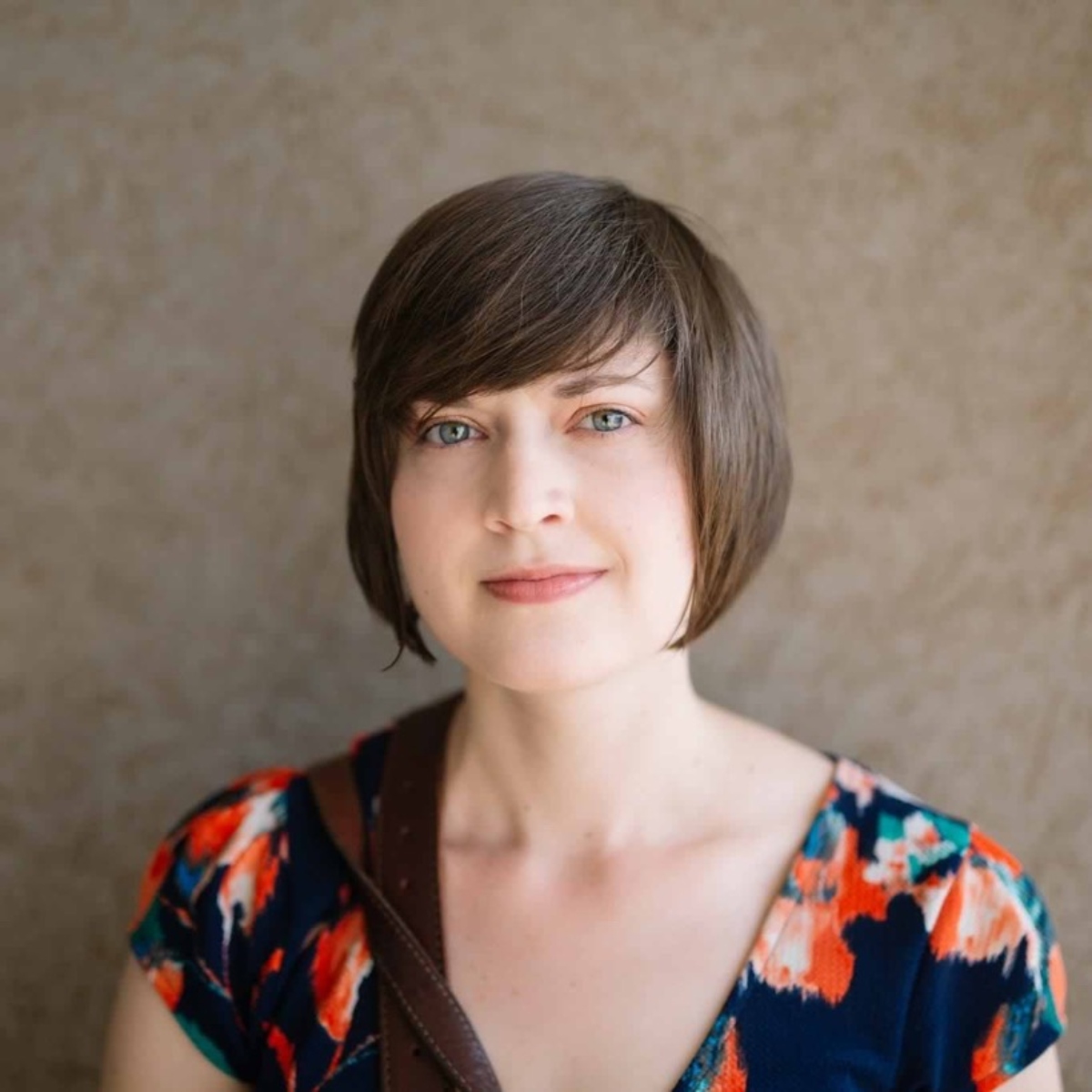 Heather Barr is a simple country girl living in North Carolina alongside her husband, Jason. They have two Blue Heeler pups, two cats, and eight chickens. Heather enjoys photography, spending time in the garden, and curling up with a good book. Heather loves writing about her journey into the Father's heart, as she faces her fears, discovers who she is in Christ, and learns how to live life in the Secret Place of His presence. You can follow her daily journal at Life in the Secret Place, and connect with her on Instagram and Facebook.
LISTEN: Being Complete in Jesus (Understanding Matthew 5:21-48)
Hearing Jesus is a devotional journey through the gospels, where we explore the teachings of Jesus chapter by chapter. If you're seeking to live a life that reflects God's, this podcast is for you.
The views and opinions expressed in this podcast are those of the speakers and do not necessarily reflect the views or positions of Salem Web Network and Salem Media Group.
WATCH: 10 Sins Christians Downplay (and Why They're So Destructive)
Stock Footage & Music Courtesy of Soundstripe.com Thumbnail by Getty Images

---
---