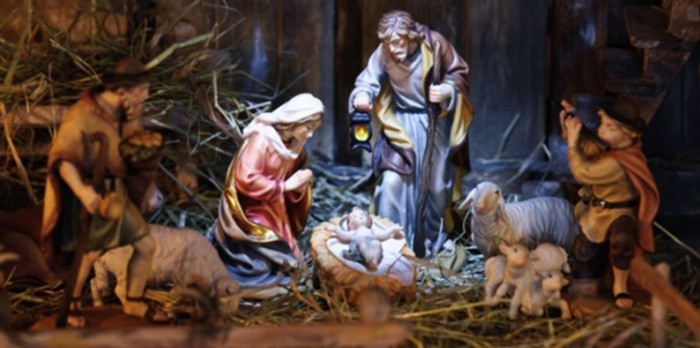 Will you step into that scene over 2000 years ago in ancient Israel this Christmas season?
The room was filled to the brim with nativity scenes. As I sat at my table at a charity luncheon, I absorbed it all with awe and wonder as sweet ladies delicately displayed their priceless family heirlooms. I took in the meticulously painted ceramic nativities and adored the decadently decorated scenes. But the one I loved the most (a hit with everyone, in fact) was the little nativity crafted by an eight year old boy who used pipe cleaners. You can imagine how that particular one warmed each of our hearts as we imagined a sweet young boy with impressive creativity. 
I love how our Lord allows us a peek into the real life scene of the birth of our savior, Jesus. Something in particular stands out to me with in the first chapter of the book of Matthew. An angel appeared to Joseph and announced such an endearing fact about the upcoming birth.   
"Behold, the virgin shall conceive and bear a son, and they shall call his name Immanuel" (which means God with us). 
Matthew 1:23
 ESV
  The very King of Kings and Creator of the universe would become God with us. Our God did not chose to stay in heaven on His mighty throne to rule over us from a distance. But rather, He sent His son Jesus to be with us, to forgive us and to bring us closer to the Father. The fact that He chose to orchestrate this miraculous birth among humble and  even common folk further reminds us that God means what He says that His son Jesus would be "God with us." As Mary, Joseph, the shepherds, the lowly sheep, the kingly wise men and even the angels took their place in a scene that would forever change the landscape of history, we too have our part in the Nativity.     Will you step into that scene over 2000 years ago in ancient Israel this Christmas season?   
Will you proclaim the great news just as the angles did? 
And suddenly there was with the angel a multitude of the heavenly host praising God and saying,"Glory to God in the highest, and on earth peace among those with whom he is pleased!"
Luke 2:13-14
 ESV
  May we all find ourselves with reverent praise and adoration of our Immanuel-God with us this Christmas as we sing with great joy in our hearts. Though it is easy to get caught up in the stress of the season, a refocused heart of praise and worship tells the world around us that there's something more...something bigger...someone amazing worth giving their life to.  
Will you "go tell it on the mountain" just as the shepherds did?
  And when they saw it, they made known the saying that had been told them concerning this child.   And all who heard it wondered at what the shepherds told them.
Luke 2:17-18
ESV   In those days, shepherds weren't not highly regarded as they were not rabbis nor royalty. I wonder if they thought to themselves, "Why us? We are no one of great importance." Even so, they were more than worthy to receive the grand news of the birth of their long awaited Messiah.  You and I may not feel like anyone "special" or equipped to share the good news of our savior with those around us. But, by living out our faith and loving others our actions speak loudly as we "tell it on the mountain."  
Will you offer great gifts to your King as the wise men did?
When they saw the star, they rejoiced exceedingly with great joy. And going into the house they saw the child with Mary his mother, and they fell down and worshiped him. Then, opening their treasures, they offered him gifts, gold and frankincense and myrrh. 
Luke 2:10-11
 ESV
  Our life, our love, our faith and our worship of Jesus is of great importance to the Lord. We give Him beautiful gifts when we love Him with all of our heart, mind soul and strength. Each day we have the opportunity to present our life as a gift to the One who gave His life to us. This Christmas may we present to God our lives full of abundant gifts: worship, praise, obedience, prayer and serving others.  
Will you take risks and believe God as Joseph did?
When Joseph woke from sleep, he did as the angel of the Lord commanded him: he took his wife, but knew her not until she had given birth to a son. And he called his name Jesus. 
Matthew 1:24-25
 ESV
  As an outsider looking in, one might think that Joseph and Mary really had to step out on a limb and believe God after the the angel announced the upcoming life changing events. In their day, this news of Mary's pregnancy before they were married just was not socially acceptable. (Even though she was a virgin!) I have to believe that prior to these events, both Mary and Joseph displayed to God their unwavering faith. Where does your faith stand this Christmas? Is God asking you to do something that the world might view as weird or unconventional? May our unwavering faith as we take risks and trust God serve as beautiful worship in the eyes of our Lord.   As you ponder your place in the divine nativity scene, I encourage you this Christmas to step into each of the roles above. Maybe one day you take the role of the angels in worship and another day you share the good news just as the shepherds did. Be prepared for a more rich and meaningful Christmas season.  
What are your thoughts? Share how you will take your place in the Nativity this season. Let's chat!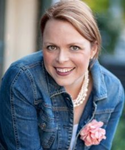 Sarah Martin loves encouraging young adult women to LIVE OUT! the Kingship of Christ in everyday life. She is the author of the book Stress Point: Thriving Through Your Twenties In A Decade Of Drama. Read more from Sarah at LIVE IT OUT! blog.
---
---