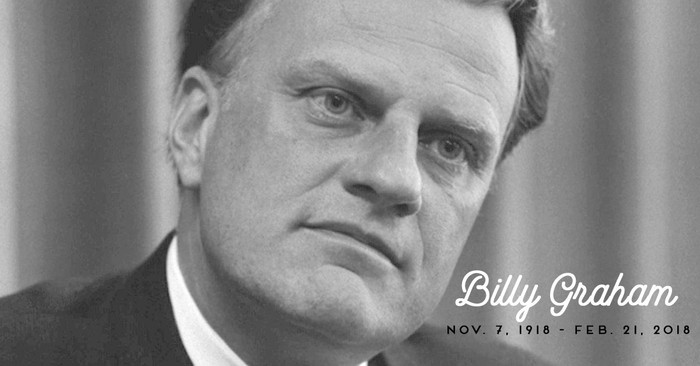 On February 21, 2018, at the age of 99, Billy Graham left this world and stepped straight through heaven's gates. He weep that he is no longer with us, yet rejoice in his homecoming and the legacy he leaves behind.
"Someday you will read or hear that Billy Graham is dead. Don't you believe a word of it. I shall be more alive than I am now. I will just have changed my address. I will have gone into the presence of God."
- Billy Graham
On February 21, 2018, at the age of 99, Billy Graham left this world and stepped straight through heaven's gates. He is now healed, free, and with our Lord and Savior Jesus Christ, the very One about whom he had spent a lifetime preaching and witnessing. We will miss his light in a dark world, his godly wisdom, powerful prayers, and his beautiful spirit. He made such a difference in the lives of so many.

Billy Graham's Lasting Legacy
Most of us don't know of any other person in current times who has left such a tremendous legacy of faithfully pointing others toward the hope of the cross and the love of Christ. He never wanted the attention and limelight of the world; he didn't seek out fame or money. He only desired to lead others to know Jesus, the One who had changed the course of his own life at age sixteen at a revival meeting.
Dr. Graham had the opportunity to preach the message of Christ's freedom and forgiveness all around the globe, reaching over 200 million people in more than 185 countries. He was given the privilege of leading hundreds of thousands of people to pray to receive Jesus Christ into their lives as Lord and Savior. His integrity and wisdom opened doors to offer spiritual support and guidance for United States presidents from Eisenhower to Bush. He was a friend to many - celebrities, politicians, athletes, and leaders - such as Martin Luther King, Jr., Bono, Muhammad Ali, Johnny Cash, Larry King, Queen Elizabeth, and WWII hero and Olympian Louis Zamperini.
He was named by Americans as "One of the Ten Most Admired Men in the World," a record-breaking 61 times with the Gallup poll. He became known through the years as not only a world-renowned evangelist, but as a kind, non-judgmental, loving and accepting soul, with a great sense of humor.
His message is timeless, powerful, and still relevant for today. The phrase, "the Bible says," resounded throughout his sermons, and the truth he preached for years still transcends all barriers of denominational differences, age, nationality, and culture. It has stood the test of time and generations, pointing millions to Christ.
The Reverend Billy Graham preached God's Word with conviction and passion for over 60 years. Many, many people will greatly miss his influence and light in this world. He lived for Christ alone, and that is what He will always be most remembered for.

Billy Graham's Hope for America
In Reverend Graham's last message in the 2013 video-recorded My Hope America, he shared his heart for our nation today, and in this simple, yet powerful prayer, is a final reminder: if we're willing to come to Christ, He has the power to change our lives and future forever.
"Our country's in great need of a spiritual awakening. There have been times that I've wept as I've gone from city to city and I've seen how far people have wandered from God.
I want to tell people about the meaning of the cross. Not the cross that hangs on the wall or around someone's neck, but the real cross of Christ… With all my heart I want to leave you with the truth, that he loves you, and is willing to forgive you of all your sins.
Sin is a disease of the human heart… There is no other way of salvation except through the cross of Christ.
Today, I'm asking you to put your trust in Christ.
'Dear Heavenly Father, I know that I'm a sinner, and I ask for your forgiveness. I believe you died for my sins, and rose from the dead. I turn from my sin, I repent of my sins, I invite you to come into my heart and life. I want to trust and follow you as my Lord and Savior.
In Jesus' Name,
Amen.'"
"For God so loved the world that he gave his one and only Son, that whoever believes in him shall not perish but have eternal life." John 3:16

Thank You, Reverend Billy Graham
Thank you Rev. Graham, for touching this world with the Gospel of Christ so powerfully, thank you for your obedience and commitment to stay strong and walk closely with the Lord for so many years. What a tremendous legacy you have left behind. May we be found ever so faithful to carry on the light and message of the cross, just as you have done through a lifetime. I'm sure you must have heard these powerful words spoken over you today, "Well done, good and faithful servant..."
What a treasure.
Just as I am.
All is grace.

15 Memorable Quotes by Billy Graham, about Heaven, the Cross, Christ, and this Life:
"The will of God will not take us where the grace of God cannot sustain us."
"God never takes away something from your life without replacing it with something better."
"I've read the last page of the Bible, it's all going to turn out all right."
"It is the Holy Spirit's job to convict, God's job to judge and my job to love."
"My home is in Heaven. I'm just traveling through this world."
"Knowing we will be with Christ forever far outweighs our burdens today! Keep your eyes on eternity!"
"World events are moving very rapidly now. I pick up the Bible in one hand, and I pick up the newspaper in the other. And I read almost the same words in the newspaper as I read in the Bible. It's being fulfilled every day round about us."
"God will prepare everything for our perfect happiness in heaven, and if it takes my dog being there, I believe he'll be there."
"When we come to the end of ourselves, we come to the beginning of God."
"The message I preach hasn't changed. Circumstances have changed. Problems have changed, but deep inside man has not changed, and the gospel hasn't changed."
"The only hope for enduring peace is Jesus Christ."
"God has given us two hands, one to receive with and the other to give with."
"Mountaintops are for views and inspiration, but fruit is grown in the valleys."
"The moment we take our last breath on earth, we take our first in heaven."
"Believers, look up – take courage. The angels are nearer than you think."

More on the Life and Legacy of Billy Graham:
Famed Evangelist the Rev. Billy Graham Dies at Age 99
Christian Leaders Respond to Rev. Billy Graham's Death
Billy Graham: Well Done Thy Good and Faithful Servant
Debbie McDaniel is a writer, pastor's wife, mom to three amazing kids (and a lot of pets). Join her each morning on Fresh Day Ahead's Facebook page, for daily encouragement in living strong, free, hope-filled lives. Find her also on Twitter and at her blog www.debbiemcdaniel.com.
---
---