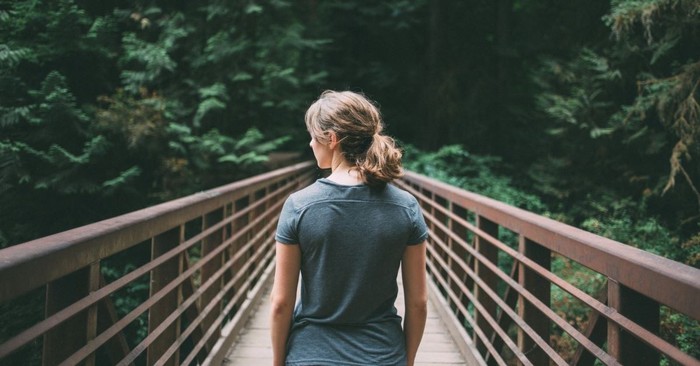 We may not always be able to see everything God is doing in our lives. We may not fully understand His ways or timing, but we can be confident of this: He is at work.
Though the enemy will try to tempt us to believe we are forgotten or left on our own, we must make the choice to step right over his traps. Though we may not be aware of the bigger picture that only God can see, He is faithfully leading and carrying us, even when we don't understand how all the broken pieces of life can ever fit together.
The Bible is filled with countless reminders that the Lord loves us, and that His Presence covers us, goes before us, and hems us in from behind. God never asks us to face the struggles and tough decisions alone. He's with us always and promises to show us the way.
Here are 10 Powerful Verses for When You're Making Tough Decisions:
Photo Credit: unsplash/jake-melara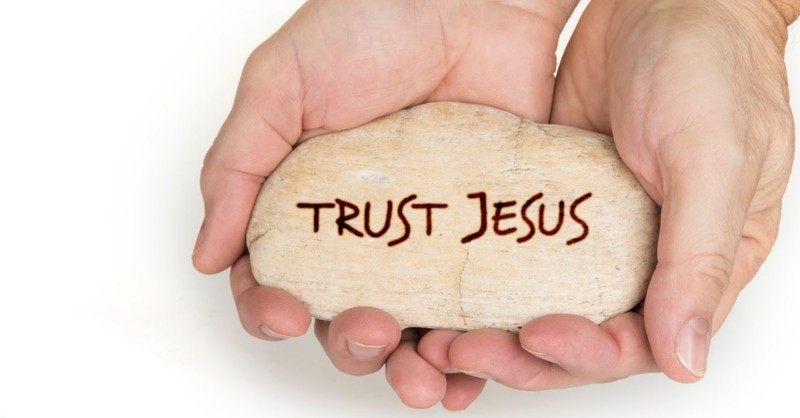 Verses about Trust
"Trust in the Lord with all your heart, and do not lean on your own understanding. In all your ways acknowledge Him, and He will make your paths straight." 
Though we may not always see what's ahead, God does. And there's great power in trusting Him. For it clears the way for our security to be based solely on Him, not on our circumstances or other people—not on ourselves or on our own ways of thinking.
He is faithful to lead us, and He has a purpose and a plan still in store. He brings clarity and light into dark times. He knows what's around the bend, even when it seems hidden to us. His timing is perfect, though it doesn't always make sense to us. No matter how we feel or what our current situation may be, we can be confident that God's presence will go before us, guiding and guarding our steps.
"For I know the plans I have for you," declares the LORD, "plans to prosper you and not to harm you, plans to give you hope and a future." 
As believers in Christ, we can hold fast to this promise. God will never waste our pain; He will turn it around for good. Every battle, every hard place, and every painful storm. He will never allow us to walk through deep struggle without allowing it to bring greater hope and purpose, both in our own lives and the lives of those around us.
Every mark of darkness is redeemed when we're in Christ. Every crushing trial will be pushed back so we can live freely. It's what He does best. He brings beauty, strength, hope, and goodness from every difficult journey and broken day.
Our past will not define us. The trial itself will not label us. We are only defined by our Lord, who knows our way and lifts us out of the deep. He takes us through the fire, out of the darkness, and into greater purpose and blessing ahead. 
Photo Credit: GettyImages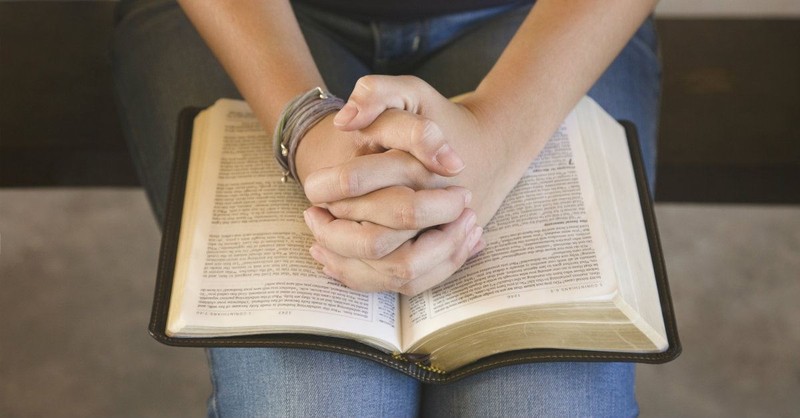 Verses about Asking for God's Help
"If any of you lacks wisdom, let him ask God, who gives generously to all without reproach, and it will be given him. But let him ask in faith, with no doubting, for the one who doubts is like a wave of the sea that is driven and tossed by the wind." 
His grace is always enough for every need, for every burden, and for every difficult decision every day. We never need to wrestle through, trying to make sense of it all in our own strength. He is faithful to help us in our weakness, and His power is great.
For those seasons when we may feel stuck in hard situations, or when we don't know what else to do, we can be assured of this truth: God is already in all our tomorrows. He knows our way; He has a plan. And we can know beyond a doubt that it's always the best one for us. He is able to give us the ability to keep choosing trust, letting go of worry, and holding on to Him.
"Ask, and it will be given to you; seek, and you will find; knock, and it will be opened to you. For everyone who asks receives, and the one who seeks finds, and to the one who knocks, it will be opened." 
God promises us that as we come to Him, seeking His wisdom and leadership, He will give us all that we need. He reminds us that He is the door opener and that nothing is too difficult for Him. God is never late. Until He opens the next door, we can keep praising and trusting Him right where we are, knowing that He is faithful to lead our way.
"I will instruct you and teach you in the way you should go; I will counsel you with my eye upon you." 
If we're only looking at our current situation or at what everyone else is doing and saying, we will sink fast in fear and despair. Lifting our eyes up to the one who saves is the only way to live when we find ourselves in the midst of hard struggles.
God reminds us that He will counsel us and watch over us constantly. We can leave at His feet the burdens we're carrying. We can choose to keep our focus on Christ alone, for nothing is too difficult for Him. And when we choose to look up, our hearts are reminded where our true strength and help come from.
Photo Credit: thinkstock/pamela_d_mcadams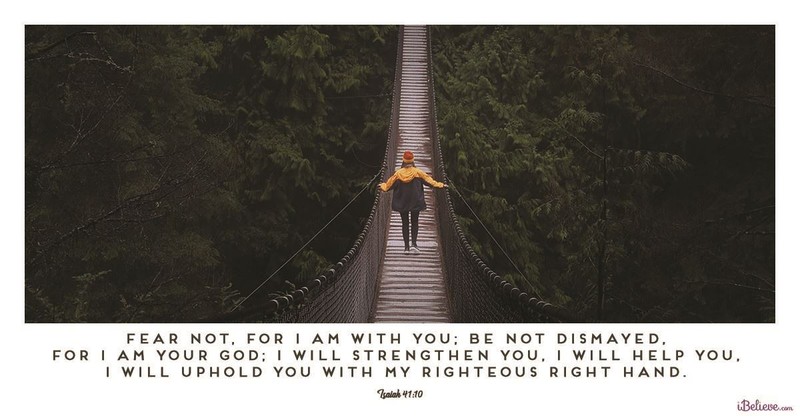 Verses about Fear
"Have I not commanded you? Be strong and courageous. Do not be frightened, and do not be dismayed, for the Lord your God is with you wherever you go." 
The enemy will do all he can to bring defeat, but God will never allow him to have the final victory. Our God is greater, and He will work on behalf of His people even in places that may seem impossible to us.
He reminds us over and over in His word not to be afraid, not to let our hearts be troubled, and to keep moving forward in His strength and power. He offers us the deep assurance and peace that the world can never give, for He is with us and will never let us go.
"So do not fear, for I am with you; do not be dismayed, for I am your God. I will strengthen you and help you; I will uphold you with my righteous right hand." 
The enemy will lure us toward panic and worry if we focus on all that's wrong in this world. And even when we know the truth and believe that God is in control, there are so many things to be anxious about. It can still be a daily battle in our hearts and minds. 
Fear creeps in. We lose our focus because we're so distracted by all the things that can never really give us strength and hope anyway. God alone can offer us confident peace that can never be found in this life without Him.
We can choose again today to set our eyes on Him. He is the maker of all heaven and earth. He has a sovereign, incredible plan, for us. God reminds us through this powerful verse that He is strengthening us for the journey. He is helping us and holding us up with His righteous right hand. 
"Do not be anxious about anything, but in everything, by prayer and petition, with thanksgiving, present your requests to God. And the peace of God, which transcends all understanding, will guard your hearts and your minds in Christ Jesus." 
Real hope and lasting peace can only be found in Christ. God gives us His word, and His Holy Spirit, to carry us through. He still speaks to us today through His powerful Scriptures, reminding all believers that we are strengthened by His Spirit within us day by day.
Yet even when we know this is true, sometimes the troubles we face take us by surprise. We find ourselves in storms we never saw coming. We struggle through setbacks or terrible loss. And it's when we are shaken and rattled to the core that God has our attention and we have the most potential to gain deeper faith as we witness His powerful miracles.
If you find yourself there, take courage. He promises that He is close, and He's fighting for us today.
Design Credit: rachel-dawson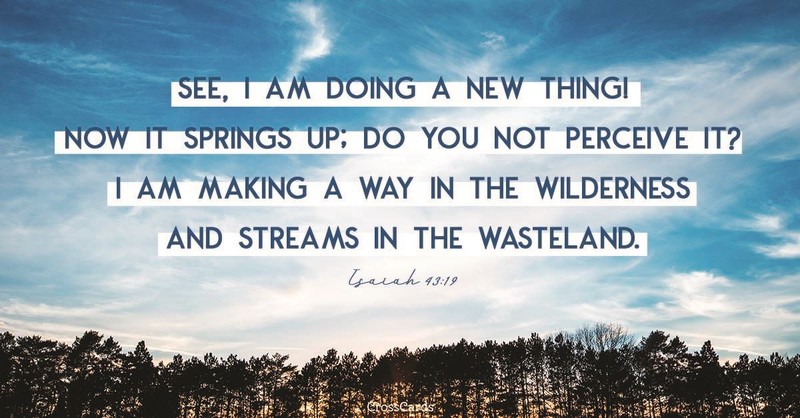 Verses about Looking Toward the Future
"Forget the former things; do not dwell on the past. See, I am doing a new thing! Now it springs up; do you not perceive it? I am making a way in the wilderness and streams in the wasteland." 
God alone has the power to make a way where there seems to be no way. We don't have to stay stuck in the past or fear the future. He brings us into new places and opens a way that may otherwise be filled with obstacles. 
God is our restorer and able to repay all that's been lost through difficulties and hard seasons. He promises to work on behalf of His children no matter what we've faced. He is a God of miracles, and nothing is too difficult for Him to heal and redeem. Choose to keep moving forward in all that He has prepared, for He is doing a "new thing."
"Your word is a lamp to my feet and a light to my path." 
His words are living, active, and powerful. They are the only thing that can bring us true peace in this life, especially in dark, uncertain times. And when we determine to fill our hearts and minds with the right things, with His truth and words, then the enemy's lies won't have any room to enter.
Though it sounds simple enough, this can be difficult to walk out if we're not living in awareness. Other things will seek to steal our time and devotion away from Him. Worry will zap our energy, and the cares of this world will drain us dry. It takes an active choice, diligence, and God's Spirit within us to help us stay on track, moving in the direction He is leading.
Dear God,
It's hard sometimes to fully let go of worries when we can't see all that you're doing. We confess our dependency on you, for we know that our circumstances need a miracle by your hand.
Today Lord, we're choosing to believe in you. For it's often in the most difficult times that you are most at work. Thank you for being the One who gives the power, the One who can make things possible. It leaves us nowhere to look but to you alone.
We ask for your guidance so that we might walk fully in your blessing and goodness. We ask for your face to shine on us. We pray that you would open the right doors and opportunities for our lives and for our loved ones. We pray that you'd work powerfully to close the wrong doors too, protecting us from what we need to walk away from.
Establish the work of our hands. Bring to fulfillment all that you have given us to do in these days. We pray that you would make our way purposeful and our footsteps firm. Give us a heart of wisdom to hear your voice; please make us strong through your huge favor and grace.
In Jesus' Name, Amen.
---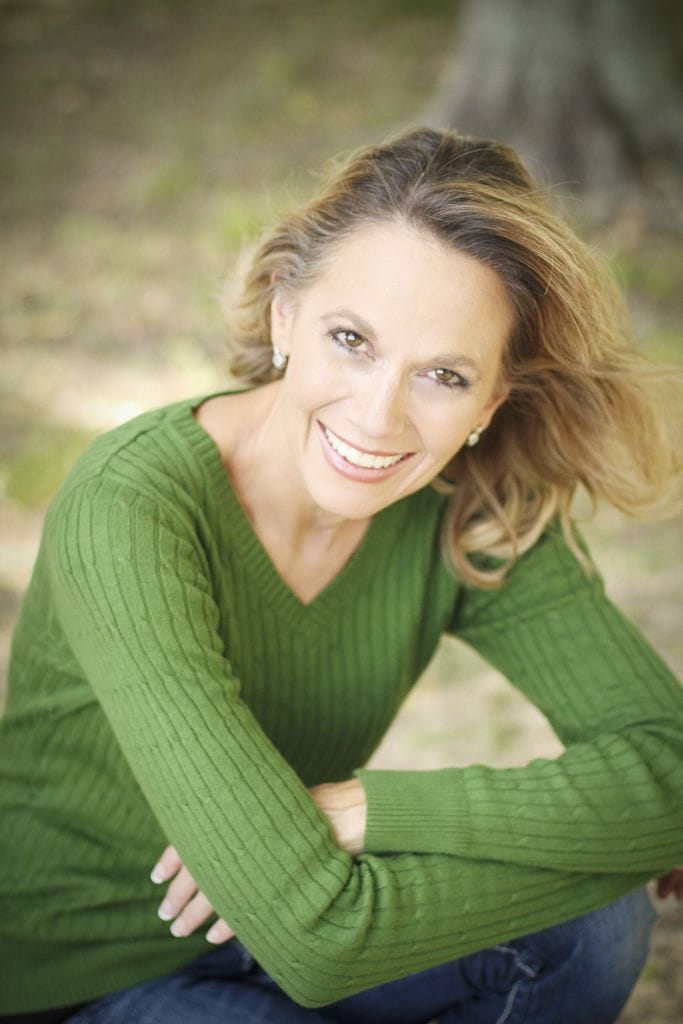 Debbie McDaniel is a writer, pastor's wife, mom to three amazing kids (and a lot of pets). Join her each morning on Fresh Day Ahead's Facebook page, for daily encouragement in living strong, free, hope-filled lives. Find her also on Twitter and at her blog www.debbiemcdaniel.com.
Design Credit: rachel-dawson
Originally published Tuesday, 16 April 2019.
---
---