How to Pray When the Future Scares You
Wendy van Eyck

I Love Devotionals
When the future is scary and uncertain, prayer is the most powerful tool we have to fight back and move toward peace. Here are just a few ways you can be praying if the future seems fearful to you.
I resigned from my job two weeks ago. I don't know what the future holds. I'm not the kind of person that does things without a plan. I've never left a job before without knowing the next step. I know I'm choosing to leave a position in a job market that offers no guarantees that I'll find another one and that scares me.
My husband has been very supportive, but the reality is we can't cover our costs on one salary. When I sit and look at our expense spreadsheet, and then look at job openings, I am scared of the future. I fear what will happen if I don't find work. I worry about finding a job in a work environment that is toxic. I feel scared when I think about where we'll find money to cover dog food and gas and keep the lights on.
It's not only my career that makes me feel uncertain of the future, it's all the other things going on in the world. I've taken to not watching, or listening, to the news because politics (whether local or international) makes me scared all over again.
I know I'm not the only one who feels afraid of what the future may hold. You may be familiar with the way fear creeps into your dreams of tomorrow. I feel like every other conversation ends up circling around fear of what the future could bring. I'm learning that when fear enters the conversation the best way to make it leave is to pray.
I don't know about you but I'm not always good at coming up with my own words to pray. I love finding prayers that give my own hopes a voice. As I've been praying my way through the last few weeks these are some of the prayers that I've been returning to again and again.
A Prayer for Those Who Worry, the Anxious, the Fearful:
The other day, as I read my Bible, I found Isaiah 35:4:
"Tell those who worry, the anxious and fearful: Take strength; have courage! There's nothing to fear. Look, here—your God! Right here is your God! The balance is shifting; God will right all wrongs. None other than God will give you success. He is coming to make you safe."
Did that description at the beginning stop you dead in your tracks? It felt like Isaiah was speaking right to my heart. "Tell Wendy, who worries, who is anxious and fearful: Take strength; have courage! There's nothing to fear."
I love that Isaiah lifts my eyes from my fears to our God. There is freedom from fear when I realize God is with me, with us. The more I pray, the more I realize that no fear I have is bigger than our God who is right beside us.
Laugh in the Face of the Fear
Fear steals our joy! I think it may be why when Proverbs 31:25 describes a virtuous woman it says, "…she laughs without fear of the future." I notice that when I'm afraid one of the first things to go is my sense of humour. I don't think that's a co-incidence.
It sounds a bit strange but I believe our laughter can be a prayer to God. Taking time out to appreciate the beauty around you or laugh out loud at something a friend says, I believe, can be prayer too. Laughter is a declartion that we trust God to take care of our future.
I'm not always able to laugh at the future but I've started praying these words: Fear, you are not wanted here. In Jesus name I'm telling you to leave. God, in the place of fear I ask you would flood my soul with love and help me fight fear back with joy. Teach me how to laugh without fear at the days ahead. Amen.
This is a verse I memorized as a kid, 2 Timothy 1:7: "For God has not given us a spirit of fear, but of power and of love and of a sound mind." It's a verse I have been praying over my fear, a verse that reminds me that when God is in control I don't have to be afraid. Because God doesn't give fear. God gives a sound mind. God gives love. And there is no fear in love. Praying this reminds me that whereever there's fear in my heart, there's no room God.
Sometimes when I'm feeling afraid I use these words to pray a version of this verse: Lord, I believe this fear is not from you. Take the fear and replace it with your love.
Abba, I Belong to You
This is one of my all time favorite prayers. I discovered it in a book written by Brennan Manning called the The Furious Longing of God. It's only 5 words: "Abba, I belong to You." Manning explains that this prayer is exactly 7 syllables and corresponds to the rhythm of breathing. Abba (breathe in), I (breathe out) be (breathe in) –long (breathe out) to (breathe in) you (breathe out).
Although, Brennan suggests praying it as a reminder of how much God loves us, I find it settles my heart when I'm afraid of the future. Just the idea that I belong to God and he's in control of everything calms my fears.
I usually pray it as I fall asleep. I breathe it in and out like a promise, a promise that even when I don't know what will happen God has got me tight in the palm of his hand.
I believe prayer changes things. I believe prayer opens up the way for God to act in our lives. Since I resigned I've seen God answering my prayers in ways I've never dreamed or imagined. I don't have a job yet, but as I pray my fears for the future are decreasing. I pray that will be true for you too.
Image Credit: ©Unsplash/Beth-Tate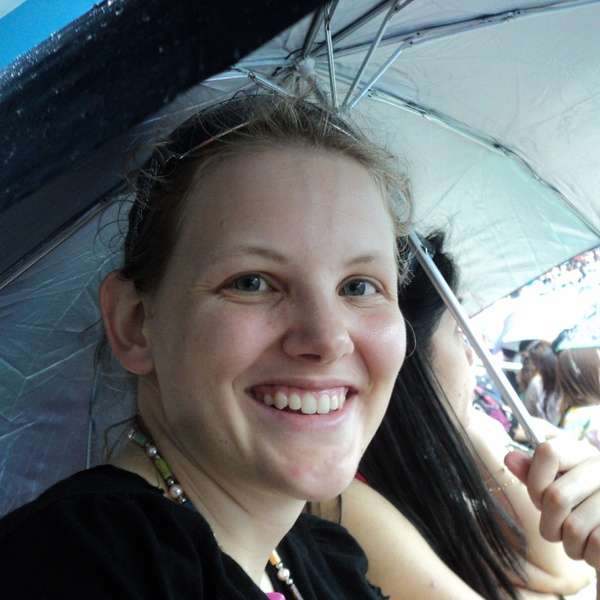 Wendy van Eyck is married to Xylon, who talks non-stop about cycling, and makes her laugh. She writes for anyone who has ever held a loved one's hand through illness, ever believed in God despite hard circumstances or ever left on a spontaneous 2-week holiday through a foreign land with just a backpack. You can follow Wendy's story and subscribe to receive her free ebook, "Life, life and more life" at ilovedevotionals.com. She would also love to connect with you on Facebook and Twitter.
Comments
---
---