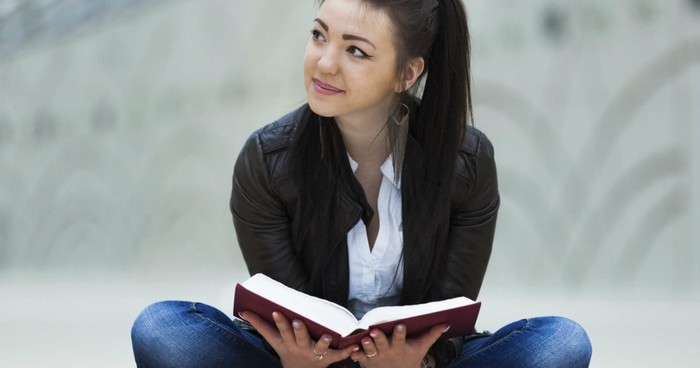 Memorizing Scripture can radically change our lives and bring us closer to God. But it's also really hard! Here are 6 helpful tips for memorizing scripture more effectively.
A couple years ago, I was facing certain darkness. I had some health concerns, mainly the result of ministry burn-out and utter exhaustion. I was full of doubts about everything, but it all centered on my doubt of God's goodness. Was He entirely good, after all this?
In this haze, I couldn't trust myself with many decisions, but I figured I could not go wrong memorizing Scripture. And, I couldn't get the book of James out of my mind; months earlier, I had done Beth Moore's study on the book of James in which she encouraged us to memorize the entire book. So one day, in desperation, I flipped to James and began my journey.
I approached this discipline not as a spiritual superhero but totally spent and grasping for stability. Eventually, I memorized the entire book of James, but more importantly, God met me there in His Word. This became one of the most personal and real seasons of walking with Jesus that I've ever had. Healing was released, and His words sank so deeply into my memory and consciousness that they began to ground and fortify me.
During that season, I often prayed for God's Word to be so deeply buried in me that it would sink into my bones and into my blood – so that in whatever situation or calling, it would be His Word first, not my own. I needed it to become my DNA, replacing my tendency to be anxious, redeeming my tendency to obsess, and giving me a new Christ-solid heritage to pass to my children.
Friends, I long for that.
Memorizing Scripture isn't about another sticker on the chart; it's about another splinter removed from our hearts, another rough spot sanded smooth, another wound covered in grace. It's real, because it's alive and transforming.
Now is always a wonderful time to start. Wherever you are and in whatever state of mind, God will meet you as you seek Him and His truth. To me, this has become the most important thing to do every day. It doesn't have to be complex or time-consuming; it can become part of your daily routine, a consistent source of hope and truth.
Below are 6 helpful tips for memorizing Scripture, from one disciple to another in need of His Word:
1. Believe it's possible.
It took me seeing Beth Moore recite James before I actually considered this may be possible, even doable. Take courage. Pray for faith. This is life-changing, and it really is possible.
2. Pray for God's direction.
I believe all Scripture is applicable and beneficial, but I also believe God may have a certain book or chapter for certain times. Pray for Him to show you where to begin.
3. Download an app.
Let's be honest, we spend hours on our phones. Make this habit work with your life. I use the app Fighter Verses by Children Desiring God, and I love it. I have used the pre-set collections of verses for memory work, but I've also liked the option to set my own verses to work on. This app allows you to listen to the verses read out loud to you, which is my favorite feature. It also has some of the verses set to songs and games to play to help with memory work.
4. Work within your schedule.
For me, I always begin working on a section of Scripture by setting up 3-5 verses in my app under My Verses. Then, I have the app read those verses to me, over and over and over. This works into my schedule easily: driving in the car, getting ready in the morning, doing dishes, etc. Sometimes I listen more intentionally than other times, but overall I end up listening to that set of verses numerous times during the day. After hearing the verses repeatedly, I sit down with my Bible and focus on committing those verses to memory. I go word by word, repeating the verse out loud without looking. Sometimes I listen to a set of verses for days before I have a chance to sit down and work on it. Listening to the verses throughout the day keeps me on a schedule, prepares me to memorize, and fits in with my daily schedule.
5. Practice consistency.
Memory work only works if you do it consistently. You don't even have to do it for hours a day, but whatever time God leads you to commit, do it daily. Make it simple and doable. I still listen to the book of James almost every morning while getting ready; it's a consistent part of my day until God shows me otherwise.
6. Banish guilt.
Don't beat yourself up. Enjoy your time with Jesus, learning from Him and meditating on God's Word. Give yourself grace when you miss days and forget verses. The point isn't how much or how well, but it's about daily being in His presence.
May this be a life-giving practice for you, centered on Jesus. If you have questions or just want accountability in your journey, please visit my blog and send me a message. We can encourage each other!
Related Video:

iBelieve.com: What are some ways we wrongly approach the Bible? - Jen Wilkin from ibelievedotcom on GodTube.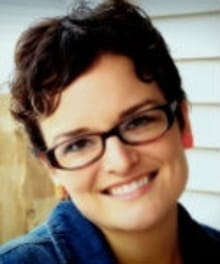 Anne Dahlhauser blogs at Front Porch, Inspired about surrendering everyday living for sacred purposes. She and her husband, Jay, are founders of a ministry called The Bridge, focusing on missional living, training, and intercultural relationships. She holds an MA in Teaching Languages (English and Spanish) and is a lover of words and the Word, culture and communication. Jay and Anne have four young kids, a front door that can't stay closed, and an abundance of messy, holy chaos at their neighborhood center/home in Iowa – of all places.
---
---