How Are You Called by Faith to Fight for Others?
God always stands against injustice. It's well documented in the Old Testament and New Testament. What are the ways faith leads us to fight against the sin and oppression that hurts our brothers and sisters?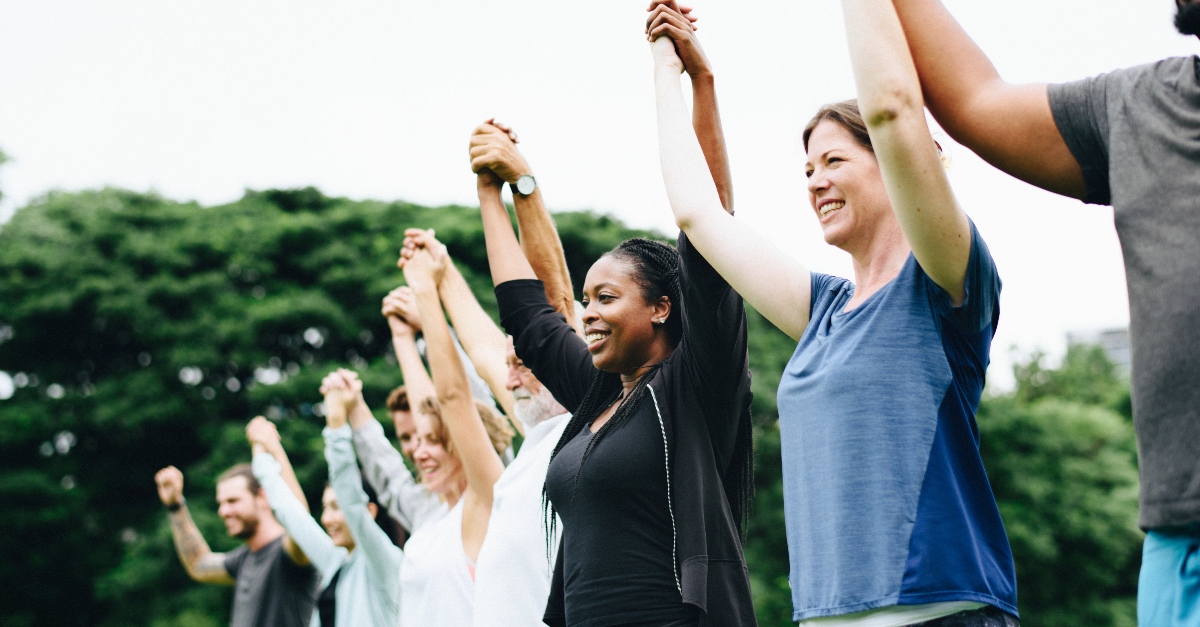 Racial tensions are at the forefront of every headline. We are in the midst of what's becoming the largest Civil Rights Movement in our lifetime, more widespread than that of the 1960's. But Christians know this is not breaking news.
One of the many marvels of Christianity is that it's a major world religion that tackles racism, diversity and inclusion. God always stands against injustice. It's well documented in the Old Testament and New Testament. What are the ways faith leads us to fight against the sin and oppression that hurts our brothers and sisters?
1. The Importance of Diversity
Genesis 1:26-27 states, "Then God said, 'Let us make mankind in our image, in our likeness…" Many people of color feel as if they are not seen. And if they are, most don't feel valued. To fight for someone is to see them, as they are, image-bearers of God.
God created a diverse world. Many believers falsely equate valuing everyone while stating they do not see race or color. However, the Bible celebrates uniqueness. Revelation 7:9 states, "After this I looked, and there before me was a great multitude that no one could count, from every nation, tribe, people and language, standing before the throne and before the Lamb."
Diversity is ingrained in Scripture from beginning to end. It is that important to God and it should be that important to us.
2. The Value of Inclusivity
The Gospel calls for inclusion. Paul writes in Galatians 2:11-13, "When Cephas came to Antioch, I opposed him to his face, because he stood condemned. For before certain men came from James, he used to eat with the Gentiles. But when they arrived, he began to draw back and separate himself from the Gentiles because he was afraid of those who belonged to the circumcision group. The other Jews joined him in his hypocrisy, so that by their hypocrisy even Barnabas was led astray."
James tried to be inclusive but he stopped dining with Gentiles and separated his life from theirs when Cephas came. His actions were wrong and didn't just affect him, it led others astray. Believers need to fight this temptation to live apart from others.
Christians are often tempted to live among their own "tribes," completely separate from the rest of the world. But this doesn't mirror the life Christ lived, nor the one He died for. Jesus saw people and invited them to His table. We reflect Christ when we do the same. In John 13:35 Jesus stated, that "By this everyone will know that you are My disciples, if you love one another." We please God when we live out this verse.
We must ask ourselves if we are living a life that is inclusive, seeking diverse friendships, inviting people from various backgrounds into our lives, churches, and small groups to better reflect God's love.
3. The Role of Adequate Representation
Lack of representation compounds the many troubles that contribute to the complexities of racism. We don't often find people of color proportionately represented in leadership positions or professions that serve communities of color. Influential media intensifies these problems. News, television, and movie screens repeatedly portray black and brown people as a threat, adding to many baseless biases.
To disrupt racist practices, we need to promote people of color and center their voices against oppression. White Christians will be tempted to center their own voices in this fight. But this is harmful. Rather than dismantling what's problematic, it tends to perpetuate more of the same.
Exodus Chapters 2 through 14 give a detailed account of how God raised Moses, a Hebrew, to free the enslaved Israelites from the hand of the Egyptians. God executed His plan to completion from Moses' adoption all the way through his parting of the Red Sea. Esther, a prominent Jew during a period of Jewish oppression, was highly favored by the ruling king and crowned queen. God elevated her to a position of authority to save His people from execution (Esther 2-8).
Racism is evil, plain and simple. But we need to maintain a Biblical perspective as we fight it. We need to remain focused on where our true battle lies. Ephesians 6:12 states, "For our struggle is not against flesh and blood, but against the rulers, against the authorities, against the powers of this dark world and against the spiritual forces of evil in the heavenly realms."
We have one common enemy and it's not you or me. We also have one Savior and it's neither you nor me. When it comes to fighting racism, remember that God raises the indigenous to free the oppressed. We must resist racism according to God's blueprint for freedom.
4. The Need to Be Uncomfortable
As Christians we must embrace discomfort as we promote racial unity and reconciliation. Humans crave and revel in comfort, but this desire can thwart God's purposes.
Scripture depicts a time when Jews were known for avoiding Samaria. It was too uncomfortable. It was a place filled with people who didn't look, think, talk or act like them. But John chapter 4 describes that, Jesus had to go there. He ministered to a Samaritan woman who, in return, witnessed to many others (John 4:39-42).
In another example, the Parable of the Good Samaritan, Jesus described a man who exemplifies love and mercy across racial divides. One that came at a cost and inconvenience. After this teaching, He instructs an expert in the law to go do the same (Luke 10:27-37).
Fighting for one another calls us to examine our habits, to value people more than we value comfort, and to follow a kingdom model of love that doesn't placate racism.
5. The Purpose of Advocacy
As we learn to love as God loves, we must open our eyes to how others are mistreated. God is just and believers are to take up the cause of others. Prophets and disciples instruct us to play this role.
Isaiah 1:17 states, "Learn to do right; seek justice. Defend the oppressed. Take up the cause of the fatherless; plead the case of the widow." Jeremiah 22:3 says, "This is what the Lord says: Do what is just and right. Rescue from the hand of the oppressor, the one who has been robbed. Do no wrong or violence to the foreigner, the fatherless or the widow, and do not shed innocent blood in this place." Paul wrote in Galatians 6:2, "Carry each other's burdens, and in this way you will fulfill the law of Christ."
The fight for equality is not new to black and brown people. Racial trauma is real and runs deep. As we work together to seek justice, we must remember to lift one another up. Reject any temptation to add trauma by debating facts that can add to someone's hurt. This doesn't not mean we usurp the cause either but rather, we find ways to support those leading the fight. And support will look different for everybody.
Exodus 17:8-15 gives an account of when God selected Joshua, an ancient Israelite leader, to fight the Amalekites who had come against God's people. Throughout the battle, Moses raised God's staff from atop of a hill. As long as he did, Joshua and the Israelites prevailed. But as he grew tired and lowered the staff, the Amalekites advanced. Aaron and Hur, two other Israelites, accompanied Moses on the hill. While they couldn't take the staff from his hands, they were able to lay a stone under him for him to rest, and each raised one of the arms he exhausted. Together, their work led to Israel's victory.
I imagine Joshua was comforted knowing Moses was holding up his staff before God. And that Moses felt a sense of peace knowing that he had help raising his arms during the most tiresome times. People of color are tired. Tired of injustice. Tired of mistreatment. Tired of feeling ignored. Tired of fighting.
This battle calls for all of us to take our respective places in this fight. To advocate for our brothers and sisters and to be a safe place where they can find respite without resigning.
6. The Expression of Our Faith
Racism promotes hate, fear, silencing, discouragement, oppression, division and self-interest. So, if the Gospel is a message of love, hope, selflessness, grace, and peace, then who is better equipped to tackle this issue than believers?
The path to racial unity requires action. Scripture stresses the importance of being fruitful. James, the brother of Jesus, explained how blessing someone in need without meeting their physical needs demonstrates a dead faith. He further described how action makes faith complete (James 2:14-26).
There are so many important actions we can take in this fight against racism:
- Praying against darkness, seeking God's protection, mercy and guidance.
- Asking God to weed out any biases we carry in our own hearts and repenting.
- Learning the truth about our nation's history and its collateral damage.
- Becoming more knowledgeable about the intricacies and many forms of racism.
- Digging into Scripture to ensure we take a Biblical approach to dismantling racist structures.
- Speaking up against racist acts, even when it's uncomfortable.
- Changing habits that contribute to racist practices.
- Helping our brothers and sisters of color that experience fatigue and racial trauma.
- Not tolerating tokenism and empowering people of color to use their voices and influence.
- Advocating for people of color, that they may be adequately represented in positions of power.
- Celebrating diversity by establishing friendships with those that don't look, think, or act like us.
- Leading inclusive lives, inviting people to our homes, small groups, churches and inner circles.
- Teaching our children to see people, not as if they're void of color, but as image bearers of God.
- Investing in minority-owned businesses.
- Promoting racial unity and reconciliation.
- And so much more.
But we cannot be complacent, allowing despicable acts to continue.
Dr. Tony Evans states in his book Oneness Embraced, "The goal of racial unity is not sameness, it's oneness. What is unity and why is it important? Unity can be defined as oneness of purpose. It is not sameness of being. It means we're working toward a common goal. We're moving toward a common agenda—utilizing, embracing, recognizing, and appreciating the differences everybody brings to the table."
Galatians 3:28-29 states, "There is neither Jew nor Gentile, neither slave nor free, nor is there male and female, for you are all one in Christ Jesus." Scripture doesn't say that Jews, Gentiles, men and women don't exist. Quite the opposite. One of the mysteries of Christianity is that we can live diverse lives together bonded by the blood through the love and sacrifice of Jesus.
Let us love one another as God instructed. Diversify our lives. Embrace discomfort as we take our respective places in the fight against injustices. Stand against the mistreatment of our brothers and sisters. Be a safe haven for people of color. Promote kingdom culture and live like Jesus that God may be glorified.
Photo Credit: © Getty Images/Rawpixel
Victoria Mejias is an international speaker and blogger. She is a graduate of the University of Nebraska – Omaha and holds a Certificate in Urban Ministries from the Dallas Theological Seminary's Urban Ministry Institute. She is a contributing member of Wholly Loved Ministries and former Pastor who has spoken on leadership, diversity, spirituality and faith. Victoria is the recipient of two U.S. Congressional awards for her exemplary service to the community, has two children, loves the Lord and reaching the lost. To learn more, visit her online at www.victoriaelizabeth.com.
---
Want more interaction with the women of iBelieve? Join our fans, writers, and editors at the iBelieve Facebook group, Together in Faith, for more videos, stories, testimonies, prayers and more. Visit here to join the community!
Comments