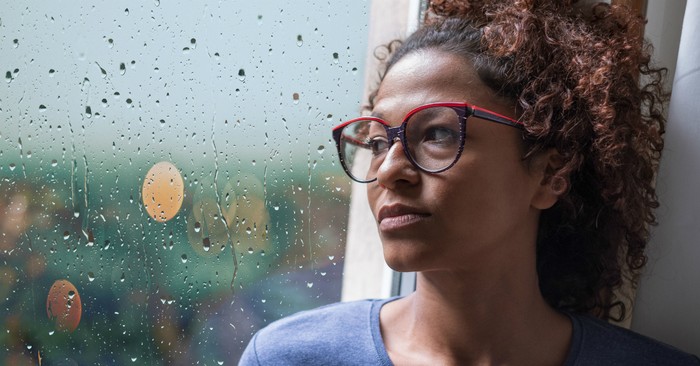 But although we may feel He has abandoned us when bad things happen, we can experience God in powerful ways through our suffering.
Suffering stinks. Whether spiritual, psychological, or physical, no matter its duration or how it comes about, suffering is hard and miserable. It's easy to feel connected to God when things are good: when we're happy and can see and feel His blessings and goodness in our lives. But although we may feel He has abandoned us when bad things happen, we can experience God in powerful ways through our suffering.
Here are some of the ways I've experienced God through suffering:
1. God is a Present Presence
Suffering can feel very lonely. No one else can step into our body and experience our pain. We're often by ourselves when it rages through us. But we're never completely alone. When it seems as though all others have abandoned us, God is there. He feels our hurts and knows the burdens we carry. He may not always speak, but He always remains beside us, enduring it with us, crying with us, and loving us all the while. Read Psalm 139 and think about what it says about God's presence with and knowledge of us.
2. God is Our Comforter
There have been times amid suffering when I've felt a supernatural peace, like a cozy blanket wrapped around my heart. This is one way God has comforted me. Although the circumstances didn't change, He let me know I would be okay.
3. God is a Great Listener
The Psalms are filled with honest expressions of the human heart. Sometimes the writer cries out to God in anger, and that's okay. God can handle all our thoughts and emotions. He already knows them anyway, and He understands their source.
In John 11, after their brother Lazarus died, Mary and Martha basically blamed Jesus for his death. "Therefore, when Mary came where Jesus was, she saw Him, and fell at His feet, saying to Him, 'Lord, if You had been here, my brother would not have died'" (John 11:32, NASB). Jesus didn't condemn the sisters for their statements. Instead, He wept with them. In similar fashion, God doesn't get angry with us when we express our thoughts and emotions, even when we direct our pain and frustration at Him. He understands, listens, loves us through it all, and comforts us when our anger is spent, and we're a puddle of exhaustion.
4. God is Our Protector
This may be surprising, especially since we sometimes suffer because we weren't physically protected. But there is more than one form of protection. We may have been physically hurt but spiritually shielded in ways we may not recognize until much later. We may have been physically defended against far worse consequences. Sometimes, God guards our hearts and minds from spiritual attacks that would worsen our pain. Although we can't always see or understand it, God is looking out for us. "God is our refuge and strength, a very present help in trouble" (Psalm 46:1, NASB).
5. God Provides
We often don't know how or what to pray when consumed with great pain. It's hard to process and identify how others can help us. Thankfully, God knows our needs and doesn't wait for our prayers to provide them. Maybe a friend shows up at just the right time, we hear an encouraging word on the internet or radio, or we discover a basic necessity has been met in an unexpected way. Seeing evidence of God's care and provision for every situation has been a huge source of encouragement. "And my God will supply all your needs according to His riches in glory in Christ Jesus" (Philippians 4:19, NASB).
6. God Brings Hope
Everyone needs hope, and God is able to bring it in even in the darkest and most tragic circumstances. When our world seems to close in around us, He breaks through the pain with a light and certainty that we'll get through it, that He's there, and that things will get better. He gives us an anchor of hope to hold onto and a reason to keep going (Hebrews 6:19).
As crazy as it sounds, God can use the process of suffering to bring us hope. "And not only this, but we also exult in our tribulations, knowing that tribulation brings about perseverance; and perseverance, proven character; and proven character, hope; and hope does not disappoint, because the love of God has been poured out within our hearts through the Holy Spirit who was given to us" (Romans 5:3-5, NASB).
7. God Reveals His Strength
Suffering drains our energy. There have been moments when I've been so weak that I couldn't stand. In those times, I cried out to God, and He gave me His strength to do what needed to be done. "And He has said to me, 'My grace is sufficient for you, for power is perfected in weakness'" (2 Corinthians 12:9, NASB). It may be physical, spiritual, emotional, or even mental strength that we lack. But whatever it is, when we come to the end of ourselves, God reveals His power and fills our emptiness with His fullness.
8. God Heals
Although it may not feel like it, God can begin the process of healing while we're still suffering. For example, tears are very therapeutic. Expressing and processing our thoughts and emotions about a given event is painful—but it also helps us understand and restore a part of ourselves and our past. Like an athlete who feels the pain of her muscles breaking down before they rebuild to greater strength, God can use times of weakness and suffering to heal us and help us grow. "Consider it all joy, my brethren, when you encounter various trials, knowing that the testing of your faith produces endurance. And let endurance have its perfect result, so that you may be perfect and complete, lacking in nothing" (James 1:2-4, NASB).
9. God is a Life-Giver
God gives us His life when we feel we have nothing left to give. He brings new life after devastation, like the fresh rain that falls after a destructive storm. "Do not call to mind the former things, Or ponder things of the past. Behold, I will do something new, Now it will spring forth; Will you not be aware of it? I will even make a roadway in the wilderness, Rivers in the desert" (Isaiah 43:18-19).
10. God Brings Good
"And we know that God causes all things to work together for good to those who love God, to those who are called according to His purpose" (Romans 8:28, NASB). Perhaps this is one of God's most difficult aspects to see while we're in the midst of suffering. How can God bring good out of our pain and the bad things that happen? We may not see it in our circumstances, but we can look at others and see this truth in theirs.
We can look to Bethany Hamilton as one example. When she was 13 years old and on track to becoming a professional surfer, a shark attacked her and bit off her arm. After gaining widespread media attention for both the event and her determination to keep surfing, a reporter asked if she wished she could go back to the day she lost her arm and not have gone surfing. Bethany responded, "I wouldn't change what happened to me because then I wouldn't have this chance, in front of all of you, to embrace more people than I ever could have with two arms."
This woman, only a young teenager then, recognized that God was already bringing incredible good out of her suffering. Similarly, God can use our suffering in amazing ways to help us grow stronger in faith and reach out to others.
"Blessed be the God and Father of our Lord Jesus Christ, the Father of mercies and God of all comfort, who comforts us in all our affliction so that we will be able to comfort those who are in any affliction with the comfort with which we ourselves are comforted by God" (2 Corinthians 1:3-4 NASB).
Nobody likes to suffer. Even Jesus, knowing the fulness of what would be accomplished through the cross, didn't want to go through the pain of it. "My Father, if it is possible, let this cup pass from Me; yet not as I will, but as You will" (Matthew 26:39, NASB). Although Jesus, in His humanity, would have preferred to skip the physical agony that was ahead, He also knew, as Paul later wrote in Romans 8:18, "that the sufferings of this present time are not worthy to be compared with the glory that is to be revealed to us." And so Jesus "humbled Himself by becoming obedient to the point of death, even death on a cross" (Philippians 2:8, NASB).
On His last night with His disciples before He was captured in the Garden of Gethsemane, Jesus taught and encouraged them. Knowing what was coming, He told them, "These things I have spoken to you, so that in Me you may have peace. In the world you have tribulation, but take courage; I have overcome the world" (John 16:33, NASB). Our world, with all its sins and imperfections, includes the potential for suffering. But our wounds won't last forever, and God is stronger than the greatest pain.
To learn more about ways God can bring beauty from your suffering, catch THIS episode 113 of the Faith Over Fear podcast.
Photo Credit: ©GettyImages/tommaso79
Jenny Fulton is a wife, mother, writer, and member of Wholly Loved Ministries who enjoys studying God's Word and sharing what she has learned with others. She is the author of Princess Lillian and Grandpa's Goodbye, A Princess' Guide to the Alphabet, and Striving for Unity: a Study on 1 Corinthians (upcoming release). An enrolled member of the Navajo Nation, Jenny developed a keen interest in language and cultures. In 2007, she graduated from Grace University with a B.S. in Bible, a B.S. in elementary education, and an endorsement in K-12 ESL. For the next seven years, Jenny worked as a teacher in a variety of cultural and educational settings, both abroad and in the United States. Her days are now spent raising her three young daughters and writing as much as time and opportunity allows.
---
---