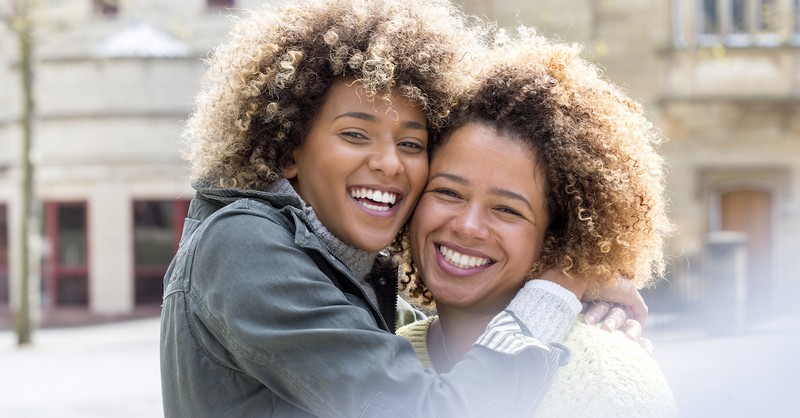 13 Beautiful Prayers for My Sister to Brighten Her Day
Heather Riggleman

Crosswalk.com Contributing Writer
May these prayers be exact words needed to lift your sister up and may these prayers inspire you to write your own prayers for your sister.
The day my sister called me I knew it would be the last time I would get to talk to her for several months. Becky had just been released from jail and now she was entering into a yearlong rehabilitation program.
As we talked, she poured out her fears about her marriage, how she was going to miss her boys, but most of all, she needed to know I believed she could change. If this isn't a moment when a girl needs her sister most—I don't know what it is. I rallied around her as all good, big sisters do as I prayed my life verse over her. Tears flowed down her cheeks as we talked about God's big plans for her and how I would be here cheering from the sidelines.
There is just something special and powerful about sisters don't you think? They are built-in best friends in families and then there are the sisters we find later in life. They are the women we meet on the playground, in church, at Jazzercise, or at work. Then there are sisters-in-law who become the friend you never had.
Soon, their lives are deeply intertwined with ours as we raise our kids together and they're the ones who keep our sanity intact. They lift us up when we fall down. They fight the enemy and hold our hands as we dare to chase our dreams.
We need our sisters. We need the sisters we were born with and the sisters we've claimed later in life. I'm blessed to have several in each camp. And I can't imagine life without them. The fact that you're reading this article means you value and cherish your sister and I commend you for that because the best way to raise your sister up is through prayer. Here are 13 prayers to bless, encourage, and strengthen your sisters!
A Prayer of Blessings for My Sister
Father God, all good things flow through You. All good gifts come from You—including my beautiful sister. She is my friend, my companion, and the person I can do life with. I lift her up today and ask for You to bless the work of her hands. Multiple it 100 times over until her cup is overflowing. She works tirelessly to be the mom, wife, boss, and co-worker her family and community needs. I pray that You continue to bless her life. Give her a life of abundance through her relationship with You. I pray she flourishes. I pray Your essence and presence permeate every room she enters. In Your Name, Amen.
A Blessing of Peace and Grace for My Sister
Father God, may You bless my sister and keep her in Your hands. May You make Your face shine on her and be gracious to her. Turn Your face toward my sister and give her peace as You bless her abundantly so that in all things at all times, she has all she needs in You, and the work of her hands will abound in every good work (Numbers 6:24-26, 2 Corinthians 9:8).
A Blessing Prayer for My Sister
Dear Jesus, You are the Rock of Ages. Nothing is better than the presence of You in our lives. I ask that You may continue to dwell richly in my sister's life. Light the path my sister walks, illuminate the darkness around her, and make the enemy flee. May Your goodness and love follow her throughout today and all the days of her life. May she dwell in the house of the LORD forever because Your word says blessed is she who has believed that what the Lord has said to her will be accomplished (Luke 1:45, Psalm 23:6).
Prayers for My Sister When She Goes through Hard Times
Father God, I come before You today in thanks and appreciation of the life You've given me and the life of my sister. Lord, right now she is struggling, she can't keep her head above water. She's trying to keep the calm through the storm. She is fighting for her family, her dreams, and her life. Lord, don't let the battle she is facing pull her overboard. Remind her that when she walks through rivers, they will not overwhelm her; when she walks through waters, they will not drown her. When she walks through fire, she will not be burned, nor will she be consumed because You have called her by name. You have redeemed her. You have fought for her and ransomed her. Even though she is experiencing hard times, I know You will meet her in her prayers, and You will be the anchor her soul needs. Thank You for being her calm in the storm. Thank You for being her mighty God (Isaiah 43:1-4).
A Prayer of Protection for My Sister
Lord, I pray that You pour out your presence on my sister today. Please direct, guide, and protect her in all that she does. Lead her and guide her in all her decisions. Let Your truths and promises draw her close to You. Amen.
Prayer to Prepare My Sister for Battle
Father God, my sister needs to gather her strength for the battle she's facing. She will not back down from the fight because she is Your warrior. Father, I lift up her spirit to You because she is clothed in Your strength, dignity, and she laughs at the days to come because she will conquer time after time because she has Your army rallying behind her. God, place a hedge of protection around her and cover her with feathers of your mighty wings. Amen.
A Prayer of Endurance for My Sister
Lord, I love my sister, and I thank You for the gift of our relationship. I lift her to you because she is in need of You. May You give her the endurance and encouragement she needs to face today with the same attitude of mind that she can do all things through Christ who gives her strength. When her focus falters, meet her at the altar and remind her You are her strength and her song, and You have given her the victory. You are my mighty God, just as you are her mighty God, I praise You for Your love, grace, and mercy. Amen (Romans 15:5, Exodus 15:2).
A Prayer of Gratitude for My Sister
Dear Jesus, I thank You for my sister. I am grateful for our bond made by You and our deep history, the memories, and our unwavering love. Thank You for blessing my life with a sister. You knew exactly what I needed in a lifelong friend. I thank You for the way she laughs at life and for the way she knows just how to speak into my life when I need it most. Thank You for a sister who listens, loves, defends, encourages, and cares. I pray that my sister and I continue to praise You and thank You for our journey through life together. Amen.
A Prayer of Thanks for My Sister
Lord Jesus, thank You for my sister and for the wonderful memories we have made together. We praise You for placing us in the same family and to be able to serve alongside each other in Your kingdom. Thank You for all that my sister has taught me and the encouragement she pours out onto me when I need it most. Amen.
Prayers of Strength for My Sister
Lord Jesus, I am so grateful for the blessing of my sister. I praise the mighty work of Your hands when You created every part of her mind, heart, spirit, and soul. I lift her up today and ask that You remind her she can do all things through Christ who gives her strength. Remind her that You are with her in the hard times, the trying moments, the moments of scarcity, and that You celebrate with her when she has more than what she needs. Remind her she has strength through You. Amen (Philippians 4:12).
A Prayer of Endurance for My Sister
Dear Jesus, You are the God of the universe, the One who called the stars by name. As my sister steps out into the world today, let the work of Your hands captivate her. Let the world around her remind her You can all things and You make all things come together for her good. I pray that You continue to give her the strength, endurance, and energy she needs for the tasks she faces today. I pray that she does so with Your supernatural strength and joy so that it flows out of her and blesses others. Amen.
A Prayer of Guidance for My Sister
Jesus, there are few people in my life as precious to me as my sister. I want the best for her, and I know You do too. Remind her Your word is the lamp unto her feet and the light for her path. She wants to know every step and every decision. She wants a map of the future and the steps she needs to take. Whisper to her heart that she can trust You because You have a purpose, a calling, and You ultimately determine her steps towards a bright future full of Your hope and love. Amen (Psalm 119, Proverbs 16).
A Prayer for My Unsaved Sister
Father God, I love my sister. No how many times we argue, disagree, or how she annoys me—she is Your masterpiece. You created her in the hidden places, and You have a purpose for her life. Saturate her life with Your presence and draw her unbelieving heart to You. Father, it grieves my heart that she hasn't received the good news of the Gospel and she has yet to experience the joy of walking with Jesus. Prepare her heart and soften it so that the seeds of the Gospel may be planted and received. Draw her into Jesus' arms. Amen.
A Prayer for my Unsaved Sister to Receive the Truth
Lord Jesus, as I think about my sister right now and where she will be eternally, it pricks my heart to know she may not be with me in heaven. It hurts my heart that she may not see Jesus in all of His glory. Lord, my sister is searching for answers and every place she has turned has brought only more confusion and heartache. Soften her heart and lead her into Your everlasting arms. Open her eyes that she may see and open her ears that she may hear. Plow the fields of her heart so that she may receive the truth and it will grow abundantly. I pray that whatever it takes, You will get her attention and bring her to Your throne of grace. In Jesus' name, I pray, Amen.
No matter what kind of prayer your sister needs, God is listening to you. He knows just how precious the gift of a sister is. May these prayers be exact words needed to lift your sister up and may these prayers inspire you to write your own prayers for your sister. She would be honored to know that you care enough to bring her to the throne of Jesus during your conversations with Him!
Photo credit: ©GettyImages/DGLimages
---

Heather Riggleman is an award-winning journalist and a regular contributor for Crosswalk. She calls Nebraska home with her three kids and a husband of 22 years. She believes Jazzercise, Jesus, and tacos can fix anything and not necessarily in that order! She is author of I Call Him By Name Bible Study, the Bold Truths Prayer Journal, Mama Needs a Time Out, and a contributor to several books. You can find her at www.heatherriggleman.com or on Facebook.
Comments
---
---