A Prayer for Cancer Patients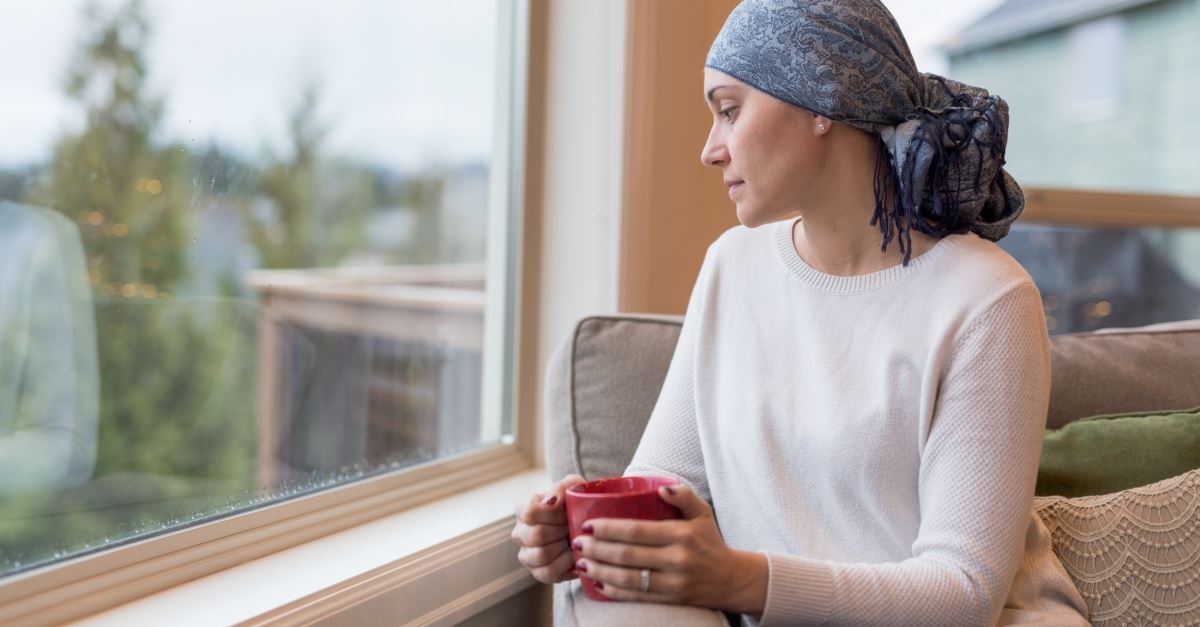 I was diagnosed with breast cancer in October 2013. I've thought about cancer every single day since my diagnosis. Thinking about something as scary and deadly as cancer every day is exhausting, to say the least. This is my life. Perhaps other cancer survivors don't think about cancer every day but rest assured they think about cancer more often than not.
Cancer, its side-effects, impact on your life, and the chance of recurrence, can dominate your thoughts, distracting you from living the abundant life Christ came to give you. And cancer doesn't bring good thoughts. Cancer brings negative, intimidating thoughts whose purpose is to steal, kill, and destroy. What's a cancer patient or survivor to do?
You are not in this cancer walk alone. The Comforter carries you, gently reminding you that you are triumphant in Christ. And so, when you are tempted to fret because of cancer and its ugly thoughts, you can approach the throne of grace boldly where you will find mercy and grace in your time of need.
 A Prayer for Cancer Patients: 
Father, 
We come to You now in the name of Jesus Christ, interceding for all those facing a cancer diagnosis. Your children are being attacked not only with this infirmity but with thoughts that fill them with fear and dread.
And yet, I know Your word says You did not give us the spirit of fear but of power, love, and a sound mind. Lord, we cast these thoughts and cares aside and choose to think on Your goodness and mercy.
We choose to think on things that are true, honest, just, pure, lovely, and of good report; things with virtue and praise. We choose to think about You. You keep your children in perfect peace when they keep their minds stayed on You. Help your children set their minds and affections on things above, not on their cancer diagnoses.
Guard their hearts with all diligence. Don't let these thoughts move them from Your presence. Father, You are holy and just. And You love them unconditionally. Thank You for being here for your children in their time of need. Thank You for sending Your Son so they can have eternal life.
Lord, I pray for continued strength to endure. I believe that even this cancer diagnosis will work together for their good. Father, bless their families. Strengthen them. I know it isn't easy watching a loved one endure a cancer diagnosis. Renew their minds and encourage them. Reassure them that they are in the palm of Your hand.
Father bless all their doctors. Give them the wisdom, knowledge, and understanding to treat these illnesses. Be glorified through their lives. Use them as You will. Use them as an instrument of praise. Use them as an instrument of worship. Use them as a testament of Your goodness, grace, and mercy. Use them to impart hope and faith in others.
We trust You, even in the midst of this trial. Be glorified, Father. Lord, I rebuke the spirit of fear. Through Your strength, your children will not allow fear to take control of their minds or spirits. They have the victory over cancer through Christ Jesus. Help them to always be a light. Let others look at them and see Christ, not suffering. Let others look at them and see hope and health, not death.
Father, You are the God of all comfort. Use them to comfort others with the comfort You supply. 
Thank you, Lord, for everything You do for your children. Thank You for loving, protecting, and healing us. Thank You for being our great physician. Never take Your presence from us. We need it in life and death.
In Jesus's name,
Amen.
Scripture to Encourage and Comfort Cancer Patients:
The Bible is full of verses of comfort, strength, faith, and hope. Here are a few I used in the prayer:
"You will keep in perfect peace those whose minds are steadfast, because they trust in you." Isaiah 26:3
"And we know that in all things God works for the good of those who love him, who have been called according to his purpose." Romans 8:28
"For though we live in the world, we do not wage war as the world does." 2 Corinthians 10:3
"Set your minds on things above, not on earthly things." Colossians 3:2
"For the Spirit God gave us does not make us timid, but gives us power, love and self-discipline." 2 Timothy 1:7
"Finally, brothers and sisters, whatever is true, whatever is noble, whatever is right, whatever is pure, whatever is lovely, whatever is admirable—if anything is excellent or praiseworthy—think about such things." Philippians 4:8
"Cast all your anxiety on him because he cares for you." 1 Peter 5:7
"The thief cometh not, but for to steal, and to kill, and to destroy: I am come that they might have life, an that they might have it more abundantly." 1 John 10:10
"And I will pray the Father, and He shall give you another Comforter, that He may abide with you for ever...I will not leave you comfortless: I will come to you." John 14:16,18
I recommend finding those scriptures that fill you with hope, writing them on index cards, and carrying them with you. They will be a source of comfort as you navigate life as a cancer survivor.
Christ did not leave us without a Comforter. The Comforter comes alongside us to help us, to console us, to intercede for us. He's our advocate. The Comforter speaking through the Scriptures reminds us that God is with us and that He has promised never to leave us nor forsake us.
"I have been young, and [now] am old; yet have I not seen the righteous forsaken, nor his seed begging bread," (Psalm 37:25).
God bless you.
Aretha Grant serves her local church as a bible teacher and elder. She loves writing and is the author of Overcomer: 25 Keys to Walking Victoriously. Aretha resides in Hagerstown, MD with her husband and two youngest children. You can read Aretha's blog at www.arethagrant.com.

---
This article is part of our Prayers resource meant to inspire and encourage your prayer life when you face uncertain times. Visit our most popular prayers if you are wondering how to pray or what to pray. Remember, the Holy Spirit intercedes for us and God knows your heart even if you can't find the words to pray.
Serenity Prayer
The Lord's Prayer
Irish Blessings & Prayers
Morning Prayers
Good Night Prayers
Prayer for Healing
Prayer for Protection
Photo credit: Getty Images