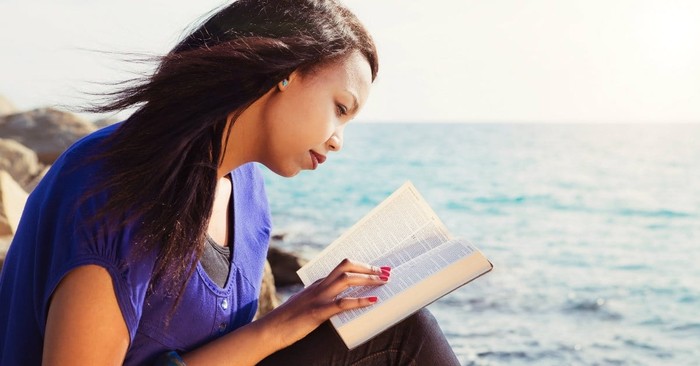 "Have a quiet time" seems like an easy thing to add to our to-do lists, but why isn't it as easy to actually do it?
We as Christians know the power and importance of spending time reading Scripture and praying. We know it's essential to our lives of faith to spend time with the Lord… but it can be so hard. We call this time of Bible study a "quiet time" and for many, the time also includes journaling, prayer, or other kinds of solitary worship. Many of us have struggled to put consistent quiet time practices into place in our lives, and we might not ever have seriously considered why that is.
"Have a quiet time" seems like an easy thing to add to our to-do lists, but why isn't it as easy to actually do it?
Here are a few common obstacles when it comes to our quiet times, and a few words of wisdom as well:
Not having enough structure. If your only plan is to let your Bible fall open before you, it can be hard to feel engaged in your quiet times. Jumping into quiet times without any plan of action is a great way to lose motivation quickly, especially since there aren't any measurable steps of progress being taken. Time can quickly slip away from you if you aren't prepared to meaningfully dive into your quiet time with enough of a plan in place. Instead, try starting with a reading plan that gives you a designated passage of Scripture (or several) to read each day. Even if you read more than what's assigned for each day, you'll have a roadmap before you that will help keep you engaged with the storylines in the Bible.
Having too much structure. I often sit down with my study Bible, another favorite Bible translation, my normal journal, my prayer journal, and a devotional book, thinking I'll be able to read, compare, study, question, process, write, pray, and hear from the Lord all in a small chunk of time. It's unrealistic that I'll be able to accomplish so much in my quiet time, and it's easy to get discouraged and give up entirely when you're trying to cram too much in. Instead, focus on just one or two elements to include in your quiet time, such as reading the assigned passages of your reading plan and then journaling some thoughts or prayers. As you build the habit of daily quiet times, you can add more components to your study, but don't overwhelm yourself at first by trying to do too much.
Fighting your natural rhythms. If you aren't a morning person, trying to force having your quiet time in the morning might not be the best idea. If you always fall asleep when you read, trying to read your Bible before bed probably isn't going to work out well. You might have to make some adjustments to be intentional about your quiet time, but you should work within your nature instead of against it. Start small (like waking up just twenty minutes earlier than usual, or winding down earlier before bed) but don't try a complete habit overhaul and expect it to stick. If both mornings and evenings are challenging times for you, consider another chunk of time (such as a lunch break or during your child's nap time) that will work well with your schedule.
Not eliminating distractions. If you're trying to have a quiet time while also having your phone dinging nearby, or your TV on in the next room, or your children playing at your feet, you're setting yourself up for failure. James 4:8 says, "Come near to God and he will come near to you. Wash your hands, you sinners, and purify your hearts, you double-minded." We need to wash our hands of all distractions and purify our hearts before him to truly be able to engage with Scripture well. Turn your phone on off (or on silent) and leave it out of arm's reach, go somewhere you can be alone, turn off all electronics or noise-making devices around you, and straighten up the area so messes or things nearby don't steal your attention.
Not knowing your purpose. If you are just flipping through random passages of the Bible every time you open it up without any real goals in mind, you're unlikely to feel productive and purposeful. Even if your purpose is just to read one chapter or one book of the Psalms, starting with a manageable goal helps you stay focused and on track. Try writing down your goals, communicating them with a trusted friend, or even keeping a running checklist of your progress in your Bible reading to help yourself stay accountable.
Being too ambitious. I've heard of friends who are trying to read through their entire Bible in just a few months, and they almost always burn out quickly. Trying to cram too much reading into each day can be overwhelming and damaging for our long-term Bible reading habits. Instead, break your quiet times into smaller chunks that you know you can accomplish in the amount of time you have, and you're more likely to continue with more consistency. Starting with a certain length of time in mind (like twenty minutes a day) or a book of the Bible you want to read in its entirety will give you measurable ways to stay committed and moving forward.
As you set time aside to be with the Lord, be mindful of your practices and attentive to what works well for you and creates space for you to engage with God in meaningful ways. Have a plan in place (such as one of the many different reading plans found here!) and remove all distractions so you can enter into your quiet time with a ready heart.
What advice do you have for others who might be struggling in their quiet times? What have you found to be helpful in your own devotional time? Share with us in the comments below!
Written by Rachel Dawson, editor for BibleStudyTools.com. Sponsored by Liberty University, training champions for Christ since 1971; and Liberty University Online, the largest Christian university in the world with over 200 online programs.
Publication date: December 7, 2016
---
---