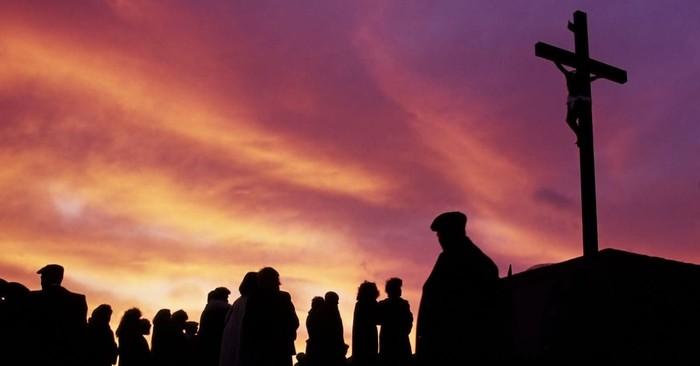 This week is the most significant celebration of the year for believers all around the world. Do you find yourself distracted from the heart of Holy Week?
This week is the most significant celebration of the year for believers all around the world. It's Holy Week, the time for remembering Christ's journey to the cross, the celebration of his Resurrection, and the gift of new life. The reality is - we have incredibly much to be grateful for.
And the enemy knows that. So you can bet he's going to do everything he can to try and distract us away from the true meaning of what this week means. But we don't have to let him win. We have a choice in whose voice we follow.
God desires that we press in close to him, so close that we can hear his heartbeat, know his voice, and feel the peace of his presence surrounding us. Yet it's often a struggle. Many other things, even good things, can call us away from the most important. Sometimes in the midst of busy lives and the Easter craze, the real significance of the week may get missed. Or we find ourselves constantly distracted, forgetting Who and what we're even celebrating.
3 things to remember as we journey through this Holy Week:
1. There will be distractions.
Life can be full of distractions, on any given day, but yet this week in particular, the enemy would love nothing more than to pull us away from the most important. He is a deceiver and twister of truth, and if we're not careful, we may step right into his plans. Here's a few ways he may try to lure us:
Through busyness – If he can't tempt us to fall, he would be happy to just keep us busy. So busy that we forget about God. It's easy to get caught up in the moment of it all, the busy rush of the week, activity madness, wheels spinning all directions.
Yet, God's voice cuts through all the busy, calling us to peace (Luke 10:38-42).
By distractions of other things – Distractions surround us in this high tech world, as we're constantly wired to electronic devices and news events. Life swirls around us. The enemy has a myriad of ways to try to lure us away from what matters most.
God offers wisdom in keeping our priorities in order and staying focused on the most important (Colossians 3:2).
Creating disunity among one another – He's done it since the beginning of time, stirring up trouble, causing hurt feelings, creating division. Don't fall for it.
Stand strong in your love for Christ and one another. Let the love of Christ richly dwell within you. He calls us to do all we can to walk in unity and love (Ephesians 5:2).
Overly focusing on oneself – If he can't divide us in relationships, he'll taunt us with our own problems. He loves us to focus on the negative and sink right into his deep pit. He'll remind us of our past and try to drag us down with whispered lies.
But here's the good news - we have the power of Christ dwelling within us. We do not have to listen or give way to his defeat, he holds no power over us. God has set us free, his truth is the one we can trust. He reminds us that he covers our past, he's with us in the present, and he holds our future in his hands (Romans 8:1).
Temptations – Satan's traps are always before us, he knows our weaknesses and would love nothing more than to see us stumble and fall. You can be sure he's working overtime, especially during this Holy Week, for he is directly opposed to the truth, forgiveness, and redemption that the Resurrection of Christ offers.
Stay aware, walk strong, God will never allow us to be tempted beyond what we are able to endure. He will faithfully guide us in all of his ways if we're listening to his voice (1 Corinthians 10:13).
2. Focus on the most important.
This can be a balancing act, for sometimes it's easy to veer off track. We love celebrating the Easter week in fun ways - parties, decorating, spring flowers, and one of my personal favorites - chocolate.
But like many of you, we know at the core of it all, those things are not the most important. If all of the fluff and stuff are stripped away, there remains the amazing story of Christ, who never changes. His is the real story at the center of all. He is the celebration at the very core of this holiday. Without him, we have nothing. He is what it's all about. And though we may know this in our heads, the hours of how we live through our week might tell a different story. It's a choice each day, to focus in, on the true meaning. How can we do this?
By opening up his Word, reading, meditating, especially about the story of Christ's journey towards the cross and the Resurrection. All 4 Gospels give an account. Dig deep, ask questions, seek to learn all he has to say to your heart.
By spending moments with him in prayer.
By taking time to be quiet and still before him, just listening for his voice.
By reflecting, remembering, thanking him for his gift of sacrifice made on our behalf.
By praising God for the power of the Resurrection of Christ, for the promise of new life.
By celebrating together with other believers.
"He must increase but I must decrease" (John 3:30).
"...that I may know him and the power of his resurrection and the fellowship of his sufferings, being conformed to his death..." (Philippians 3:10).
3. He gives us beauty for ashes.
Those ashes that marked the foreheads of millions of believers on Ash Wednesday held a reminder for us. We are but dust (Genesis 3:19). Yet his story reminds us of more - we are redeemed. We have been given new life, an open door, through Jesus Christ.
The ashes are a clear picture of the frailty of human existence. And though many times we may somehow think we're invincible in this life, or even led to believe that we are not "needy" of a Savior, when hit with life's struggles or face to face with painful events, we quickly remember, we need help. We are weak, and need One who is strong. We need a Savior.
We have One, who also was broken, in ways we could never fully comprehend, yet he remained strong, and chose to endure it all - for us.
He extends grace to remind us we don't have to stay stuck in our struggle and pain. He holds good in store through it all, able to bring greater purpose, greater beauty, greater strength. He never intends for us to remain in the pit of our despair. For he breathes fresh life.
God brought beauty out of the brokenness of the cross, he gives beauty for our ashes. His sacrifice offers forgiveness for our sin. The power of the Resurrection gives hope for our future.
He will…"provide for those who grieve in Zion-- to bestow on them a crown of beauty instead of ashes, the oil of joy instead of mourning, and a garment of praise instead of a spirit of despair…" (Isaiah 61:3).
Adorned in robes of righteousness…ashes traded for beauty…mourning giving way to joy…despair replaced by praise.
There's such power there.
Grace. Love. Freedom. The focus of this Holy Week.
"Behold, I am making all things new…" (Revelation 21:5).
"Thanks be to God for his indescribable gift!" (2 Corinthians 9:15)
Debbie McDaniel is a pastor's wife, mom to three amazing kids and a few too many pets, dramatist and writer. She has a heart to communicate God's hope though the everyday moments of life - the good, the bad, the ugly, and the ones that take your breath away. A lover of every sunrise, forever needy of His grace, this Texas girl finds joy in the simple gift of each new day. Debbie invites you to join her at www.freshdayahead.com, and Facebook and Twitter.
Publication date: March 30, 2015
---
---