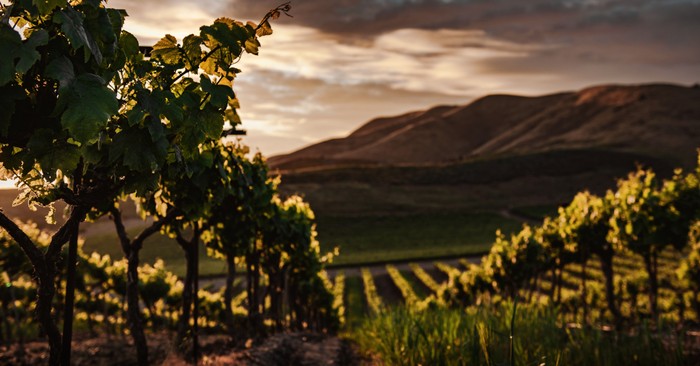 Are you guilty of this?
We are all guilty of this.
We come upon a well-known verse or passage of Scripture and think, "I've read this passage so many times already. I'll just buzz through it...or come back to it...later."
Yup. Guilty. Guilty as charged.
This was my initial feeling upon my decision to read John 15 the entire month of January. (My hope for this year is to focus on the names of Christ and our relationship to each of those names. I also hope to blog about them at the end of each month...clearly I got delayed.)

Upon encountering John 15, my brain automatically began playing the prideful tape of the "I-already-know-this" song-and-dance.
But not so.
God's Word is amazing! It is incredible. It is awesome. It is inspired by the Holy Spirit, and so its depths and treasures and truths see no end. Especially to Christians who are being sanctified--we need its guidance, its graces, its admonishment, its teaching, and its training in righteousness.
And so we humble ourselves and return, again and again, to those passages our pride wants us to skip over so foolishly. We dwell in the sanctifying Word of God, trusting that the Spirit is more than able to transform our hearts and minds...even by way of a verse or a passage our eyes have already read one hundred times before the present moment.
Here is my humble opinion: If we think we have no need to read a familiar passage, that is the very indication that we should stay put in that passage. With joyful obedience, we invite the Holy Spirit to manifest His fullness in God's Word, to teach and admonish us by the very passages of His Word we somehow feel we've already grasped. In fact, it is a good, necessary thing to obediently linger in Scripture, trusting in the Spirit's guidance and timing, regardless of the "outcome". Should He choose to enlighten our hearts by unveiling new spiritual truths is ultimately up to Him. But we must make the choice to linger.
So--here are three lessons from John 15:1-11, that I pray will be encouraging to you today:
ONE: The fruit borne in our lives does not make us clean; rather, our righteousness in Christ frees us to bear much fruit.
Jesus says:
"I am the true vine, and my Father is the vinedresser. Every branch in me that does not bear fruit he takes away, and every branch that does bear fruit he prunes, that it may bear more fruit. Already you are clean because of the word that I have spoken to you. Abide in me, and I in you."
What struck me is that Jesus reminds the disciples that they have already been made clean. I asked myself, "Why did he remind them of purification here?" I wonder if it was a response to two thoughts that may have been going through the disciples' minds: (1) Wondering about their salvation (ie: "Am I saved?") and (2) trusting in their "fruit" to save them. Jesus responds with the assurance that His forgiveness has washed away their sins. Their salvation in Him is secure--and not because they did anything to earn it.
This challenged me. Even subconsciously, I sometimes find myself believing that my good works cause me to be more loved and accepted by the Father. This is simply not true. It is Christ's righteousness, bestowed upon us through His shed blood, that makes it possible for us to bear the fruit of godliness, when once we never could because we were dead in our trespasses and sins.
TWO: Our joy in Christ is intimately connected to our glorification of Him.
The Father is glorified when we bear much fruit. We bear much fruit when we abide in the love of Christ. When we abide in the love of Christ, our joy is made full! Therefore, the joy of Christ is made complete in us as we glorify the Father because this abiding is what we were created to do! By seeking to know Christ more deeply, and by obeying His commandments, we are filled with a joy inexpressible that is directly connected to God's glory--because they are one and the same. When we do what we were made to do--worship and glorify God--the natural result follows...joy!

This is precisely why the substitutes of the world never fully measure up, and always fail to satisfy us in the end. This is why, when we seek our own gain and glory, we are left empty, discontent and increasingly self-focused. Our own glory is not the purpose for which our lives are meant to be expended. It is God's glory, and only His, that brings about true, steady, unmatched joy.
THREE: To the watching world, we will prove to be Christians only if we abide in Christ.
"By this my Father is glorified, that you bear much fruit, and so prove to be my disciples" (v.8) There is nothing wrong in wanting to prove that we are Christians. I don't agree with the mentality that we should sit back and not live dynamically, for fear of offending people. It is our living, moving and breathing the life of Christ that will ultimately make unbelievers wonder what is the hope we have within us. And I do not mean street-corner, bull-horn Christianity with lots of opinions and no tender, gracious gospel message to proclaim. I mean grace-dependent Christians who are abiding in Christ first and foremost, and then living as a response to the gospel, with zeal unceasing and tender love for lost people.
God is glorified when we abide in Him and live as a response to His love.
This means humility and confession and repentance. It means worship and thanks and praise. It means living above reproach and fleeing temptation. It means filling our minds and hearts and schedules and calendars with godly content, and not worldly trash. It means being kind to our siblings and honoring our parents (no matter how old we are). It means working diligently and submitting to employers.

It means desiring to gain Christ above any and every other form of gain, which we count as loss for the sake of knowing and abiding in Him!

Jesus, You are the True Vine. Only You can nourish and fill and comfort and provide to the utmost! You are our Redeemer, our Lord and our Friend. Help us to abide in You. Compel us by Your grace to draw fullness of life from Your stores...because You are life! Forgive us for when we seek to find nourishment, joy and holiness apart from Your righteousness and presence. Thank You for the gospel; thank You for life in Christ!

Amen.
Photo credit: ©Pexels/Tim Mossholder
Related podcast:
The views and opinions expressed in this podcast are those of the speakers and do not necessarily reflect the views or positions of Salem Web Network and Salem Media Group.
So when sin is not being confronted, or even viewed as sin at all, it's time to address it with the hope of gently helping to restore believers caught in its web. Here are 10 sins that often go overlooked in Christian community.
Stock Footage & Music Courtesy of Soundstripe.com Thumbnail by Getty Images
---
---