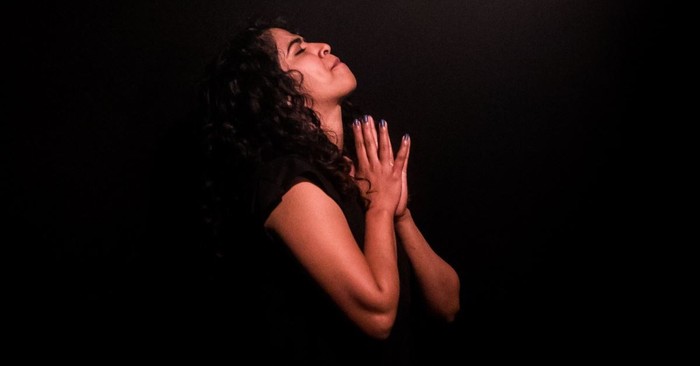 The God of Heaven hears our prayers, and they can lead to miracles. There are things this side of heaven that can only be moved by his holy hand. Prayer is powerful. The following verses reflect upon and remind us of our need for it.
The insurmountable power of personal prayer is made possible by Jesus' victory on the cross. We no longer need to abide by strict rules and sacrifices in order to come into the presence of our Almighty God. Yet, in our modern-day society, we take for granted the ease of access we have been given to the Creator of the universe.
Prayer extends beyond memorized prayers and Scripture verses. It moves past our never-ending lists of requests and confessions of sin. Beyond our daily list of gratitude and praise to God, lies a never-ending conversation. Our relationship with God starts with prayer and continues until we meet him again in heaven. It's also how he communicates with us, responding back through the Holy Spirit's translation of the truth of his Word and movement in our everyday lives.
The God of Heaven hears our prayers, and they can lead to miracles. There are things this side of heaven that can only be moved by his holy hand. Prayer is powerful. The following verses reflect upon and remind us of our need for it.
15 Verses to Remind Us of the Power of Prayer:
1. "Seek the LORD and his strength; seek his presence continually." 1 Chronicles 16:11 ESV
2. "[I]f my people who are called by my name humble themselves, and pray and seek my face and turn from their wicked ways, then I will hear from heaven and will forgive their sin and heal their land." 2 Chronicles 7:14 ESV
3. "I do not ask that you take them out of the world, but that you keep them from the evil one." John 17:15 ESV
4. "But I say to you, love your enemies and pray for those who persecute you," Matthew 5:44 ESV
5. "Watch and pray that you may not enter into temptation. The spirit is willing, but the flesh is weak." Matthew 26:41 ESV
6. "Do not be conformed to this world, but be transformed by the renewal of your mind, that by testing you may discern what is the will of God, what is good and acceptable and perfect." Romans 12:2 ESV
7. "Answer me when I call, O God of my righteousness! You have given me relief when I was in distress. Be gracious to me and hear my prayer!" Psalm 4:1 ESV
8. "Likewise the Spirit helps us in our weakness. For we do not know what to pray for as we ought, but the Spirit himself intercedes for us with groaning too deep for words." Romans 8:26 ESV
9. "Since then we have a great high priest who has passed through the heavens, Jesus, the Son of God, let us hold fast our confession." Hebrews 4:14 ESV
10. "Therefore, confess your sins to one another and pray for one another, that you may be healed. The prayer of a righteous person has great power as it is working." James 5:16 ESV
11. "If we confess our sins, he is faithful and just to forgive us our sins and to cleanse us from all unrighteousness." 1 John 1:9 ESV
12. "Is anyone among you suffering? Let him pray. Is anyone cheerful? Let him sing praise." James 5:13 ESV
13. "[P]raying at all times in the Spirit, with all prayer and supplication. To that end keep alert with all perseverance, making supplication for all the saints," Ephesians 6:18 ESV
14. "And he said to them, 'When you pray, say" "Father, hallowed be your name. Your kingdom come. Give us each day our daily bread, and forgive us our sins, for we ourselves forgive everyone who is indebted to us. And lead us not into temptation." Luke 11:2-4 ESV
15. "Do not be anxious about anything, but in everything by prayer and supplication with thanksgiving let your requests be made known to God. And the peace of God, which surpasses all understanding, will guard your hearts and your minds in Christ Jesus." Philippians 4:6-7 ESV
There are no "good people" in the world. We all sin. All fall short of the glory of God. (Romans 3:23) We are just as unworthy to come into the presence of God as Old Testament people were. The difference is not what humanity has evolved into, but what Jesus did to compensate for our lack. We are still the same sinners, but through prayer we can accept the gift of salvation which Jesus died to give us. Prayer allows us to confess our sins and "he is faithful and just and will forgive us our sins and purify us from all unrighteousness." (1 John 1:9)
Meg Bucher writes about everyday life within the love of Christ. She stepped out of her comfort zone, and her Marketing career, to obey God's call to stay home and be "Mom" in 2011. From that step of obedience her blog, Sunny&80, was born, a way to retain the funny everyday moments of motherhood. Meg is also a freelance writer and author of "Friends with Everyone."  She loves teaching God's Word and leading Bible study, being a mom, distance running, photography, and the Cleveland Browns. Meg resides in Northern Ohio with her husband, two daughters, and Golden-Doodle.  
Photo Credit: ©Unsplash/rohit-guntur
---
---