A Prayer to Stop the Rush and Let Go of the Stress This Christmas
By Debbie McDaniel
"Come to me, all who labor and are heavy laden, and I will give you rest. Take my yoke upon you, and learn from me, for I am gentle and lowly in heart, and you will find rest for your souls. For my yoke is easy, and my burden is light." - Matthew 11:28-30
It's just days before Christmas.
And if you've found yourself struggling with the stress of making it all happen, of making Christmas ultra-special, magical, or perfect in every way - deep breath. It's OK, it's not all up to us.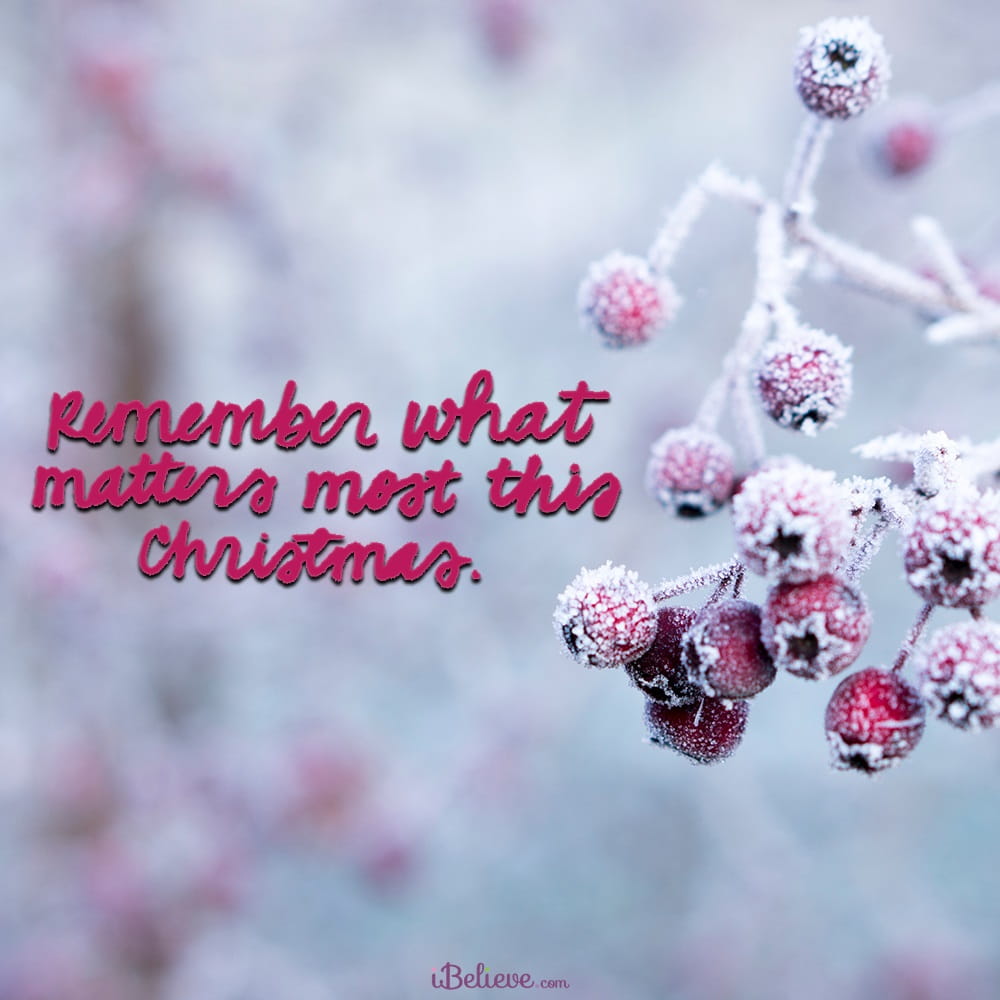 We may start to carry that pressure, especially during these holiday weeks, though often unintentionally. We long to make wonderful, lasting memories for our kids, we want to have the best Christmas ever, we want everyone to be happy and just get along. There's this pressure all around to see what others are doing, or to buy more, or to busy ourselves more, and we somehow step right into that crazy cycle of spinning…
The most wonderful time of the year can leave many feeling defeated, depleted, and completely overwhelmed by about this time.
But we don't have to stay stuck there. We can move forward out of that trap. And let go of the striving in it all.
So, whether or not the shopping got finished yet, or the Christmas cards were sent out in a timely manner, or the lights were ever hung this year, it doesn't really matter.
Because real life doesn't usually look like a Norman Rockwell painting. It just looks like "us." Ordinary. Kind of messy. Not quite polished and maybe a few steps behind.
And Jesus came. For us. Just common, real, ordinary people.
He chose to enter the world through young Mary, simple, ordinary, unknown to others. His earthly father was Joseph, a quiet, honest, hard-working man who didn't have a lot of money. The first announcement of His birth came to shepherds in the fields. Real, simple, ordinary, maybe kind of smelly, night shift workers.
He's the One who brought the "special moment" to Christmas, that one night years ago.
Miracle wrapped up in a tiny baby.
It's all about Him.
And still today, that truth remains the same. In whatever we get done, and whatever we don't, through the holiday madness or the simple moments that often mean the most, Jesus came, offering peace. Giving grace. Bringing hope. It's what matters most, at Christmas, and all year through. He's the Only One who makes it all amazing and special.
Dear God,
Thank you for the gift of Jesus, the One who alone can save us and give us lasting joy. Thank you that your yoke is easy and your burden is light. Thank you that you promise to give the worried, the hurried, the pressured, and stressed out - rest and peace for our souls - if we'll just come before you. Thank you for your reminder that we don't have to carry it all. Forgive us for the times we try to, for not taking time to rest. Thank you for the refreshing that comes from your Spirit, filling us again with joy, covering us with a shield of favor and blessing, leading us forward with hope. Equip us to be those who notice the lonely, the hurting. Help us to slow down, to take time, to point others to you, and to remember most of all, what this season is all about.
In Jesus' Name,
Amen.
---
Find more by Debbie at www.debbiemcdaniel.com, Instagram, Twitter or Facebook.
Teach Us to Pray is a FREE prayer podcast hosted by iBelieve writer Christina Patterson. Each week, she gives you practical, real-life tips on how to grow your faith and relationship with God through the power of prayer. To listen to her episode on What to Pray in the Morning for a Worry-Free Day, click below!


Now that you've prayed, are you in need of someone to pray for YOU? Click the button below!
Visit iBelieve.com for more inspiring prayer content.
Originally published Wednesday, 08 December 2021.