A Prayer to Our Long-Suffering God
By Meg Bucher
"The Lord is not slow in keeping his promise, as some understand slowness. Instead he is patient with you, not wanting anyone to perish, but everyone to come to repentance." - 2 Peter 3:9 NIV
The love the Father has for us is displayed in His patience with us. He is a long-suffering God! Long-suffering means enduring injury, trouble, or provocation long and patiently.
"Scoffers use the delay of His second coming to question if He is going to return at all," the Voice Translation says, "Peter responds by saying that God's perspective on time is not like ours. What seems long from a finite, human perspective is incredibly short from an eternal one."
The Voice paraphrase of 2 Peter 3:9 says,
"Now the Lord is not slow about enacting His promise - slow is how some people want to characterize it - no, He is not slow but patient and merciful to you, not wanting anyone to be destroyed, but wanting everyone to turn away from following his own path and to turn toward God's."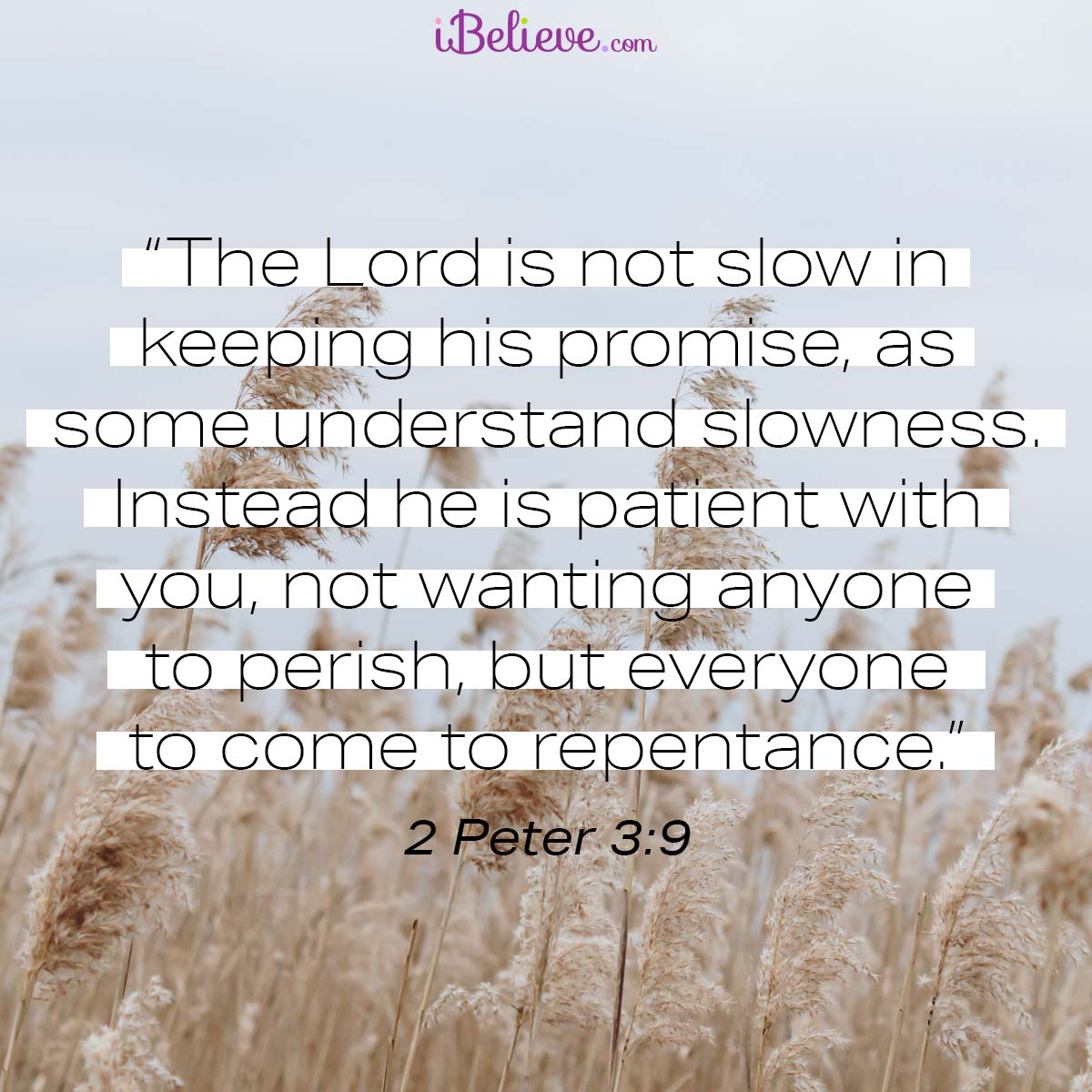 The word slow, as Peter used it, means to delay. "Delays are not denials," the NIV Study Bible clarifies. God's delays don't nullify His promises. The LORD is patient with us. He does not lose heart. He preservers patiently and bravely in enduring misfortunes and troubles. He is patient in bearing our offenses and injuries. He is mild, slow in avenging. He is long-suffering, slow to anger, and slow to punish. (Strongs.) No matter how crazy the world becomes, we can rely on God. He is the same yesterday, today, and always.
Father,
We thank you for your faithfulness. We praise you for your promises. Great are you, Lord, who has made a way for us to come to you, through Jesus.
Father, I pray you are quick to stir our hearts through the Spirit living in us. Remind us that your presence is with us always through Christ Jesus. Help us to be long-suffering, God, as you are. Teach us to be patient, willing to wait, slow to anger and slow to punish.
God, you are a promise keeper. Some of the direct answers to the questions of pain and suffering in the world will allude us on this side of eternity, but your promises reign true. And eternal life, beyond this world, awaits all who embrace Christ Jesus as their Savior.
You are not slow in keeping your promise, Lord. Not as some understand slowness. You are patient with us, not wanting anyone to perish, but all of us to come to you in repentance. Thank you for being long-suffering.
Bless our lives, Father. Keep us safe, healthy, and guard our hearts in Christ Jesus.
In Jesus' Name,
Amen.
Sources: NIV Study Bible, Copyright © 1985, 1995, 2002, 2008, 2011 by Zondervan.
The Voice Bible Copyright © 2012 Thomas Nelson, Inc. The Voice™ translation © 2012 Ecclesia Bible Society All rights reserved.
---
Meg Bucher writes about everyday life within the love of Christ as a freelance writer, blogger at Sunny&80, and author of "Friends with Everyone, Friendship within the Love of Christ," "Surface, Unlocking the Gift of Sensitivity," and "Glory Up, The Everyday Pursuit of Praise." She earned a Marketing/PR degree from Ashland University, but stepped out of the business world to stay at home and raise her two daughters …which led her to pursue her passion to write. A member of Faith Church in Sandusky, OH, she serves as a Bible study leader for women and teen girls. Meg is a Cleveland native and lifelong Browns fan, living by the shore of Lake Erie in Northern Ohio with her husband, two daughters and golden doodle.
Want more Your Daily Prayer? We also have a podcast! This podcast is different than the written devotional you just read, but carries the same commitment to a closer look at Scripture each day. You can find out more by clicking the link below!
Now that you've prayed, are you in need of someone to pray for YOU? Click the button below!
Visit iBelieve.com for more inspiring prayer content.
Originally published Sunday, 20 February 2022.