A Prayer to Pray Before You Sleep
By Debbie McDaniel
It is useless for you to work so hard from early morning until late at night, anxiously working for food to eat; for God gives rest to his loved ones. – Psalm 127:2
Whatever's pressing on our minds and hearts tonight, may God give us the strength to lay it down...again. All our wrestling, and the worries and stress we carry, are useless. We can trust that he'll take care of whatever concerns us. He knows the best way; his timing is perfect. And he is able. He's the storm-calmer, the peace-giver, the burden-lifter, the hope-bringer. Nothing is too difficult for him. He truly is our peace.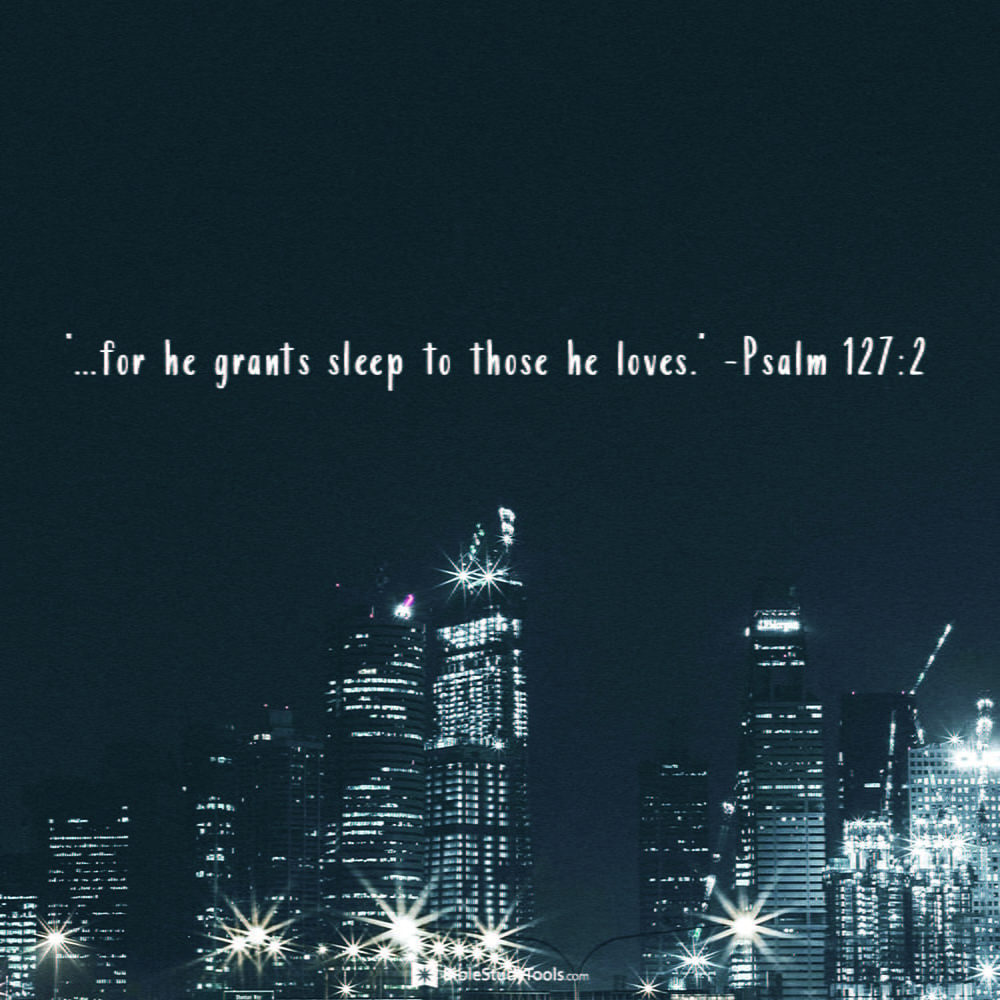 Use this prayer as an outline for your own prayer to God for the end of each day, and let him fill you with his peace and love.
A Prayer to End the Day:
Dear God,
Thank you for the blessing of this day and your goodness in it, we're grateful for the gift of life. Thank you for all that you've allowed into our lives these past hours, the good along with the hard things, which have reminded us how much we need you and rely on your presence filling us every single day. Thank you for your great love and care. Thank you for your mercy and grace. Thank you that you are always with us and will never leave us.
We ask for your huge peace to surround us tonight, all of us who feel restless and worried right now, those who have been carrying big burdens and shouldering stress. Help us to lay it down before you, again, even though we're struggling to really let go. Remind us that you can carry it so much better than we ever could. May your power and your rest fill us fresh. May the presence of your Spirit breathe hope deep into our souls, even as we sleep.
Forgive us for the times we tried to do things all in our own strength, getting too easily distracted, or forgetting our need for you. Forgive us for letting fear and impatience control us, or for allowing pride and selfishness to dictate our choices. Forgive us for not following your ways or for living distant from your presence. Cleanse our hearts and renew our minds in you, as we lay it all to rest.
We ask that you would provide for our needs, even as we sleep. We pray for your huge grace and favor. We thank you that you never sleep or slumber, that you're always at work, even in the dark of night, even behind the scenes where we can't fully see. We pray for your blessings to cover us, that you would make every plan you've birthed in our hearts to succeed at just the right time. We pray that you'd be opening doors, clearing pathways, closing the wrong roads, and setting up our way for tomorrow.
Help us to be alert to your spirit, that our hearts would be eager to hear your voice as we awaken. We pray you'd make us strong and courageous for the road ahead. Help us to feel refreshed deep down in our souls, and to be faithful to walk in the wisdom of your word. Give us a desire for more of your presence. Help us to remember to rely fully on you, fixing our eyes on Jesus. We ask for your words of truth and power to strengthen us in our inner being.
Thank you for your goodness, thank you that you know the way we take and that you have a plan.
We love you Lord, we need you, and we thank you we can rest in your perfect care.
In Jesus' Name,
Amen.
---
Debbie McDaniel is a writer, pastor's wife, mom to three amazing kids (and a lot of pets). Join her each morning on Fresh Day Ahead's Facebook page, for daily encouragement in living strong, free, hope-filled lives. Find her also on Twitter and at her blog www.debbiemcdaniel.com.
Want more Your Daily Prayer? We also have a podcast! This podcast is different than the written devotional you just read, but carries the same commitment to a closer look at Scripture each day. You can find out more by clicking the link below!
Now that you've prayed, are you in need of someone to pray for YOU? Click the button below!
Visit iBelieve.com for more inspiring prayer content.
Originally published Wednesday, 09 March 2022.