A Prayer for When God Suddenly Changes Your Life Plans
By: Betsy de Cruz
"The Lord will fulfill his purpose for me; your steadfast love, O Lord, endures forever. Do not forsake the work of your hands." – Psalm 138:8
Sometimes life doesn't go according to our plans. Like when my fiancé broke off our engagement a few hours after I bought my wedding dress. I cried 24 hours straight and stared in disbelief at the white, lacy dress I wouldn't be needing anymore. Thankfully, after much effort, I was able to return the dress, but my broken heart took much longer to recover.
I felt abandoned, but God never left me. All the plans I'd made for my happily-ever-after came crashing down, but even my engagement disaster couldn't destroy the plans God had for me.
Everyone has moments when the life they were planning suddenly takes an unexpected turn towards what feels like a disaster. We wonder where God even is and what on earth He's up to. Friend, if you're there now, may I remind you that the God who never leaves you will work out His good plans for you?
God has a purpose for our lives that goes beyond our limited understanding. If you're like me, your life plan includes feeling happy because everything turns out the way you want. Yet God's design for our lives aims at forming our character to resemble Jesus more fully; He is preparing us for an eternal glory that far outweighs our present difficulties.
God desires that we bring Him glory, and we don't always get to choose how that happens. Yet even when life takes a turn we never hoped for, we can be sure God will use every circumstance to fulfill His good purpose and plan for us.
When we fail the class, lose the job, mess up the project, or get sick, God never abandons us. We are the work of His hands, and He is weaving all our loose ends into a beautiful design. He uses everything for our good and His glory, both in our present lives and for all eternity.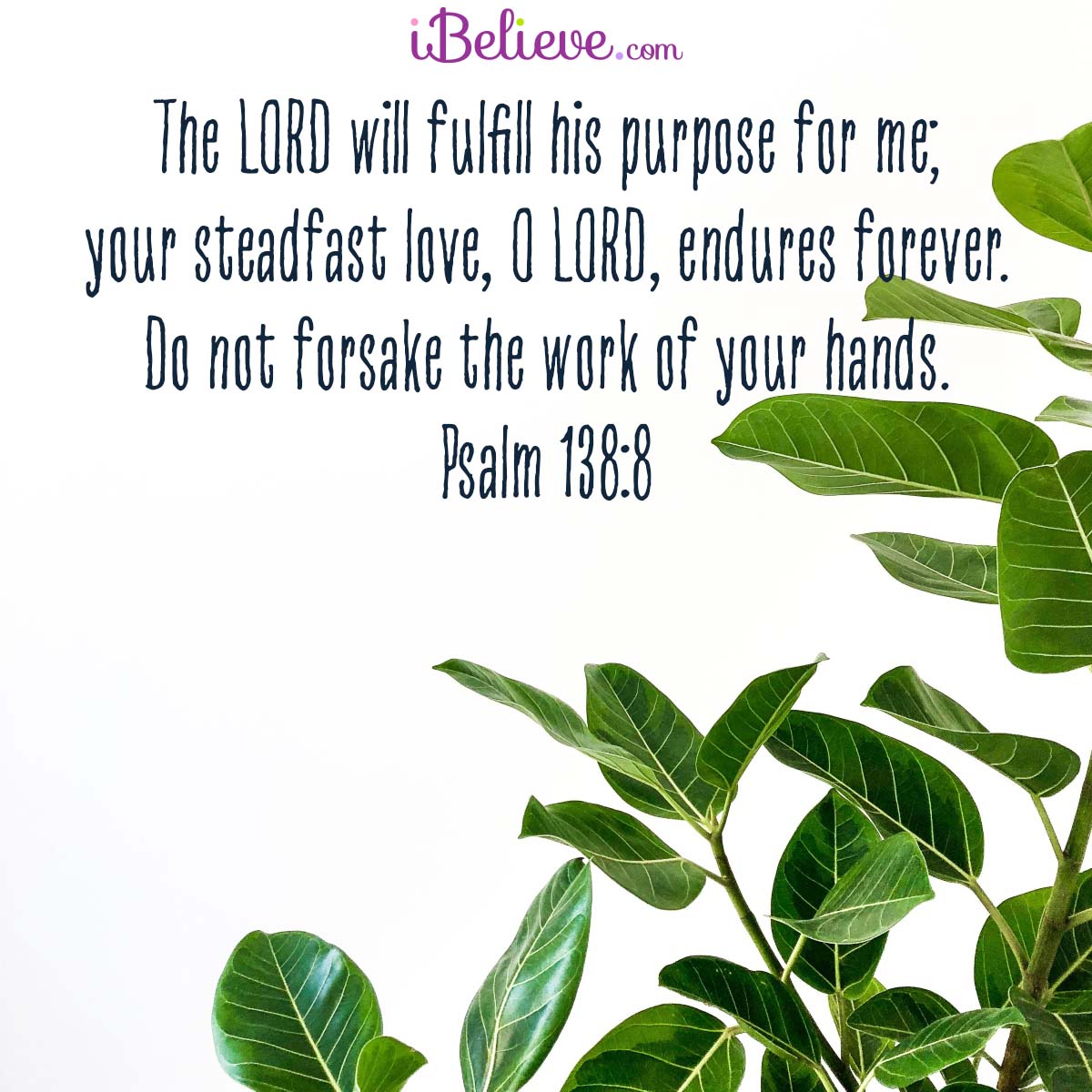 After my broken engagement, I had no way of knowing 4 years later I'd wear a different dress to marry the same man. Ultimately, we enjoyed a stronger relationship in our first years of marriage because the drama we'd endured prepared us.
Today, you may have no idea how God will work out your circumstances for good, but you can trust He will. His steadfast love surrounds you.
Let's turn to the Master:
Lord,
When my plans don't work out as I hope, help me to trust yours. Your steadfast love endures even when all else changes. I confess I often look at life through the lens of my own comfort and happiness. Forgive me for holding on to control over my circumstances and give me the grace I need to surrender my plans to you.
Lord, you are my fortress and strength. Help me trust your faithfulness and believe that even now you are working out your good and perfect plan for my life. Father, help me see my circumstances through your eyes.
I may not know what to do next, but I will choose to rest in you and trust you to provide all I need. Restore my heart when I feel discouraged and lead me to find refuge under the shelter of your wings. Help me keep my focus on you, Lord, and trust that you will show me my next steps when the time is right.
In Jesus' name, Amen.
---
Betsy de Cruz helps overwhelmed women take small steps to invite more of God's presence and power into their lives. Connect with Betsy to get your free Quiet Time Renewal Guide and other resources at FaithSpillingOver.com. Her book More of God is a distracted woman's guide to more meaningful quiet times. After living in the Middle East for 16 years with her husband and two children, Betsy landed in Texas, where she still enjoys drinking chai with friends.
Editor's Note: The podcast audio player below is no longer synced up to the written devotional. Enjoy this additional prayer to start or end your day!

Want more Your Daily Prayer? We also have a podcast! This podcast is different than the written devotional you just read, but carries the same commitment to a closer look at Scripture each day. You can find out more by clicking the link below!
Now that you've prayed, are you in need of someone to pray for YOU? Click the button below!
Visit iBelieve.com for more inspiring prayer content.
Originally published Thursday, 31 March 2022.