A Prayer for Restlessness
By Gwen Smith
The Lord replied, "My Presence will go with you, and I will give you rest."(Exodus 33:14)
R.E.S.T. {Reflect. Engage. Surrender.Trust.}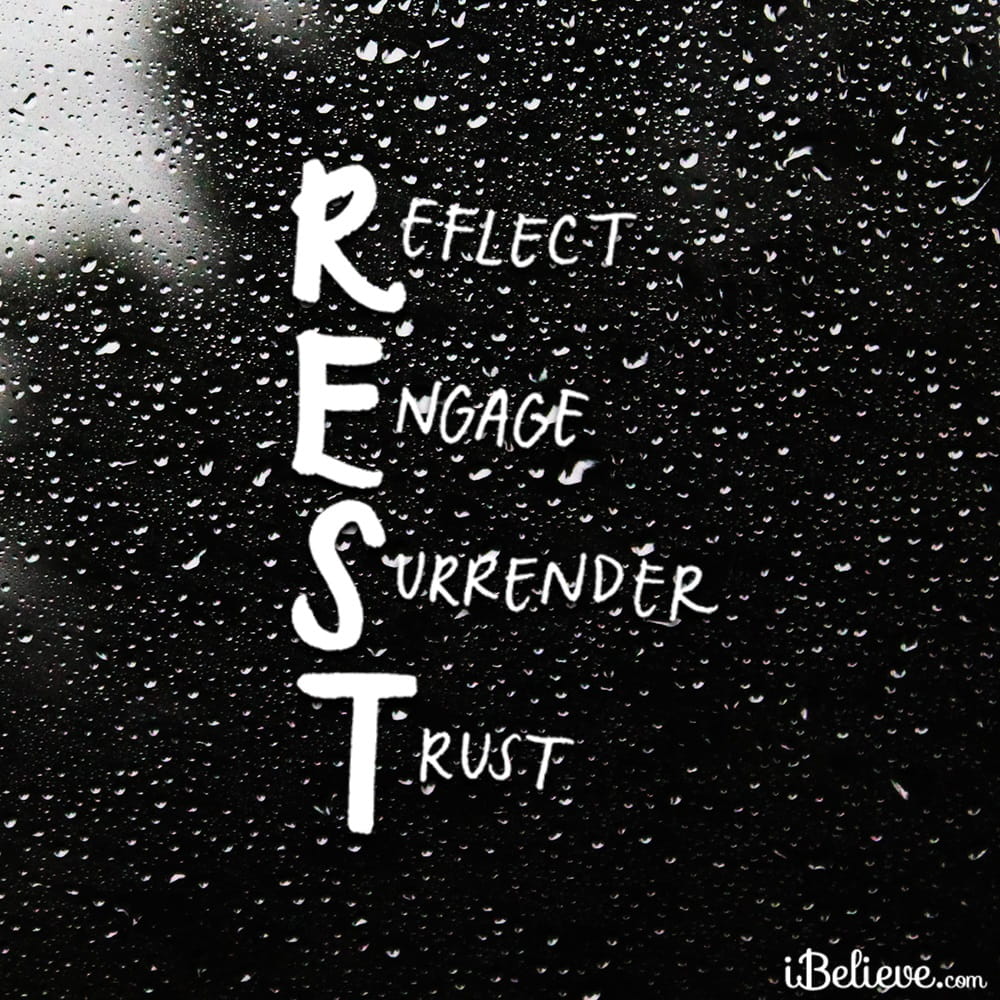 ENGAGE
Jesus said, "Come to me, all you who are weary and burdened, and I will give you rest. Take my yoke upon you and learn from me, for I am gentle and humble in heart, and you will find rest for your souls." (Matthew 11:28-29, NIV)
The apostle Paul instructed us, "Do not be anxious about anything, but in everything by prayer and supplication with thanksgiving let your requests be made known to God. And the peace of God, which surpasses all understanding, will guard your hearts and your minds in Christ Jesus." (Philippians 4:6-7, ESV)
Most importantly, we must engage with the grace of God through Jesus Christ, which comes from the confession of our sin. "Have mercy on me, O God, because of your unfailing love. Because of your great compassion, blot out the stain of my sins. Wash me clean from my guilt. Purify me from my sin." (Psalm 51:1-2, NLT)
SURRENDER
The best example of surrendering to God's will is in Jesus. The night he was betrayed Jesus surrendered himself to God's plan. He prayed, "Father, everything is possible for you. Please take this cup of suffering away from me. Yet I want your will, not mine." (Mark 14:36, NLT)
Here's the beauty of surrender: when you lay down your mess, your hands are then free to pick up God's rest. Because the One who captures us in surrender is the One who sets us free. And in the surrender, you are empowered to trust Him more.
TRUST
Let's look at what Jesus had to say about this.
"Can any one of you by worrying add a single hour to your life? … So do not worry, saying, 'What shall we eat?' or 'What shall we drink?' or 'What shall we wear?' For the pagans run after all these things, and your heavenly Father knows that you need them." (Matthew 6:31-32)
Friend, your heavenly Father knows that your job is stressing you out, that your marriage is hanging by thread, that you are bogged down with health challenges, that you are grieving that loss, that your finances are upside down… He knows the longings of your heart. He. Knows. What. You. Need.
What would happen if every morning you woke up and decided to R.E.S.T.? What if you determined each day to choose to trust God for what you need because you know that He knows what you need? Can you imagine living with that kind of faith? That is exactly what the Lord is inviting you into. His rest.
Lord, I really want to get this one! Please help me to turn to You in all circumstances – in the good, the bad, and the ugly. Give me the strength to surrender my will to Yours, and guard my heart and mind with the peace as I choose to trust You with my struggles today.
In Jesus' Name,
Amen.
Editor's Note: Content taken from the Girlfriends in God devotional, "The Solution to Restlessness, Part 2," written by Gwen Smith. You can read that piece in full here. All rights reserved.
Want more Your Daily Prayer? We also have a podcast! This podcast is different than the written devotional you just read, but carries the same commitment to a closer look at Scripture each day. You can find out more by clicking the link below!
Now that you've prayed, are you in need of someone to pray for YOU? Click the button below!
Visit iBelieve.com for more inspiring prayer content.
Originally published Tuesday, 03 March 2020.