September 8
Christian Idols And they rejected His statutes and His covenant which He made with their fathers and His warnings with which He warned them. And they followed vanity and became vain, and went after the nations which surrounded them, concerning which the LORD had commanded them not to do like them.
When we follow after something or someone we must have it before us.  It's what drives us onward and keeps us steadfast to reach the goal.  But just as this object of our attention must be before us, all other contenders must be behind us.   We will follow what we place before us and what's behind us we will reject. This is the factor that must be in place before a pursuit can become reality.  Israel's pursuit was vanity which means that in order to follow after their own beauty they had to first reject the beauty of the Lord.  They became the object of their affection rather than the Living God.
Israel turned away from the Words of God and the promise they had made to Him to begin following after vanity.  God's people had a change in direction!  Once vanity had caught their eye, they began to follow after it.  Vanity had seized their affections and once it seized their affections, their character followed suit.  Our character will become the prisoner of our affections, beloved.  Before Israel could ever follow they had to first forsake.   A forsaking must take place before a following can be accomplished.  Before we say "yes" to something we must first say "no" to something else because you can't have a pursuit without a rejection first.
Our pursuits are a road map to our heart and those looking in from the outside will be able to read the direction our life is heading.   The quest of our heart will weave the garments of our character in time.  Before long, the nation of Israel found themselves to be vain.  What started out as a harmless look became a way of life.   Character doesn't change overnight.  It's a slow and deliberate process involving choice after choice.  Our choices become the stepping stones to where we are going. 
Everything comes with a price, the good and the bad.  Following God is costly, but rejecting Him is even more costly, especially in the end. Until we know what we are pursuing, we will not know what we have forsaken. 
Choices reveal the pursuit.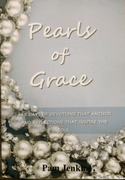 Pearls of Grace Devotional Book
Pearls of Grace is a book of devotions for the entire year, including a read through the Bible in a year calendar, broken down for every day. Beautifully written with encouraging words of hope and empowering words of joy and strength for every woman. Pam draws from the truth and richness of God's Word and gives real life examples in her down to earth style. A must have in your library, click here for more information.          
For more from Pam Jenkins and Jabbok Ministries, please visit www.jabbokministries.com!
Listen to Pam Jenkins's daily broadcast on OnePlace.com.