September 5
Powerful Living
 "For we who live are constantly being delivered over to death for Jesus' sake, that the life of Jesus also may be manifested in our mortal flesh."
II Corinthians 4:11
There is a prevailing idea in Christendom today that the power of God in a person's life should deliver them above all conflicts, all trials, and sufferings.  But rather the opposite is true.  The power of God always brings conflicts, trials. and most certainly struggles.  God never promises a life free of troubles to His chosen ones, but promises that He would be all that they would ever need, and that He would never leave them nor forsake them.   We always find the apostle Paul engaged in struggles, ever riding the storms of conflict, constantly shadowed by clouds of trouble.  Listen to his words:  "We are troubled on every side, yet not distressed; we are perplexed, but not in despair; Persecuted, but not forsaken; cast down, but not destroyed;Always bearing about in the body the dying of the Lord Jesus, that the life also of Jesus might be made manifest in our body." (2 Corinthians 4:8&9)(KJV)
Paul's life was a life of ceaseless struggles.  Lettie Cowman once wrote:  "Bloodmarks stain the steps that lead to the throne, and scars are the price of scepters. Grief has always been the lot of greatness.  It is an open secret." The enemy may strike at you, he may inflict a painful blow and even knock you down at times, but the child of God will rise again.  He may be overthrown but he will never be overcome.  He may be forsaken but never will he be abandoned.  He may be without but never will he be poor.  The one true living God, who formed the hand to draw its sword from the sheath, will rise not only to defend but to fight for a child bearing His name.  
"Beat a retreat"said Napoleon to his little drummer-boy.  The boy replied, "Sir, I know not how.  I was never taught a retreat, but I can beat a charge." With the name of God comes power, but with power come struggles and trials that at times may be beyond our comprehension and beyond our own human strength.  Satan will offer us a crown only to give a cross, but God offers us a cross to give us a crown.  May you never beat a retreat, precious one.
May the world hear the beating sound of a charge resounding from your heart.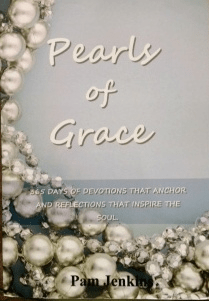 Pearls of Grace Devotional Book
Pearls of Grace is a book of devotions for the entire year, including a read through the Bible in a year calendar, broken down for every day. Beautifully written with encouraging words of hope and empowering words of joy and strength for every woman. Pam draws from the truth and richness of God's Word and gives real life examples in her down to earth style. A must have in your library, click here for more information.          
For more from Pam Jenkins and Jabbok Ministries, please visit www.jabbokministries.com!
Listen to Pam Jenkins's daily broadcast on OnePlace.com.
Originally published Monday, 05 September 2016.