September 28
Every Good Work, Every Good Word
"Now may our Lord Jesus Christ Himself and God our Father, who has loved us and given us eternal comfort and good hope by grace, comfort and strengthen your hearts in every good work and word."
II Thessalonians 2:16-17
In every good work and in every good word, we can raise our hands to the Heavens and cry out for comfort, hope and grace! But how often we want to ask God to give us grace when our work is not good and when our words are bad? We cannot ask a good Father to give us His good, when we are not living within the realm of what is good in His sight. Everything we do, say, think or listen to must fall within the boundaries of God's "very good" before we can have His blessings. This is why, as His child, we need to guard the good in our lives by rejected all that is not good. Our good is found within the ordinances of God's Word, not in our opinions, or even in the opinions of others or their philosophies. And the world is full of philosophies! But when we choose to stay in the way of God, holding to His standards then we are given the right of passage to all that we need. Let me give you a prayer for today in light of what you've just read:
Father God, I magnify Your name lifting up my hands in praise unto You. My heart is filled with praise for You. You have lavished Your goodness upon my life, loving me when I was unlovable. I have never walked alone because You have been a constant by my side, my faithful companion through every storm of life. Never have I been without You God because I am knit to Your heart and there I will remain all the days of my life. You have reigned over my life in justice and mercy. My heart trusts in You knowing You will never fail me nor withhold any good thing from my life. I worship You O God.
My eyes have seen Your mighty work of love in my life. You give me hope in times of darkness removing the fear that seeks to overwhelm my soul. Every concern of my heart You know. I lift up every concern, every burden to You today. Work everything out for Your good Father bringing glory to Jesus in all things. Wrap Your arms of comfort round about me and strengthen my heart for every good work. Fill my mouth with words of life for every hearer. Wash my heart with the water of Your presence cleansing it from every unrighteous deed and selfish ambition. Make my heart Your holy throne where You can reign in beauty. Give me more of You today than I had yesterday and praise the name of Jesus through me. In His name I pray.
I choose the good works and the words that are good.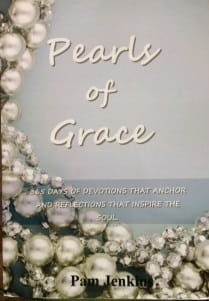 Pearls of Grace Devotional Book
Pearls of Grace is a book of devotions for the entire year, including a read through the Bible in a year calendar, broken down for every day. Beautifully written with encouraging words of hope and empowering words of joy and strength for every woman. Pam draws from the truth and richness of God's Word and gives real life examples in her down to earth style. A must have in your library, click here for more information.
For more from Pam Jenkins and Jabbok Ministries, please visit www.jabbokministries.com!
Listen to Pam Jenkins's daily broadcast on OnePlace.com.
Originally published Wednesday, 28 September 2022.