September 27
Emptied to Fill
"He must increase but I must decrease."
From the time the Lord saved me I have had a heart to help people; to give them Jesus. For years I struggled in my feeble to "save" everyone and be some sort of spiritual hero in the lives of others. My fleshly attempts were soon overwhelmed by the neediness of people, for it was much more than I had bargained for. Soon I found out people are hurting and struggling with big life issues and I was powerless to help them. I grew weary very quickly. I felt obligated to do something; anything to relieve suffering and make life better for those who were struggling. My heart was right it just wasn't ready! My heart's intentions were pure but pure motives were not enough. Before I could help anyone, God was going to have to help me!
It wasn't long before God begin to speak to me these same words over and over again; "Until you have emptied out all of you I cannot fill you with Me"…and, "Until you are truly desperate to be filled with me you will remain full of yourself"! Arriving at this place of emptiness was and still is a difficult continuous journey for me. Emptying ourselves of us will always ensure a battle with your flesh and it will never come easy. As I began to seek God, asking Him how to empty me of myself, He began answering with a simple: "YES!" - "Yes what Lord?" "Yes to Me and to My ways!" Very simply put beloved, every time I or you say yes to God we are emptying more of us out. Every time we say no to God we are filling our vessels with ourselves. Yes to God means emptying of self; no to God means filling of self. Simple but powerful life lessons for each of us who desire to be filled with Him.
I strive daily to empty myself of any and all pride that I might be filled with humility; to be emptied of fear that I might be filled with courage; emptied of self's strength that I might become weak; totally dependent of Him; emptied of earthly reasoning that I might be filled with His wisdom; emptied of self reliance that I might become totally dependent on Him. There is no room for me if God is going to come in and fill my life. Making the decision to press forward in a sincere faith to be pleasing to Him in all things is a start in the right direction to becoming an empty vessel that He can fill and use for His glory.
What have you filled yourself with beloved? What do you need to empty out today? To recognize that in us dwells no good thing except Christ, Who was crucified for us, is the first step to tipping our vessel over that we can begin pouring us out. It's only then can we begin filling other empty vessels who so desperately need Jesus.
Empty me that I might be filled with you.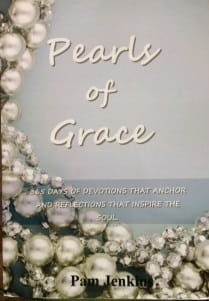 Pearls of Grace Devotional Book
Pearls of Grace is a book of devotions for the entire year, including a read through the Bible in a year calendar, broken down for every day. Beautifully written with encouraging words of hope and empowering words of joy and strength for every woman. Pam draws from the truth and richness of God's Word and gives real life examples in her down to earth style. A must have in your library, click here for more information.
For more from Pam Jenkins and Jabbok Ministries, please visit www.jabbokministries.com!
Listen to Pam Jenkins's daily broadcast on OnePlace.com.
Originally published Tuesday, 27 September 2022.