September 13
The Blessed Runner
"…run in such a way that you may win."
Echoing in the winds of heaven is the eternal call that whispers to the heart of every child of God, saying; "run the race," "run the race." It reaches the deepest part of the heart where no man can enter, where no words are summoned for it is here in this secret place where groanings too deep for words are birthed. This is the place that the voice of Heaven is heard in its clearest form. The child of God knows this voice for it was heard the day that the heart chambers were formed in the palms of God as He whispered words of love with each and every touch. The day you were formed by His hands a course was engraved into the will of God for you to follow. Each of us has our own race set before us and we are to run it as God has chosen. This path is yours and yours alone for it was hewn out in the earth that your feet should trod upon it.
Along this path, shadow and joy walk hand in hand, strength is born in weakness and power is found through adversities. The apostle Paul compared the Christian life of service to that of a runner who is running in a race that affords its winner a prize of immeasurable worth. Ask any runner and you will find that the one thing that they are in need of the most during any race, sprint or marathon, is endurance. Endurance is the ship that seems to set sail in and out of our lives, often times never seeming to weigh anchor in our life's port. Some of us only look with eyes of want from the distant harbors ever wondering from afar about this mysterious ship as it sails across before us. How many times have we've wanted to shout from the ports; "Let down your sails and dock here," only to see it sail on by?
In first Corinthians 9:27, Paul shouts the secret to anchoring endurance when he says: "I discipline my body and make it my slave…" Within ourselves is the God given right to choose the life we want to live; the right to choose, to bow the knee before God and avail ourselves to His will and surrender to His full control. It is in the bowing that endurance anchors in and a runner is born. A runner that no longer sees the course for the finish line is blocking the view. This is the secret of running, the secret to winning that most never find in their life time. This is the blessed runner that God will grace the victor's crown upon. May you never settle for anything less.
Run blessed runner, and may you run to win.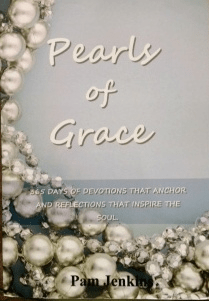 Pearls of Grace Devotional Book
Pearls of Grace is a book of devotions for the entire year, including a read through the Bible in a year calendar, broken down for every day. Beautifully written with encouraging words of hope and empowering words of joy and strength for every woman. Pam draws from the truth and richness of God's Word and gives real life examples in her down to earth style. A must have in your library, click here for more information.          
For more from Pam Jenkins and Jabbok Ministries, please visit www.jabbokministries.com!
Listen to Pam Jenkins's daily broadcast on OnePlace.com.
Originally published Tuesday, 13 September 2022.