September 12
A Happy Worker
 "Serve the LORD with gladness; Come before Him with joyful singing.  Know that the LORD Himself is God; It is He who has made us, and not we ourselves; We are His people and the sheep of His pasture."
Heaven loves the cheerful worker! There is a source of strength for every soul in the act of service.  Serving is the storehouse of God's strength and when we have strength, we find joy for living and purpose for tomorrow.  When we are absent from God's appointed fields of labor, the harvest of the future has no hope of ever coming to fruition.  We were created to live with meaning and designed to face each day with purpose of being productive for the Kingdom of God.   If we choose to neglect or even reject this design, then the meaning for living is no longer available to us.  The supply of joy is found when we fulfill our intended design and complete our destiny by embracing God's purpose.  He is a God who knows what our soul needs and in the wisdom of creation we were given the deep seeded need to live productively, to be fruitful and multiply. 
In Genesis 1:28, God blessed man and woman and instructed them to be "fruitful and multiply".   And in case there was any doubt, God intentionally tells us in Genesis 2:8: "The LORD God planted a garden toward the east, in Eden; and there He placed the man whom He had formed".  What does this garden represent for us?  This garden was man's patch of God given earth where he was to work and bring forth a harvest.   It was the Creator's choice and doing, not man's.  In this ordained place of service, man was consecrated from the rest of the world.  God placed him there and in that placing man discovered the meaning of life and why God had put him on the earth.  But there's one more undeniable nugget of truth stored away in this same verse.  God is very specific in the direction that He placed and planted this garden.  He placed it  toward the east.  The word, east, in the Hebrew means; eternal or eternity.  This is profoundly encouraging and life changing when we catch a glimpse of this beautiful canvas of truth God is painting for us. 
Every day that man would rise up and head to his ordained garden to work and serve God's purpose, he would be facing the east: facing eternity.  When we serve God, He wants us to have eternity before us.  It's this view that keeps our hands to the plow even when the ground is hard, dry and barren, because it fixes our eyes on the harvest to come.   God intentionally set the sun to rise in the east.  He set the tabernacle and the temple to the east and the promised land itself, He set in the east of the world.  The star of Bethlehem was seen in the east and pointed the wise men to Jesus.  And low and behold, our Lord and Savior is coming for us from the east.  It's no accident that God planted the garden facing the east.  It's our hope and where there is hope there is joy. 
Serve God with gladness of soul always as you set your eyes upon the future and the harvest that is to come.  It will keep you laboring in love even when people's situations and distractions tempt you to quit.  Don't walk away from your garden.  Stay the course and be encouraged today.
Heaven before me and the field beneath me, I find purpose for living.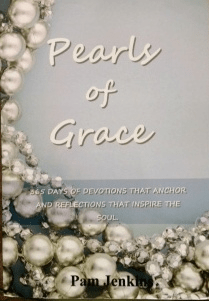 Pearls of Grace Devotional Book
Pearls of Grace is a book of devotions for the entire year, including a read through the Bible in a year calendar, broken down for every day. Beautifully written with encouraging words of hope and empowering words of joy and strength for every woman. Pam draws from the truth and richness of God's Word and gives real life examples in her down to earth style. A must have in your library, click here for more information.          
For more from Pam Jenkins and Jabbok Ministries, please visit www.jabbokministries.com!
Listen to Pam Jenkins's daily broadcast on OnePlace.com.
Originally published Monday, 12 September 2016.