October 30
Wasted Years
"Your sons and your daughters shall be given to another people, while your eyes look on and yearn for them continually; but there will be nothing you can do."
He was respected in the church, dignified, undisputed and had set countless scriptures to memory. In his 50 years of teaching God's word he was an icon because of his faithfulness. When he spoke, people listened understanding the fountain of wisdom before them. Loved and esteemed, this gentle brother in the Lord served the Lord day after day laboring more diligently than any other. He taught Sunday School, he sang in the choir, he kept the grounds of the church with immaculate detail, served as Deacon, traveled on many missionary trips helping to build churches and Bible Schools all around the globe. I had known him since I was a little girl; he had watched me grow up and become a Christian. I loved him and looked up to him as a spiritual father and mentor. He was a rock for the Church and a beacon not only for me but also to those around him. From all outward appearances, he seemed like a man who was satisfied with how he had lived his life for the Lord.
God used this precious brother to teach one of the most powerful truths that I would need in fulfilling the calling the Lord had placed upon my life. In the Lord's providence, I had gone up to the church when this dear brother was there working outside on the grounds. He had stopped to rest for a while and enjoy a cool drink when I arrived. We began to talk and during the course of our conversation the Lord prompted my heart to ask him; "George if you were able to start over with the Lord what would you do differently?" He had walked many years with God and I earnestly desired to hear his answer. When he heard my question, he sat in silence for a moment, face drawn, as tears began to stream down his face. When he was finally able to answer me he said, "I would say yes to Him in all things no matter the cost". He went on further to share how there was a time in his life when God called him to the mission field and his wife refused to go telling him if he went she would divorce him.
Broken hearted he cried out to the Lord for help to change his wife's mind but the answer never came. Not wanting to lose his wife, he said no to the Lord. In his heartbreaking words to me that day he went on to say, "sister Pam, to experience the hand of God on your life having Him use you for His glory, to know the joy and fulfillment that comes and then have God put you on a shelf realizing his anointing no longer rests upon you is worse than death." He went on to share how he chose to serve God in other ways to try and make up for his disobedience but his heart never knew peace. In his words of anguish and remorse I knew God was engraving his words upon my heart as a memorial for me, a guard for the doorway of my heart, my emotions. My precious brother in the Lord will not know the power of his words in my life, this side of heaven. To say yes to God in all things no matter the cost. He honors us at our place of obedience and pours out grace abundant in our weakness.
Disobedience will remove God's anointing upon our lives when it is not repented of. It is the enslavement of God's power to be poured out freely in our lives and ministry. Above all God desires obedience, a heart that will say "yes Lord", to your will and to your way; to love Him above all else. If we are not saying yes, then we are dishonoring the Lord, no matter if we've filled our lives with good works abundant. There is no substitution for obedience beloved. Have you said yes to God in all things? It's never too late to say, "yes Lord".
Only Yes Will Do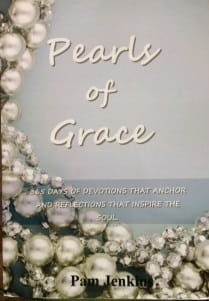 Pearls of Grace Devotional Book
Pearls of Grace is a book of devotions for the entire year, including a read through the Bible in a year calendar, broken down for every day. Beautifully written with encouraging words of hope and empowering words of joy and strength for every woman. Pam draws from the truth and richness of God's Word and gives real life examples in her down to earth style. A must have in your library, click here for more information.
For more from Pam Jenkins and Jabbok Ministries, please visit www.jabbokministries.com!
Listen to Pam Jenkins's daily broadcast on OnePlace.com.
Originally published Saturday, 30 October 2021.