October 24
For This I Have Jesus
"Because the Sovereign LORD helps me, I will not be disgraced. Therefore, I have set my face like a stone, determined to do his will. And I know that I will not be put to shame."
Isaiah 50:7 (NLT)
Is there any force that could assail my soul taking it where it desires? Are there circumstances possible of leading me down a pathway of destruction? Can people hurt me so severely that I might give up on loving others altogether? Is there an enemy of life so powerful that it could destroy my faith? Will tragedies befall me in my lifetime that can crush my heart's desire to live? Does fear have the potential power to lead me into sin or run from God's will? What if I fail God, if I ruin my testimony by my actions or words; is it possible to recover and be used by Him again? What if something happens to my children; what would I do? Is there a life untouched by hardship? Am I vulnerable, capable of turning away from the Lord? Does God understand me and does He really know about me? Will my situation ever change; if it doesn't I don't know if I will make it? The pressure that people have placed upon me; what if I disappoint them and cause them to stumble? How can I ever forgive them for what they've done? Where do I go from here? What if my marriage ends in divorce, what will I do? How can I love those who seem to hate me so?
For years I struggled to understand how we can face any situation and give thanks for it. Are we really supposed to give thanks when we lose a loved one, a job, a spouse, a marriage, a home, our reputations; our church family that we've been connected with for years? It's not natural is it beloved to give thanks to the Lord when someone hurts you, when your heart is wounded so deeply that you fear it will never recover? How do we make it, where do we turn when faced with insurmountable situations? Where do we find a voice of praise unto God when the storms assail our soul in the darkest of times? Five words precious one; five soul motivating words that the Lord has taught my heart to say in the midst of trials and in the face of giants that sought to destroy the land of my life: "FOR THIS I HAVE JESUS." It bears repeating, "FOR THIS I HAVE JESUS!" These five power packed, soul-lifting words I have been taught to say by my sweet Lord. No matter how much my heart was breaking, no matter the swell of fear tormenting my soul with the "what ifs", no matter what, He has taught me say; FOR THIS I HAVE JESUS.
Isaiah, the prophet, knew that the Sovereign LORD was his help and therefore he would not be disgraced. And because he knew this truth, he made a resolute decision to set his face like flint and when he did he could confidently say; "I know I will not be put to shame". Do you see the flood of faith that rushed in over him? What was he saying? That in the end, when it's all said and done, he will have no regrets because he placed his trust in a Sovereign God. A God who was in control even when he was not! A God so able to see him through that there was no need to worry, no need to fear. God will never fail and will never disappoint those who place themselves into His mighty loving hands. For every child of God He has given us a most confident, never failing, unending love and support; Jesus! It's His strong arm of help beloved, one that will never let you fall, never let you slip from its grasp. He will never let go of you and He will never give up on you!
When your faith is tested, when your hope is battered, when you don't know what to do or how to respond look Heavenward and declare; FOR THIS I HAVE JESUS. This is where the power of thanksgiving is unleashed in our lives; proclaiming Him as the all-sufficient One and we need no other!
FOR THIS YOU HAVE JESUS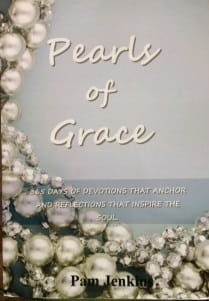 Pearls of Grace Devotional Book
Pearls of Grace is a book of devotions for the entire year, including a read through the Bible in a year calendar, broken down for every day. Beautifully written with encouraging words of hope and empowering words of joy and strength for every woman. Pam draws from the truth and richness of God's Word and gives real life examples in her down to earth style. A must have in your library, click here for more information.
For more from Pam Jenkins and Jabbok Ministries, please visit www.jabbokministries.com!
Listen to Pam Jenkins's daily broadcast on OnePlace.com.
Originally published Sunday, 24 October 2021.