October 22
A Lodging for Grace
"But God Who is rich in mercy, because of His great love with which He loved us, even when we were dead in trespasses, made us alive together with Christ, by grace you have been saved."
Those who have taken refuge in the Lodging of God's grace, no matter the path that led them there, find their souls forever captured in the bonds of God's love. The soul that has lodged within the portals of God's boundless mercy discovers the place where they are totally secure, set, anchored in for life. Grace becomes the stability of life because it never haunts them with the past and it aligns their future with the very heart of God. Grace restores hope where it was once lost and brightens the horizon of the future because the present is secure in the Father's love. God's gift of grace to us reveals His heart to the world that so desperately needs it. The cry of grace says "God loves you without limits". Grace gives life where there was only death and saves the broken heart out of a life of despair, failure, hopelessness and disgrace and is mended as wholeness is given. God's grace is matchless and eternal.
But grace doesn't just happen beloved; although it is a gift. Grace acts because it is a moving force of Heaven produced to accomplish the purpose of God's heart; to save all of mankind. Once grace happens in our life beloved, it must act for this is the rule of grace. In speaking of grace, Horatius Bonar wrote: "grace approaches him just as he is, it does not wait till there is something to attract it nor till a good reason is found in the sinner for its flowing to him." Once lodgers of grace, precious one, we now become a lodge of grace. A lodge that stands as a beacon lighting the way for others to find the same fountain of life and hope they have. There is no greater beauty than the life that has become a conduit of God's grace that flows through their life by pouring it out into the life of another. This is true beauty; giving back what God has given to us.
Today, there are millions in need of God's grace, just as we once were in need. It is a most desperate hour in our world. Grace needs to take its stand amidst the lost world and proclaim Who God is! We are the lodge of His grace, a lodge where souls can see Who God is and the power of His forgiveness and boundlessness of His mercy because we are living hope. Your lodge is your testimony of what God has done and Who He is to you. The silent killer of our day is the silence of grace in the lives of God's children. I want to challenge you to be a lodging of grace. A life that does not take into account a wrong suffered, one that does not judge others, that loves as it has been loved; without limits. True grace givers know that they have been recipients of grace when they did not deserve it.
Build A Lodge Of Grace In Me So Others Can Know You Lord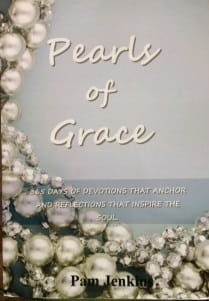 Pearls of Grace Devotional Book
Pearls of Grace is a book of devotions for the entire year, including a read through the Bible in a year calendar, broken down for every day. Beautifully written with encouraging words of hope and empowering words of joy and strength for every woman. Pam draws from the truth and richness of God's Word and gives real life examples in her down to earth style. A must have in your library, click here for more information.
For more from Pam Jenkins and Jabbok Ministries, please visit www.jabbokministries.com!
Listen to Pam Jenkins's daily broadcast on OnePlace.com.
Originally published Friday, 22 October 2021.