November 5
The Holy Sifter
"Therefore, thus says the LORD, "If you return, then I will restore you; before Me you will stand; And if you extract the precious from the worthless, you will become My spokesman. They for their part may turn to you, but as for you, you must not turn to them."
My mother never made anything with flour without sifting it first. Like my grandmother, she made the best cornbread in town and her biscuits phenomenal, and still are. I loved watching her in the kitchen and learning how to cook, southern style of course! I remember being fascinated with the sifter when I was little mainly because of the noise it made. As I grew older and became the cook in my home, I came to learn the value of the sifter. It was this fabulous instrument that would filter out all of the "junk" that you didn't want in your food. I was always surprised by what was lurking in my flour that I was unaware of! Although definitely not my mothers, sifting made my baked goods not only better tasting, but better looking. Anyone can operate a sifter. You don't need a degree from culinary school or a license to operate one; you just pick it up and turn the handle! Amazing little gadgets aren't they?
Spiritual sifters are even more amazing in the life of God's children. They have the power to separate the valuable from the invaluable so, we only have coming into our lives what God desires for us to have. This makes our lives more beautiful to look at and more palatable to others. Anyone of us can operate our spiritual sifters, we don't need a degree in biblical studies, we don't have to hold a position in the church, teach a Sunday School Class or have any other qualifications; just a heart to for purity. In the day of Jeremiah God was calling for His man and His people to return to Him and to sift their lives of impurity. He was seeking a heart for purity, the one who desired to be right with Him. If God was going to reach His people then first, He had to reach His chosen one.
To do this God told them to extract the precious from the worthless. If we don't know what is precious or priceless in our lives then we will not know what to sift out. Understanding that the word precious means; valued, honorable woman, esteemed high, or worth we begin to get a view of what we need to keep in our lives. God was saying never extract the things which are honorable, those things that are of true worth and have value in Heaven but rather remove those things that have no worth; no value and are not honoring to Him or the Kingdom of God. This is the sifting process we are to use in our lives every day. God sifts us to remove those things that will hinder the finished product which, is to become like Jesus. If you were to run your lifestyle through the holy sifter, what would be found that needs to be taken away? The worthless will be left upon the sifter and at that moment of revelation, we all have a choice to make; dump it back with the good or throw it out. Which will you do precious one?
Sift my life of all the worthless things.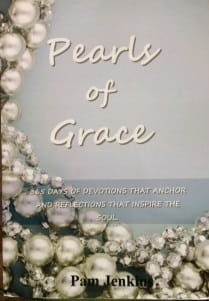 Pearls of Grace Devotional Book
Pearls of Grace is a book of devotions for the entire year, including a read through the Bible in a year calendar, broken down for every day. Beautifully written with encouraging words of hope and empowering words of joy and strength for every woman. Pam draws from the truth and richness of God's Word and gives real life examples in her down to earth style. A must have in your library, click here for more information.
For more from Pam Jenkins and Jabbok Ministries, please visit www.jabbokministries.com!
Listen to Pam Jenkins's daily broadcast on OnePlace.com.
Originally published Friday, 05 November 2021.