November 2
Do You Love Your Salvation
"Let all who seek You rejoice and be glad in You; And let those who love Your salvation say continually, "Let God be magnified."
Do you love your salvation? I know it may seem like a silly question, but the reality is that many of us never stop to really dwell long enough on the beauty and power of our salvation to know that we love it or not. Our salvation should be a love so rich and deep that it never falters or sways. If we love belonging to the Lord, then our words will continually be magnifying Him because we just can't help ourselves. There is a joy of soul and a sense of value and worth, when we evaluate just what our salvation means and the price that was paid in order to give it to us. Everything else in our world can fall apart but our salvation never will. People can rob us of all that is good, our self worth, patience, material possessions, reputation, encouragement, hope and more, but they will never be able to take our salvation from us. No circumstances or losses can ever remove it.
When was the last time that you looked back to your land of Egypt from where God saved you? How long has it been since you felt that same wash of emotions of gratitude and awe toward grace that you expressed the day you were saved? We should never lose our wonder of the fact that God loved us and saved us. His love is all we need in this world. We can do without everything else but this. We can never suffer the loss of His love and acceptance. He surrendered His heart to us by giving us Jesus. What a costly gift God gave to us and without reservation to do so. This alone is the foundation upon which we can build our lives and it will never crumble.
Celebrate your salvation today. Give God praise and all the glory for what He has done for your soul. Rejoice in knowing you belong to Him and even more importantly, He belongs fully to you! Smile at your Heavenly birth. It's you joy in this world and it will never disappoint.
Celebrate cavalry.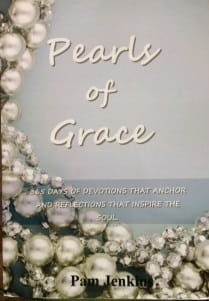 Pearls of Grace Devotional Book
Pearls of Grace is a book of devotions for the entire year, including a read through the Bible in a year calendar, broken down for every day. Beautifully written with encouraging words of hope and empowering words of joy and strength for every woman. Pam draws from the truth and richness of God's Word and gives real life examples in her down to earth style. A must have in your library, click here for more information.
For more from Pam Jenkins and Jabbok Ministries, please visit www.jabbokministries.com!
Listen to Pam Jenkins's daily broadcast on OnePlace.com.
Originally published Tuesday, 02 November 2021.