May 8
Another Day To Praise Him
"The LORD is my strength and song, And He has become my salvation; This is my God, and I will praise Him; My father's God, and I will extol Him.
Everyday that we are met with the warmth of God's sun is another day to bring glory to God upon His earth.  It's not about who we are or what positions we may hold but rather it is about who God is to us.  Although He does not need our praise and glory, He is worthy to receive it.  He is not just worthy while we are in a worship service or in our prayer closet but He is worthy when we are on our jobs, driving our car, cleaning the house, tucking our babies into bed, washing clothes, choosing our clothes to wear, when we are speaking, and even when we are silent, He is worthy.  He is a God of every moment, every situation, every relationship, every thought, word or deed.  He is our God.  There is such strength for our soul when we praise God.
How we represent Him and how we respond to who He is will determine the richness of our life.  And by richness I do not mean monetary gains or ownership but a wealth of joy, peace and inner strength that life cannot steal away in moments of conflict or trial.  Praise is our response to who God is and it is this response that will dictate our security in our everyday moments of life.  We must guard our praise for Him ensuring that we are not keeping it for ourselves or hiding it from the world.  Praise is meant to be seen, heard, and it is meant to bring honor to the One for whom the praise is being given.
When we give God the glory by lifting up praise for Him, then it lets the world know that we are not only thankful for God but we need God.  Praise enlarges God before the eyes of others and it reduces self in the process.  Giving increase through praise is pleasing to God and to His Son.  As it ascends upward, God's presence descends.  It's the great exchange of Heaven for God's children.  Praise ushers in the living God because it declares the ground holy upon which it is offered.  When this happens, our Heavenly Father is welcomed and ready to come and abide with us through His manifested presence.  What a powerful force praise is! 
Have you praised God today?  Lift up praise and bring Him glory.  He'll always meet His child upon the soil of praise. 
Let the praise go up so the father can come down.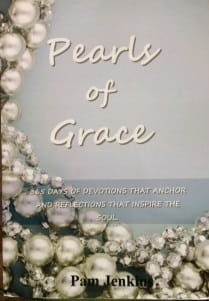 Pearls of Grace Devotional Book
Pearls of Grace is a book of devotions for the entire year, including a read through the Bible in a year calendar, broken down for every day. Beautifully written with encouraging words of hope and empowering words of joy and strength for every woman. Pam draws from the truth and richness of God's Word and gives real life examples in her down to earth style. A must have in your library, click here for more information.
For more from Pam Jenkins and Jabbok Ministries, please visit www.jabbokministries.com!
Listen to Pam Jenkins's daily broadcast on OnePlace.com.
For more from Pam Jenkins and Jabbok Ministries, please visit www.jabbokministries.com!
Listen to Pam Jenkins's daily broadcast on OnePlace.com.
Originally published Sunday, 08 May 2022.