May 11
Motivating Factor
"… And Peter got out of the boat."
The disciples were a long distance from the land.  Their boat was being tattered by the waves of a tumultuous sea for the winds were contrary.  Here these men were desperately struggling to get the boat to the shore that was a great distance away, in the midst of a fierce and violent storm.  It was in this stormy moment that they saw the Lord, although at first they thought He was a spirit.  But the Lord cried out to them and said "Take courage, it is I; do not be afraid."  They all saw and heard the Lord in the midst of that storm, but only one desired to get out of the boat and go to Him and that was Peter. 
What would motivate a person to get out of a boat in the middle of the sea during a torrential storm, to abandon the only thing keeping him alive? This must have been a powerful motivator to subdue fears and fuel ones courage.  The motivator was Jesus Himself for Peter asks the Lord to let him come to Him and that's when Jesus called out to Peter to "come."  Jesus bid him to get out of the boat and come to Him.  As a Christian our greatest motivator is Jesus, knowing that He wants us to come to Him in every situation.  Each and every day the Lord bids us to come to Him for every moment of our life, for every need, for every fearful moment that we may face.  The power of Jesus to draw us to Him is more powerful than any storm that could ever sweep over our life.  It is at His bidding that we become courageous and blinded to the dangers around us, for in His presence they cease to exist. 
Peter cared not that he was the only one, he only wanted to go to the One and only.   Peter knew that for this he was born, to abandon self, leave all else behind and come at the Lord's bidding no matter the cost.  Will you come to where the Lord bids you to come, even if it means leaving your place of protection and comfort?  Peter didn't know if he would live or not, he only knew that he didn't want to live without Jesus.  There is no greater bidding, no greater motivator than this; to be with Jesus at any cost.  In His presence storms cease, and one will find himself at the shores of his destination, safely harbored in His arms of strength and might. 
Maybe you have a boat that you need to get out of because Jesus is bidding you to come to Him even though no one else follows.  It may mean changing jobs, leaving a bad relationship, embracing God's calling on your life, entrusting a wayward child or spouse into the hands of God.  Maybe you find yourself in the boat of bitterness or despair and you need to embrace the Lord's bidding for you to forgive or accept His hope for you.  Whatever boat you're in, if Jesus isn't in it, then you need to rise up and "get out of the boat."  Go to where He is and you'll never want for anything else
May you be motivated to chart the waters of God.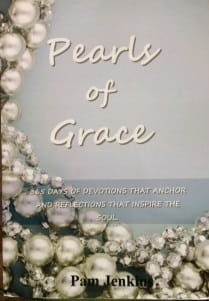 Pearls of Grace Devotional Book
Pearls of Grace is a book of devotions for the entire year, including a read through the Bible in a year calendar, broken down for every day. Beautifully written with encouraging words of hope and empowering words of joy and strength for every woman. Pam draws from the truth and richness of God's Word and gives real life examples in her down to earth style. A must have in your library, click here for more information.
For more from Pam Jenkins and Jabbok Ministries, please visit www.jabbokministries.com!
Listen to Pam Jenkins's daily broadcast on OnePlace.com.
For more from Pam Jenkins and Jabbok Ministries, please visit www.jabbokministries.com!
Listen to Pam Jenkins's daily broadcast on OnePlace.com.
Originally published Wednesday, 11 May 2022.