March 8
Beyond Our Jordan
"Let me, I pray, cross over and see the fair land that is beyond the Jordan, that good hill country and Lebanon."
Two things keep us from that fair land, that good hill country that the Lord has ahead for us: The ability to see beyond the rivers of impossibilities and the faith to pass through them. Our hearts deceive us with doubting questions like, "does God even have a good and fair land for me, or is there even a fair land that exists?" The heart wrenching thought usually is: we'll never make it across the great divide of our circumstances because the crossing is impossible from where we are standing! Like the nation of Israel when God brought them out of the land of Egypt, we take one look at our enemy and all of a sudden they become bigger than our God turning our situation into a "Red Sea" of no way out and no way across!
Have you been there before, or are you there now? Then have no fear precious daughter of the Living God! Lift up your eyes and pray to the One who is able to part the waters of doubt, the waters of fear and weakness. When there is no way, He will be your way. Where there is no path He will move your feet forward making your steps sure. When panic overtakes your soul in the darkness, He will be the light leading you to the shores of deliverance. The enemy of the child of God cannot tread upon paths of deliverance. God will see to it that you cross over and then your eyes will see the good and fair land while your enemies perish along the way.
Train your eyes to look up from the waters of doubt and rivers of confusion so you can see beyond them. Sometimes we just need a renewed or redirected focus for the journey. We cannot cross over with our eyes looking at the waters, they must extend out until the shore of the destination comes into view. We must look to Him and to Him alone. Today, with eyes wide open, gaze not at your Jordan, but look with eyes of faith unto the fair and good land that God has for you. Where are your eyes looking, daughter, for this will determine your final destination? Believing that He has a marvelous place waiting ahead of us, we must press on, fully trusting in Him.
Faithful is He who called and will bring it to pass.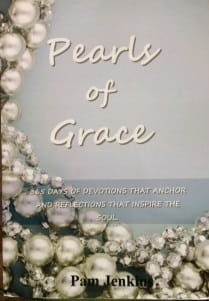 Pearls of Grace Devotional Book
Pearls of Grace is a book of devotions for the entire year, including a read through the Bible in a year calendar, broken down for every day. Beautifully written with encouraging words of hope and empowering words of joy and strength for every woman. Pam draws from the truth and richness of God's Word and gives real life examples in her down to earth style. A must have in your library, click here for more information.
For more from Pam Jenkins and Jabbok Ministries, please visit www.jabbokministries.com!
Listen to Pam Jenkins's daily broadcast on OnePlace.com.
Originally published Tuesday, 08 March 2022.