March 21
God Confidence
"…He Who began a good work in you will perfect it until the day of Christ Jesus."
The longer I journey with God the more conscious I am of the fact that it is He Who rules, not I. Following God's plan undoubtedly carries with it the burden of the unknown, the weight of uncertainty. More often than not we haven't the foggiest notion of what God is up to or where He is taking us. Bearing the burden of the unknown while yielding to the unseen in full surrender takes absolute trust in the One whose arms you have cast yourself. We will never yield to one we do not trust in. That bears repeating, if not for you then for me precious student; "We will never yield to…One we do not trust in! I think a big ole amen is in order right here!!! My greatest wrestling has not been with the devil but with God Himself. Not because I have felt He was unworthy, on the contrary, but because I lacked the trust in Him to bring about good when I could see no good in sight.
God is not interested in letting us in on His plan, giving us the inside scoop or even explaining Himself to us in order to prompt our feet to follow. His interest lay solely in the soul whose faith has not been made sight; for the one who has surrendered the need to understand, having only the need to obey. Confidence is found in surrender and courage is poured out upon the path of faith. Every word the Apostle Paul writes in this letter echoes the refrain of his heart declaring that God is worthy, able and willing.
Paul's heart swelled with full confidence in God…absolute trust and unfailing surrender to His will knowing that whatever God did was absolutely flawless and just. He never wavered from his loyalty to the Father, never abandoned the calling of God upon His life because in one life changing moment he threw Himself, with eternal finality, into the arms of the God of His Salvation. So Paul could write of confidence in God, trust in His plan and entrust those he so desperately loved into the hands of the God who also had hold of him. God's grip is never loosed.
The Apostle's letter to the Christians in Philippi is perhaps Paul's most tender letter he wrote. It rains heavily upon the recipients showers of praise, rivers of joy despite Paul's circumstances. This is the confident gift of joy this priceless book imparts into our lives. Paul was there when God brought salvation, "the good work" of sanctification. He was God's instrument to plant the seed of Jesus into the hearts of the people of Philippi knowing that God would watch over that work even after he was gone. Paul's confidence did not lie in the work itself but in the God of the work. He trusted in God's faithfulness to see it through to the end. God wants our hearts to hear His heart declaring of us; "I will never give up on you".
God's grip is never loosed.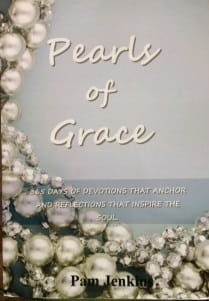 Pearls of Grace Devotional Book
Pearls of Grace is a book of devotions for the entire year, including a read through the Bible in a year calendar, broken down for every day. Beautifully written with encouraging words of hope and empowering words of joy and strength for every woman. Pam draws from the truth and richness of God's Word and gives real life examples in her down to earth style. A must have in your library, click here for more information.
For more from Pam Jenkins and Jabbok Ministries, please visit www.jabbokministries.com!
Listen to Pam Jenkins's daily broadcast on OnePlace.com.
Originally published Monday, 21 March 2022.