March 15
Presence or Presents?
"You will show me the path of life; in Your presence is fullness of joy, at Your right hand there are pleasures forevermore."
Loving God's presence more than His presents was one of the greatest spiritual lessons in my walk with Him. When I learned to love the Giver without the gift, I found a well-spring of joy that I could draw from every day. Depression fled along with worry and doubt. I no longer struggled to find happiness, and fulfillment was poured out upon every area and circumstance of my life, good and bad. By nature we run to God asking instead of giving. We cannot go into fullness of joy and walk out unhappy; it's impossible. He is full in joy and pleasures for the soul of everyone who runs into Him and drinks Him in. We will lack for no good thing in the light of His face and before His throne the soul of man is completely satisfied.
Our circumstances will dictate our emotional state apart from the presence of God. It's vital to our spiritual strength and emotional stability that we learn the practice of living in His presence. Enjoying Him will yield the fruit of a life of joy that the world, others or circumstances cannot rob us of. God's presence is our sustaining power in times of weakness because the joy of the Lord becomes the strength we need (Nehemiah 8:10). Learning to rejoice in Him and not in our circumstances will be a major turning point in our life as a Christian.
The overwhelming wonder is when we come to know that although He is our joy when we are in His presence, we are His joy when He's in our presence! God delights Himself in the presence of His children! What a marvelous, incomprehensible truth for us to cling to. When was the last time you enjoyed God? Do you desire God's presents more than His presence? Why not choose this day to begin enjoying being in His presence. Why not make God your life long hobby, your souls delight, your reason for living, your love, your passion and your pursuit of life. You will want for nothing more, precious one, than to have more of Him! Enduring joy, and everlasting happiness comes only from Him.
In You, Lord, I am never disappointed.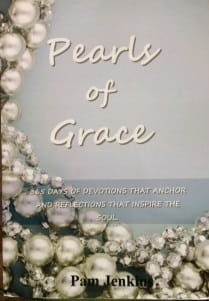 Pearls of Grace Devotional Book
Pearls of Grace is a book of devotions for the entire year, including a read through the Bible in a year calendar, broken down for every day. Beautifully written with encouraging words of hope and empowering words of joy and strength for every woman. Pam draws from the truth and richness of God's Word and gives real life examples in her down to earth style. A must have in your library, click here for more information.
For more from Pam Jenkins and Jabbok Ministries, please visit www.jabbokministries.com!
Listen to Pam Jenkins's daily broadcast on OnePlace.com.
Originally published Tuesday, 15 March 2022.