March 11
Covered Treasures & Hidden Wealth
"And I will give you the treasures of darkness, and hidden wealth of secret places, in order that you may know that it is I, the LORD, the God of Israel, who calls you by your name."
Times of darkness in our lives often captivate our minds with fear overshadowing our hearts with despair. Blinding situations raid our faith like a thief in the night plaguing our thoughts with doubt in the day. Our eyes were created to give us sight unveiling our surroundings, which sometimes can bring us a measure of understanding while other times an outpouring of confusion. It's difficult to trust when you cannot see what's ahead or what's happening around you isn't it? God understands every emotion, every concern and although our surroundings and the outcome may be hidden from our view, they are never hidden from His! God is steady at His post and He never waivers from His duties as a Father.
There was once a group of students who had gone deep into some caves for exploration as part of a class assignment given to them by their professor. They were to dig around until they unearthed something from the cavern that they could bring back to class in order to study them. They had very limited light and were on a strict time schedule once inside the cave because of lights and weather conditions outside the caves. The students were finding artifacts left and right soon leaving only a handful of students left digging. One student in particular could not find anything of interest and his light was fading quickly.
The professor was calling time and gave the students only a few minutes to gather their things and exit the cave. In his panic he began digging around in the dark until he unearthed a hard object, which he believed to be just a rock of some sort. Having no choice but to bring it with him, he quickly stuck it in his backpack and headed out of the cave to rejoin his group. When they returned to class, one by one the students began to show off their great archeological spoils with pride. The time came for the young student to open up and show his rock to the class. He was somewhat embarrassed because of his poor find and apologized to his professor as he held it up for all to see. The professor gasped and said to the young lad; "Why son you've found no ordinary rock, what you've found is a rare gem no doubt that is very valuable".
It was not until the lad uncovered his find in the light that he realized the treasure that he was given while in the dark. The treasures that God gives to us in the darkness are not realized until they are brought back into the light. It's here, in these places of darkness, that He gives us the greatest treasure known to mankind; knowing Him. Intimacy with God is birthed in the nighttime, beloved, not in the day. If you are passing through this shadowy valley, then know that God is unearthing beauty that could never be released in the light.
Give me YOUR hidden wealth.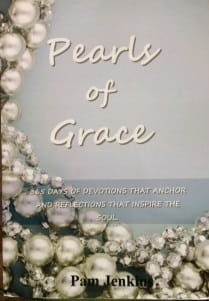 Pearls of Grace Devotional Book
Pearls of Grace is a book of devotions for the entire year, including a read through the Bible in a year calendar, broken down for every day. Beautifully written with encouraging words of hope and empowering words of joy and strength for every woman. Pam draws from the truth and richness of God's Word and gives real life examples in her down to earth style. A must have in your library, click here for more information.
For more from Pam Jenkins and Jabbok Ministries, please visit www.jabbokministries.com!
Listen to Pam Jenkins's daily broadcast on OnePlace.com.