June 26
The Adornment of Kindness
"Do not let kindness and truth leave you; bind them around your neck, write them on the tablet of your heart."
I could answer the phone and hear the words, "hello darling," coming through the line, and my heart would warm and a smile would adorn my face instantaneously, just hearing these two words from my father who would call me long distance. I was reminded that I was loved, and that I was important to someone because I was on their mind at that moment.  These phone calls would come at just the right moments, and my entire day took on a whole new light, for he always called in the mornings.  He was never too busy that he would let a morning pass and not call to speak with me.  It was something he purposed to do every morning.
The speaking of a kind word can strengthen a weary heart, it can bring a smile even upon the face of sadness, and it can warm the lonely soul.  An act of kindness or a timely word can brighten an entire day for the one it was spoken to.  How powerful words of kindness are, they can turn away wrath, a kind word can soften even the hardest of hearts.  It is medicine to the soul, and it can build a bridge over the greatest of indifferences that even the most powerful and intelligent could never accomplish.  Oftentimes busyness robs us of opportunities to minister to others.  Long gone are the days of back door visits from neighbors calling, friends calling just to say hello, and hand written notes to say we care.  Good deeds, when seen, are often hailed as almost heroic because they are not common place but rather a rare encounter for most. 
Our days are filled with opportunities to minister unto others.  Just a spoken word, the warmth of a smile, the kindness of a touch, an act of compassion, or an outstretched hand of mercy are all instruments that we can use to impart kindness and truth.  God gives us these every minute of every day, if we would but slow down long enough to recognize them.  He commands us not to let kindness and truth leave us, which teaches us that they will, if we do not guard them by binding them about our neck and writing them upon the tablets of our heart.  This is how much God wants kindness and truth to be a part of our lives; He wants them engraved upon our very hearts.  As you go out every day you are to take kindness and truth with you.  We'll make sure our clothes are ironed, our hair fixed just right, all the matching accessories, but won't check the adornments that God commands us to wear; kindness and truth.  These are to be our adornments every day.
Give life through me.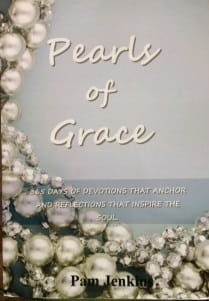 Pearls of Grace Devotional Book
Pearls of Grace is a book of devotions for the entire year, including a read through the Bible in a year calendar, broken down for every day. Beautifully written with encouraging words of hope and empowering words of joy and strength for every woman. Pam draws from the truth and richness of God's Word and gives real life examples in her down to earth style. A must have in your library, click here for more information.
For more from Pam Jenkins and Jabbok Ministries, please visit www.jabbokministries.com!
Listen to Pam Jenkins's daily broadcast on OnePlace.com.
For more from Pam Jenkins and Jabbok Ministries, please visit www.jabbokministries.com!
Listen to Pam Jenkins's daily broadcast on OnePlace.com.
Originally published Sunday, 26 June 2022.