July 7
Looking for a Ticket to Happy Land
 "according to the glorious gospel of the blessed God, with which I have been entrusted."
You can ask anyone today what makes them happy and you would find that there would be many different answers and many varying opinions.  Why is this?  It's because happiness means different things to different people.  To some it's having the perfect job, a different husband or wife, the perfect body or the flawless face.  It's having a certain amount of money, that expensive car or that 'must have' larger home.  For some, it's being physically or mentally well again.  For others it's being loved by someone else.  Generally speaking, in its basic form, happiness is a feeling of satisfaction or pleasure.
There are many who are in pursuit of happiness today, but there are few who find it.  You can turn on the TV today to any Christian network and it won't be long before you will find a message being delivered on, "happiness" or "blessings."  A popular teaching today in Christendom is that God wants us to be happy and that He wants to bless us.  The problem with this teaching is that happiness and blessings from God are linked to prosperity or healing from sickness or disease.  In other words our happiness is connected to our circumstances.  Another popular teaching is that happiness is a choice and it is found within each of us. We should put a smile on our face and go about our day.  Well, this is great if we can go out and purchase a one-way ticket on the boat to happy land!  Smiling doesn't create happiness.  It may be a good mask of our sorrow but it's not a resource.  When our world is falling apart, a smile isn't going to get us through it.
I Timothy 1:11, teaches us that God is a blessed God, or translated it could read, a happy God!  If God is blessed, or happy, wouldn't it make sense to say that if we are like God then we can also be happy?  In other words, happiness is found in having God-like qualities.  This is a priceless truth for our lives!  God is the model of true joy for all of us.  And guess what? Happiness is not found anywhere else.  It is never based on our surroundings, on our circumstances, or in others.
Maybe you've been searching all your life for happiness and you've just not been able to find it.  If you are one of these women or if you know someone who is, then grab hold of this truth and write it upon the tablet of your heart: True happiness can only be found in a right relationship with God. 
It may sound harsh, but listen and take it to heart, beloved: God is not interested in your happiness,  He is interested in your holiness! When you are holy, as He is holy, true happiness will flood into your life as you have never known. True happiness comes from character, God-like character, and nowhere else.  You will never find it in self-worth, the approval of others, in position, relationships, materialism or money.  The wellspring of happiness is found in His approval! People will disappoint you and circumstances will rob you of your joy in a moment. Do you know what this truth means to us?  Circumstances have no bearing on our happiness
God is the only ticket I need.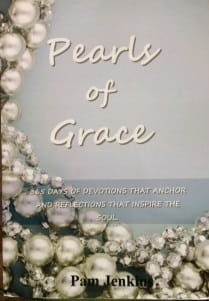 Pearls of Grace Devotional Book
Pearls of Grace is a book of devotions for the entire year, including a read through the Bible in a year calendar, broken down for every day. Beautifully written with encouraging words of hope and empowering words of joy and strength for every woman. Pam draws from the truth and richness of God's Word and gives real life examples in her down to earth style. A must have in your library, click here for more information.
For more from Pam Jenkins and Jabbok Ministries, please visit www.jabbokministries.com!
Listen to Pam Jenkins's daily broadcast on OnePlace.com.
For more from Pam Jenkins and Jabbok Ministries, please visit www.jabbokministries.com!
Listen to Pam Jenkins's daily broadcast on OnePlace.com.
Originally published Thursday, 07 July 2022.