July 20
Pass The Faith Please!
"And Jesus answered saying to them, "Have faith in "God. "Truly I say to you, whoever says to this mountain, 'Be taken up and cast into the sea,' and does not doubt in his heart, but believes that what he says is going to happen, it shall  be granted him. "Therefore I say to you, all things for which you pray and ask, believe that you have received them, and they will be granted you…"
Have you ever had to move a mountain?  I bet there have been times when it felt like you were moving a mountain just to get through a situation or have a need met.  Faith is somewhat of a mystery to many of us, especially when we are fighting so hard to stay strong even though we have no idea what's going to happen.  Live long enough and you'll eventually find yourself facing a life challenge where you have no answers or resources to overcome it or fix it.  This is what I call a "pass the faith please" opportunity; a time when your circumstances are greater than your resources.  It's at these golden moments afforded to us by Heaven that we can learn the spiritual reality of living faith.  Dead faith doesn't have the life to step up to the plate in the hour of need and come to our rescue.  Living life requires living faith.  And in the midnight hour, we don't want to have to rush to the cemetery and try to resuscitate our faith that died long ago! 
God is looking to birth a new living faith within us when trials come.  It's your chance to look to your Heavenly Father and cry, "pass the faith please"!  And you know what, He will.  We aren't left to ourselves to drum up the faith needed.  Heaven is our table of supply and all we have to do is ask.  Thomas fell on his knees before the resurrected Lord and cried, "help my unbelief".  What was Thomas asking Jesus to do for him?  He was asking Jesus to "pass the faith please".  There was nowhere else to run to, no other person to turn to except the One who could give him what he needed. 
Are you facing a mountain that's larger than your faith?  Have you been looking for the tombstone under which your faith is buried in order to dig it up?  Are you overwhelmed with your problem today or weighed down with a burden that's too big for you to carry let alone solve?  Do you need faith for a child or grandchild that has run off into the darkness  and you fear they will never find their way to the light again?  Have you received a diagnosis from the doctors that's too hard to bear?  Are you wondering where your next meal is coming from or worried over how you're going to make the next house or rent note?  Have you lost yourself in the hopelessness of a family situation?  Do you need faith so powerful that the mountain before you will be moved?  Then ask God for faith; not for the answer you want, or the plan you have to be carried out, but just for faith.  Ask Him for living faith that will resurrect your heart and mind to trust God no matter the outcome.  Living faith is life for your soul and for those who watch your life. 
Pass the faith please, that I may pass through where the mountain once stood.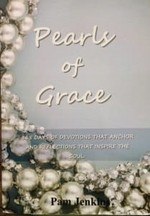 Pearls of Grace Devotional Book
Pearls of Grace is a book of devotions for the entire year, including a read through the Bible in a year calendar, broken down for every day. Beautifully written with encouraging words of hope and empowering words of joy and strength for every woman. Pam draws from the truth and richness of God's Word and gives real life examples in her down to earth style. A must have in your library, click here for more information.
For more from Pam Jenkins and Jabbok Ministries, please visit www.jabbokministries.com!
Listen to Pam Jenkins's daily broadcast on OnePlace.com.
For more from Pam Jenkins and Jabbok Ministries, please visit www.jabbokministries.com!
Listen to Pam Jenkins's daily broadcast on OnePlace.com.