January 9
The Influence of Hearsay
"Jesus answered, 'Are you saying this on your own initiative, or did others tell you about Me'"?
Fear, intimidation, cruelty, accusations, anger and endless questions amid a plethora of confusion swelled in the heart of Pontus Pilate as he paced back and forth before the Lord and an angry mob bent on spilling blood that fateful night. The backdrop had long been painted and hung like a drapery of judgment setting the stage for Jesus' sentencing. For months, whispers of blaspheme and rumors of plots to overthrow an empire swirled through the streets paving the road with resentment, greed and jealousy. The tension and animosity that had been mounting finally erupted into panic leading to the demise and destruction of the King of Glory; the One who was full of good deeds; who sought no earthly thrones or scepters. He healed the sick and fed the hungry. He took nothing in return and He did not seek power or the honor of men. He had no wealth and owned nothing, yet he was seen as a threat to the most powerful men upon the earth.
But now He stood before Pilate, the man who would sentence Him to the cross before the night was over. What had wrought such fear in Pilate's heart that he would condemn a man he did not know; an innocent man to such a cruel punishment and sentence of death on a cross? What was the avenue that gave passage for this condemnation? If you look closely to the words of the Lord when being questioned by Pilate we trace the footsteps of condemnation; "Are you saying this on your own initiative, or did others tell you about Me?" Jesus targeted right to the heart of the matter. Had Jesus been brought before Pilate based on firsthand knowledge or had He been brought there because of gossip, and rumors? Jesus spoke of this principle to His disciples in Matthew 18:16, "…so that by the mouth of two or three witnesses every fact may be confirmed."
Jesus was very clear in this because of the power that words have, not only to destroy the innocent, but to motivate others to wrongdoing. How many innocent people have we condemned because of what we've been told long before we come face to face with them? How easy it is to hear something about another that is displeasing to us and then run out to erect a cross in order to hang them on it. Rumors build and change over time with such vengeance that we're waving palm branches of praise one day and crying "crucify" the next. Before embracing the testimony of another, look at what you know to be true about the person being spoken of and then if necessary go to them in love and respect to check for accuracy.
Crucifixions take place every time we judge and condemn another because we have listened to the words of others. We are to take our own experiences with a person and lay that next to the Word of God before we ever act toward forming an opinion. Sad to say, we can live a good life before others for 30 years having a spotless testimony and someone can come along sharing a half truth or even an outright lie and we'll forget the thirty years of good they've done. How careful we must be to guard our lips and our ears against anything that tears down the lives of others. Aren't you thankful that God doesn't deal with us according to what others have said about us or of the opinions they have of us? If God has dealt so with us, precious one, then should we not do the same for one another? Close your ears to words that do not edify and give people a clean slate before you. AND…DON'T THROW PEOPLE AWAY!
Father, sift the words of my mouth and set a guard about my ears.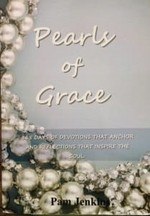 Pearls of Grace Devotional Book
Pearls of Grace is a book of devotions for the entire year, including a read through the Bible in a year calendar, broken down for every day. Beautifully written with encouraging words of hope and empowering words of joy and strength for every woman. Pam draws from the truth and richness of God's Word and gives real life examples in her down to earth style. A must have in your library, click here for more information.
For more from Pam Jenkins and Jabbok Ministries, please visit www.jabbokministries.com!
Listen to Pam Jenkins's daily broadcast on OnePlace.com.