January 4
What Concerns God?
"…The Lord, the God of your fathers, the God of Abraham, Isaac and Jacob, has appeared to me, saying,' I am indeed concerned about you and what has been done to you in Egypt.'"
To be a slave of your circumstances is the most hopeless of emotions we can succumb to. When it seems that the enemy is prospering while we are deteriorating into less and less of a life worth living then we find ourselves with no other options seemingly than to just surrender in defeat. This is exactly where God's people found themselves and their families. Israel had been enslaved for over four hundred years and there was no relief in sight. They had, at one time, believed that God loved them and would surely come to deliver them from the cruel hands of the Egyptians. After all, the Egyptians were pagans and they all but mocked God to His face with their idolatry of Pharaoh and their false gods. Why would God allow them to suffer at the hands of unbelievers let alone to become their slaves. God's people were at an all time low with no hope for deliverance. Did God care? Perhaps God didn't know about them after all.
Have you ever felt this way concerning your situation? You're not alone. Sufferings have been in place since Adam and Eve sinned way back at the beginning of time as we know it. Our sufferings can be used by God to become another's hope and to become our catalyst of fresh faith in time. God did know about His people and He not only knew about them, He cared very deeply at what they were having to endure at the hands of another. When we are helpless to save ourselves then it only goes to reason that we need a savior! When we are utterly defenseless and without hope then it is without question that we need saving! This is the place where Israel found herself; needing a savior and needing to be saved. You don't need a savior unless you need to be saved right?
But how many of us who are living in bondage, or enduring a situation where we are completely defenseless and unable to help ourselves, really know we need a savior? It's one thing to long to be saved from something or even someone, but it's another thing to know and believe you need a savior. God was waiting for the perfect time to come when His people would be looking, not just to be saved, but for a savior. And when that day arrived, He bent down low to the earth of suffering, leaning in to hear the cry of His child, "I need a savior, because I need to be saved". Delivering us from bondage is possible. Restoring hope and joy for living is possible. And it's all because God gave us a Savior. His name is Jesus, Emanuel, which means, God is with us. And where God is, there is freedom, power over the enemy and strength for the journey. And more importantly…where God is – bondage is not!
What struggles do you have today that you simply cannot conquer? You need a Savior. What shackles do you fight to be free from? You need a Savior. What oppressor do you seek to be free from ? You need a Savior. What sorrow do you need to overcome? You need a Savior. Whatever salvation you need in your life today, you have a Savior! Because God sees you right where you are and He will and can save you because He sent a Savior over two thousand years ago in order to set you free from the land of bondage, fear, sorrow, hopelessness, pain and suffering. Cry out to Him today and leave the land of Egypt behind!
A SAVIOR HAS COME AND EVERY SHACKLE HAS GONE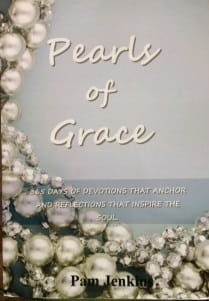 Pearls of Grace Devotional Book
Pearls of Grace is a book of devotions for the entire year, including a read through the Bible in a year calendar, broken down for every day. Beautifully written with encouraging words of hope and empowering words of joy and strength for every woman. Pam draws from the truth and richness of God's Word and gives real life examples in her down to earth style. A must have in your library, click here for more information.
For more from Pam Jenkins and Jabbok Ministries, please visit www.jabbokministries.com!
Listen to Pam Jenkins's daily broadcast on OnePlace.com.
Originally published Tuesday, 04 January 2022.