January 28
Trusting In Jesus
"While I was with them, I was keeping them in Your name which You have given me; and I guarded them and not one of them perished…"
Jesus keeps watch over His sheep, taking them into His fold setting Himself as guard at the door of flock. None in His keeping will perish but He will bring them all safely home when the hour is nigh. He is trustworthy in each and every situation no matter how fierce the storms that assail us. He is tried and proven, His record secure and He will not fail thee. The weary and battle worn will make their way homeward singing the praises of a faithful Savior that never left them, who never forsook them. Their anthem is raised in honor to Him, the protector of their soul. For all who have placed their trust in Him and were not disappointed we sing.
"Tis so sweet to trust in Jesus, Just to take Him at His Word,
Just to rest upon the promise, Just to know thus sayeth the Lord"
Jesus, Jesus how I trust Him How I've proved Him ore and ore
Jesus, Jesus precious Jesus Oh for grace to trust Him more
There was the funeral of a young man who was in the prime of his youth just about to graduate from high school when he took his own life. The news of his suicide struck with a fierce chord through the school bringing a cloud of emotions with it. His father was a pastor and had raised his son in the love and admonition of the Lord. So when their first born stepped out into the back yard to take his life it was more than they could bear. The funeral was not your typical service. When the casket was rolled up the aisle and out the door at the end it was as though a cloud of darkness encompassed the church. There was heaviness in the air that I had never experienced before even in similar situations of sorrow.
As the hearse rolled away bearing the remains of their son it didn't take long to see that the parents were not going to follow the body to the cemetery and neither did anyone else. How sad to watch that lone hearse drive out the drive with none to accompany it. My sweet little granny, upon hearing this spoke these words, not in judgment but in her anguish of soul, "You go with your child all the way to the grave."
This is what Jesus does for His child. He goes with us all the way to the grave that He might escort us right on into Heaven. He never separates Himself from us even in death. Trust Him today, beloved daughter, even through times of greatest loss. He will be with you to the end.
There is a friend that is closer than a brother.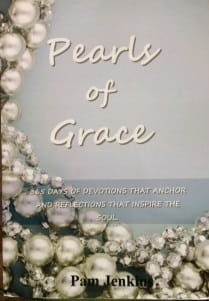 Pearls of Grace Devotional Book
Pearls of Grace is a book of devotions for the entire year, including a read through the Bible in a year calendar, broken down for every day. Beautifully written with encouraging words of hope and empowering words of joy and strength for every woman. Pam draws from the truth and richness of God's Word and gives real life examples in her down to earth style. A must have in your library, click here for more information.
For more from Pam Jenkins and Jabbok Ministries, please visit www.jabbokministries.com!
Listen to Pam Jenkins's daily broadcast on OnePlace.com.