January 27
Roots Without Shame
"...for I know Whom I have believed"
II Timothy 1:12
The greatest thing about those mighty men and women of God who burned their life lanterns out for God's Kingdom, giving their very lives for the cause of Christ, is not what they did but what they believed. Religious convictions are turning with every wind that blows and controversy is breeding compromise on the horizon of change all for the sake of unity and political correctness. Dr. Jowett said, "You cannot drop great themes and create great saints." God honors men and women who dare to stand up for the highest truth in a skeptical, hostile toward God, and material age drenched in self -pleasure having no boundaries…no absolutes world. We are living in an age when the authority and inspiration of the Holy Scripture is being questioned, altered and denied paving the way for apostasy.
We must have an assured faith, unwilling to compromise the truth of God's Word no matter the cost. We must be sure, fully convinced of whom we have believed and in Whom we have placed our trust and surrendered our lives unto. God's Word must be the absolute supreme authority in the life of His children and in the pulpit of His Church. There is a holy warfare engaging God's children to battle along the front lines defending the authenticity and prominence of the Living Word of God against the heresies and fantasies of men that are sweeping countless of lives into the pit of error. Enticement to live according to what is right in your own eyes is the lure that has brought many a soul to destruction. Setting the stage for the Lord's return will be the backdrop of a world full of skepticism, perverted philosophies, tickled ears wanting to hear words of acceptance rather than repentance, doubt and fear and a hatred for absolutes.
The great sadness that has fallen upon my country this hour is the masses today who have sought after new things. They hunger for words of empowerment and acceptance of behaviors that cannot be explained; searching for an approval of their own ideologies, giving way to the lifestyle they deem as right for them. The birth of this new age constitution of belief can be traced back to the pulpits of God. Many who fill these ordained places of God have forgotten whose pulpit it is and why they have been placed there. The Word of God is being watered down because it offends or turns off the listener opening a doorway for false doctrine to enter. Words like sin have been replaced with terms like, "disease" and "behavior patterns" or "genetic tendencies" and repentance has been choked out with the term "acceptance." Abraham Lincoln said; "The philosophies of one generation will be the laws that govern the next." The hour is now beloved. Don't buckle under pressure. Stand for your convictions in a world that has lost sight of the truth.
Make my life oil for the lamp of your Word.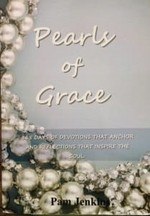 Pearls of Grace Devotional Book
Pearls of Grace is a book of devotions for the entire year, including a read through the Bible in a year calendar, broken down for every day. Beautifully written with encouraging words of hope and empowering words of joy and strength for every woman. Pam draws from the truth and richness of God's Word and gives real life examples in her down to earth style. A must have in your library, click here for more information.
For more from Pam Jenkins and Jabbok Ministries, please visit www.jabbokministries.com!
Listen to Pam Jenkins's daily broadcast on OnePlace.com.