January 26
The Heart of a Champion
"But in all these things we overwhelmingly conquer through Him who loved us."
The champion is the one who has learned the unfailing and unstoppable force necessary to win every battle; love. Love is the very foundation of God's throne and upon it every decision is made concerning the affairs of mankind. The love of God is deeper, wider, higher and mightier than any other power or force in the universe. How? Because God is Love. It's not that God has love, acts in love or even gives love but HE IS LOVE. He is the source of love. In light of the almightiness of God then how mighty must love be if God is love. God is all that love is and because love finds its source in God then this love is endless and unexplainable. It is this knowing of this truth that gives us understanding but it is the living of this truth that gives victory! Love is the pathway to victory, the crown of the victor.
Love truly does conquer all. But this victory is no small feat because Scripture tells us that it is an overwhelming victory! Love never wins small…it always wins big. There are no small victories where God is concerned and when His love is applied there will be no defeats! Couldn't you just shout! Love has taken many forms in order to reveal the Father's heart for us. It took the form of light in the very beginning of time when God's voice spoke out of the darkness saying, "let there be light" (Genesis 1:2) and there was Light. It was the beating heart of God that moved to give love immeasurable boundaries through the giving of the Light…the One who would be the Light of the world. Light cannot be contained and it cannot be captured! There is nowhere that Light cannot penetrate. Love was given to dispel our darkness.
Love was given in swaddling clothes small and helpless by clothing itself with parchments of flesh and blood. Through the darkness of night and years of silence a sound was heard piercing through the hopelessness of humanity…the cry of a baby. It was Heaven's tenderness reaching down to the lowliness of humanity being born in a stable. The song of a mother's lullaby cradling the holiness of Heaven. Love was given a voice. God wants your heart to see Him through the giving of Light but He longs for you to hear him through the giving of a baby. This baby would save all of mankind because its Father was love. Love was given a manager.
Love was given a cross, sturdy, shameful and despised. Two rugged beams of wood nailed together that the One Who is love might be crucified upon it. Love would be nailed to each pillar of pain spilling the blood of the spotless Lamb of Glory for the sins of the world. Love would be pierced in its side that waters of life might pour forth for every thirsty soul. Love would struggle for every as the canopy of darkness enveloped the land. Love would be stripped of all dignity and given a crown of thorns upon its brow and in the bowels of pain and suffering Love would lift its voice and cry out to its Father "Daddy, forgive them…forgive them"! Love was given a cross.
Love was taken to a tomb and laid in the chamber of darkness…But love has seen this darkness before. It has no fear because love knows its Father will look down into the depths of His darkness and cry out once more…"let there be light". Love conquered the darkness! Therefore…we overwhelmingly conquer through Him Who loved us! Queen Victoria said, "We are not interested in the possibilities of defeat. They do not exist." Love cannot fail, it simply cannot surrender.
Have no fear for love has risen.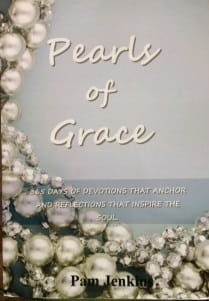 Pearls of Grace Devotional Book
Pearls of Grace is a book of devotions for the entire year, including a read through the Bible in a year calendar, broken down for every day. Beautifully written with encouraging words of hope and empowering words of joy and strength for every woman. Pam draws from the truth and richness of God's Word and gives real life examples in her down to earth style. A must have in your library, click here for more information.
For more from Pam Jenkins and Jabbok Ministries, please visit www.jabbokministries.com!
Listen to Pam Jenkins's daily broadcast on OnePlace.com.
Originally published Wednesday, 26 January 2022.